Storm Forecast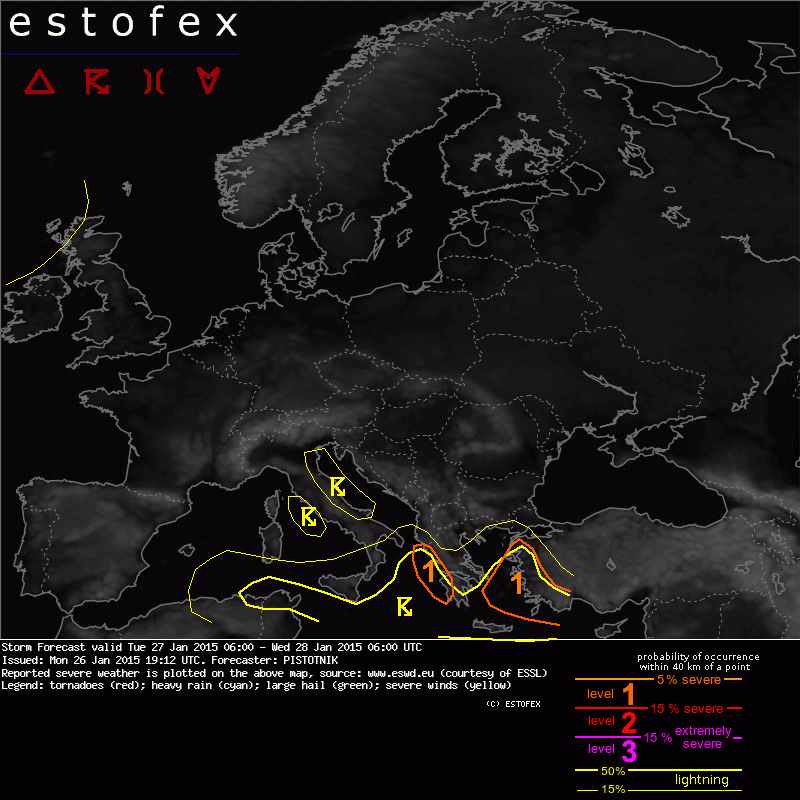 Storm Forecast
Valid: Tue 27 Jan 2015 06:00 to Wed 28 Jan 2015 06:00 UTC
Issued: Mon 26 Jan 2015 19:12
Forecaster: PISTOTNIK
A level 1 was issued for parts of the Aegean Sea and SW Turkey mainly for excessive convective precipitation.

A level 1 was issued for coastal areas in W Greece for severe convective wind gusts and excessive convective precipitation.

SYNOPSIS

A broad and highly amplified upper-level trough covers central and eastern Europe as well as the entire Mediterranean Sea. Under its influence, wintrily cold air has flooded most of the continent and sparks diffuse cyclogeneses over the Ionian and Aegean and (late in the forecast period) over the western Black Sea.
Further upstream, an upper-level ridge stretches from the Azores to the British Isles. It gets gradually flattened and pushed east during the forecast period as a new powerful North-Atlantic cyclone approaches.

DISCUSSION

... central and eastern Mediterranean ...

Cold mid-level air (-28 to -30°C) on top of the mild sea surfaces (13-16°C) continues to fuel vivid shower and thunderstorm activity. A first maximum of convection, possibly in form of one or two MCSes, is expected ahead of a vorticity maximum which travels across the Aegean Sea into western Turkey. A level 1 is issued for a risk of flash-flood producing rainfall. This risk is maximized in southwestern Turkey, which experiences sustained onshore flow. Apart from that, the lack of more robust CAPE (cf. Mon 12 UTC soundings from Athens and Izmir) should keep the severe weather risk low, though a few storms might attain a better degree of organization in the morning when 0-3 km vertical wind shear is still enhanced to values around 15 m/s.
Additional showers and thunderstorms will form under almost zero vertical wind shear beneath the base of the main trough over the Aegean and Ionian Sea. One or two waterspouts may form in case one of the numerous local convergence zones manages to concentrate enough rotation.
BOLAM even forecasts a small warm-core depression to wobble around the Greek west coast in the morning to late afternoon before it fills up. Another level 1 is issued for a risk of severe wind gusts and heavy rainfall in the possibly affected areas. Neither other limited areas models nor latest satellite imagery (as of Mon 18 UTC) do show any signals for such a severe development yet, though.
In an increasing northwesterly flow, widespread and possibly thundery showers will also move onshore in northeastern Algeria and northern Tunisia. Heavy precipitation may result but should mostly stay below our level 1 criteria.

... central Europe into Italy ...

At the rear flank of the main trough, a compact but intense upper-level low slips from eastern Germany (Tue 06 UTC) to central Italy (Wed 06 UTC). It overruns an old and occluding frontal system. Despite a partial compensation by cold air advection, the intense vorticity maximum at its forward flank will result in large-scale lift with steepening lapse rates. The initially stratiform snowfall will likely break up into showers and a few lightning strikes are not ruled out in the 06 to 15 UTC time frame over southeastern Germany, Bohemia and northern Austria, especially along the northern Alpine rim where strong upslope flow enhances precipitation intensity (20 to 40 cm of fresh snow are expected). However, as the limited area models do not show signals for a surface trough which could concentrate shower activity, no 15% lightning areas is added for the moment.
The vorticity maximum along with very low 500 hPa temperatures around -36°C will overspread the northern Adriatic Sea, north-central Italy and finally the Tyrrhenian Sea overnight. Isolated thunderstorms are possibly, though dry and cold downslope winds from the Dinaric mountains, the Alps and the Appennin mountains limit the chances.