Storm Forecast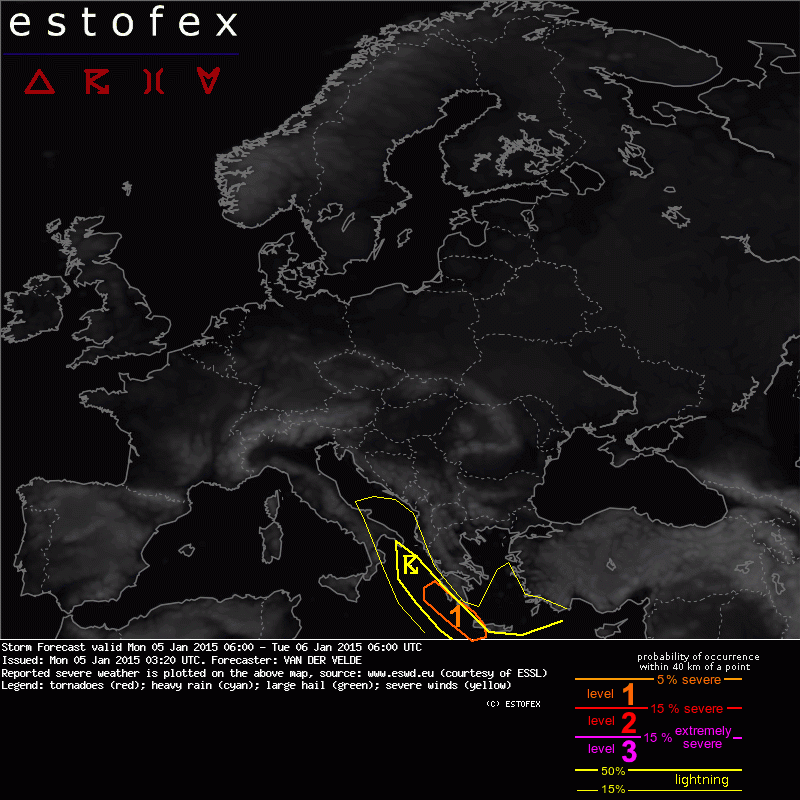 Storm Forecast
Valid: Mon 05 Jan 2015 06:00 to Tue 06 Jan 2015 06:00 UTC
Issued: Mon 05 Jan 2015 03:20
Forecaster: VAN DER VELDE
A level 1 was issued for the Mediterranean Sea around Greece mainly for a chance of tornadoes.

SYNOPSIS / DISCUSSION

A very large scale upper trough extending from Russia to Greece is shifting eastward. A similarly extensive upper ridge extends over Morocco to northern Scandinavia with a low level high over southern Germany. Over the eastern Mediterranean Sea a warm, slightly unstable low level airmass is being replaced by a cold unstable airmass which invades southern Italy early during the day and forms a cold front and occlusion near southern Greece, with lots of low-level convergence and vorticity at the tip of a PV lobe. Lapse rates from the ground up are highly unstable and waterspouts are likely. But as strong upper winds generate more than 25 m/s 0-6 km shear and locally SREH > 300 mē/sē and 0-1 km shear over 10 m/s, a mesocyclonic tornado seems possible. Such conditions also exist along the south coast of Turkey and Cyprus (outside the map).