Storm Forecast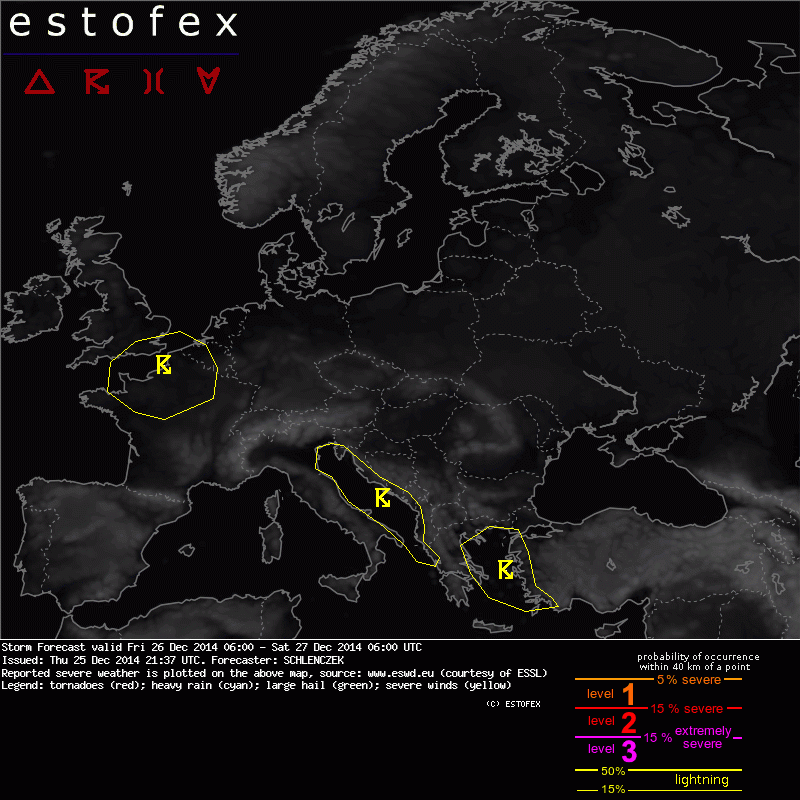 Storm Forecast
Valid: Fri 26 Dec 2014 06:00 to Sat 27 Dec 2014 06:00 UTC
Issued: Thu 25 Dec 2014 21:37
Forecaster: SCHLENCZEK
No threat levels have been issued.

SYNOPSIS

A strong northwesterly jet stream extends from S Greenland towards central Italy. Embedded shortwave troughs will move across central Europe during the next few days, leading to strong winds and possible heavy snowfall over W / SW Germany and E France. Some storms may form in the vicinity of the upper cold core of the developing low pressure system and could amplify the precipitation.

As cold air at upper levels moves southeastwards across the Alps, some cold air convection is expected over the Adriatic Sea. A strong background wind field will likely preclude waterspouts but isolated severe wind gusts might be possible.

Another region with convective activity is found in the eastern Aegean Sea ahead of the Turkish coast. Advection of relatively warm and moist air at lower levels leads to a few hundred J/kg of CAPE which allows showers and thunderstorms in a weakly sheared environment. However, dewpoints will likely stay below 10°C and therefore excessive precipitation is rather unlikely to occur due to a lack of moisture.

DISCUSSION

... British Channel, N France ...

An approaching low pressure system will reach the region of interest in the late evening hours. One can expect sufficient QG forcing near the upper level trough axis where also the local instability maximum is found. However, CAPE is limited to approx. 100 J/kg and concentrated in the lowest 3 km AGL which limits the chance of sufficient vertical momentum transfer. The background wind field will pose a risk of severe wind gusts but at this moment the convection does not seem to amplify this risk in a significant way. The past runs of the GFS model suggest a possible tornado threat in the southern part of the thunderstorm area late in the night but this scenario is too hypothetical for any threat level.