Storm Forecast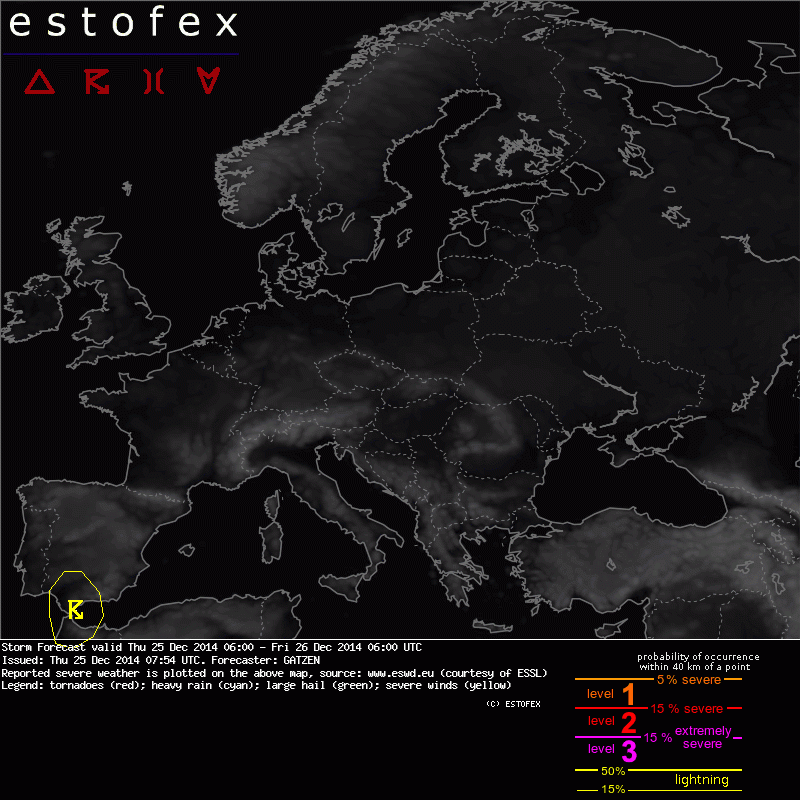 Storm Forecast
Valid: Thu 25 Dec 2014 06:00 to Fri 26 Dec 2014 06:00 UTC
Issued: Thu 25 Dec 2014 07:54
Forecaster: GATZEN
SYNOPSIS / DISCUSSION

A strong zonal flow is present from the British Isles to the Ukraine and forms a broad trough over central Europe. A vorticity maximum will move from the North Sea south-eastward and leads to the amplification of this trough into the northern Balkans. In its wake, a strong north-westerly jet will evolve from the British Isles to France.

The best forcing will travel with the upper vort-max from the North Sea into the Alpine region. The lift will overlap with weak low-level moisture, although a tongue of 4 g/kg low-level mixing ratio spreads into western Germany ahead of a cold front. This will limit thunderstorm potential, even though lapse rates are rather steep. A few storms are forecast across the North Sea and Baltic Sea region in the morning hours, where lapse rates and lift overlap with slightly better moisture and low-level buoyancy. The overall potential is expected to be too low for a thunder probability line, though.

Across Iberia, a few isolated thunderstorms have formed near the base of a cut-off low. This low will move southward in the next hours and some weak storms may form especially over the southern portions of Spain and Portugal.