Storm Forecast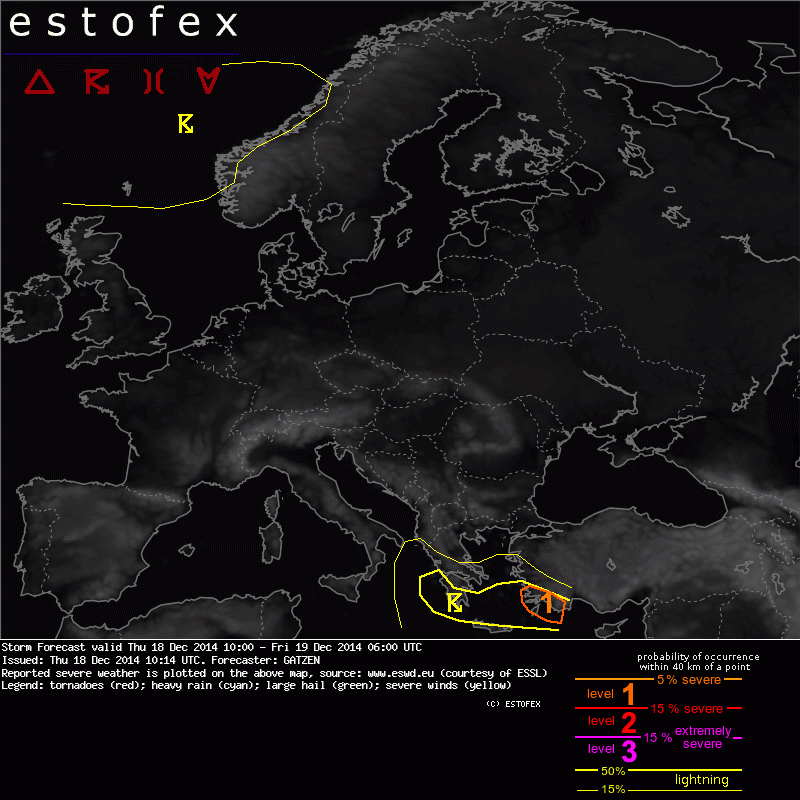 Storm Forecast
Valid: Thu 18 Dec 2014 10:00 to Fri 19 Dec 2014 06:00 UTC
Issued: Thu 18 Dec 2014 10:14
Forecaster: GATZEN
A level 1 was issued for southern Turkey mainly for excessive precipitation and tornadoes.

SYNOPSIS and DISCUSSION

Between a deep polar trough over Iceland and an amplified ridge north of the Azores, a strong mid-level jet is directed towards the British Isles and southern Scandinavia. It will make its way across the Baltic Sea into western Russia during the period. An open frontal wave travels eastward as well, allowing moist and warm air masses to spread into western and central Europe. Further south, mid-level ridging affects the Mediterranean and Alpine region and spreads into the Balkans. Downstream, an amplified east-European trough is pushed into Turkey and the east Mediterranean.

Thunderstorms are currently going on near the base of the east European trough, where deeply mixed polar air masses are heated above the warm Mediterranean Sea surface. This convective activity is expected to decay slowly from the west as lapse rates start to decrease in the wake of the trough axis. Weak vertical wind shear will not support organized storms and the probability of severe weather is pretty low.

An exception is the southern Turkish coast. A frontal boundary will only slowly make its way east and will affect the region until the afternoon hours. Although lapse rates are limited, rich low-level moisture and upslope flow is currently supporting thunderstorms. Strong deep layer vertical wind shear is present at the anticyclonically sheared flank of a mid-level jet streak and storms have organized into multicells and maybe shallow mesocyclones. Therefore, large hail and excessive precipitation are not ruled out as well as tornadoes due to strong low-level vertical wind shear. Storms are expected to weaken after noon when low-level winds turn west, reducing the upslope flow.