Storm Forecast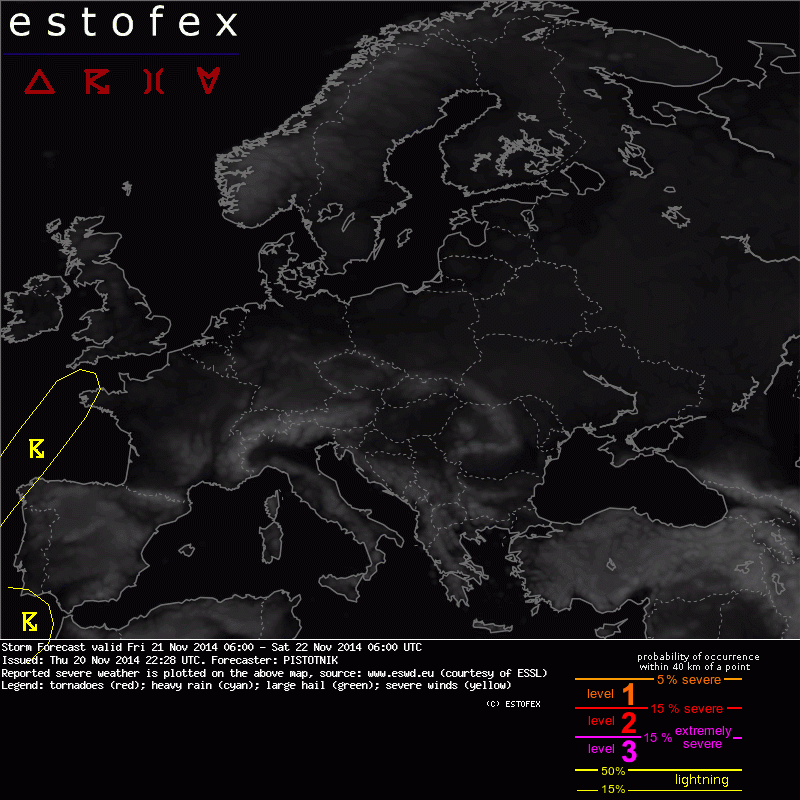 Storm Forecast
Valid: Fri 21 Nov 2014 06:00 to Sat 22 Nov 2014 06:00 UTC
Issued: Thu 20 Nov 2014 22:28
Forecaster: PISTOTNIK
No threat levels were issued.

SYNOPSIS and DISCUSSION

An axis of low 500 hPa geopotential stretches from southern Scandinavia into Turkey and divides Europe into two halves with an opposite weather character. To the northeast, a blocking anticyclone over Russia creates cold and stable conditions. Southwestern Europe, on the other hand, is in the warm sector of a large Atlantic cyclone. Warm air advection from the south supports weak ridging from the western Mediterranean region towards the North Sea and pushes an elevated mixed layer from northwestern Africa over the Iberian Peninsula, the western Mediterranean Sea and much of France.
A few hundred J/kg of CAPE can become available where this plume of warm air overspreads some maritime moisture, but it will be strongly capped. Isolated storms, if any, will be confined to offshore areas of Morocco, Portugal, Galicia and the Bretagne, where rising motions ahead of a travelling short-wave trough erode the cap. They will struggle to become surface-based and do not pose an enhanced risk of severe weather.