Storm Forecast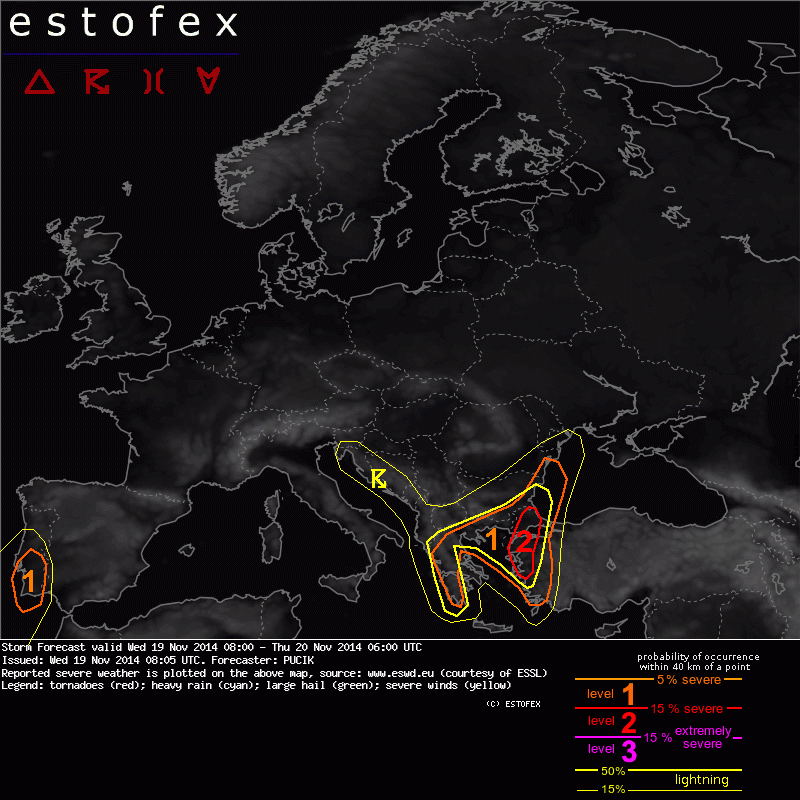 Storm Forecast
Valid: Wed 19 Nov 2014 08:00 to Thu 20 Nov 2014 06:00 UTC
Issued: Wed 19 Nov 2014 08:05
Forecaster: PUCIK
A level 1 was issued SW Portugal mainly for excessive precipitaiton.

A level 2 was issued for NW Turkey mainly for excessive precipitation, tornadoes and severe wind gusts.

A level 1 was issued for W Greece, Aegean, the SW Black Sea mainly for excessive precipitation.

SYNOPSIS
At mid to upper troposphere, synoptic situation over Europe is dominated by disturbed, highly amplified flow pattern. A sharp short-wave trough is forecast to move over southern Balkans and the Aegean region during the forecast period. Another trough will reside over the eastern Atlantic, affecting western Iberia. Two ridges, one stretching over the western Mediterranean and other over Russia and Scandinavia, are observed. Closer to the surface, situation is more straightforward, with an extensive area of high pressure, centered over Russia and covering much of Europe. Areas of low pressure will be confined to the Atlantic and SE Europe.

Apart from certain parts of S Europe, rather stable airmass will dominate over most of the continent, preventing any significant chances of DMC.

DISCUSSION


... SW Portugal ...

Forecast models hint on the passage of small scale trough during the day, reaching SW Portugal around 12 to 15 UTC. Although lack of steep lapse rates will prevent higher degree of instability, a few hundreds J/kg may be available. With 850 hPa windspeeds reaching 20 to 25 m/s and mixing ratios up to 12 g/kg, situation looks prime for an isolated heavy rainfall event, where embedded convection could greatly increase the total rainfall sums.

... Greece, Aegean region, W Turkey ...

Surface observations reveal southern surface flow over the region with Td readings mostly between 16 and 18 deg C. As sharp trough approaches the region, a plume of steeper lapse rates will be advected from SW, resulting in marginal to moderate degree of latent instability. At the same time, a LLJ is forecast to form, spanning from S Greece, through the Aegean towards the western Black Sea with 850 hPa windspeeds reaching 20 m/s. Moist, unstable airmass in combination with strong low-level flow and abundant lift from the trough look prime for a large MCS event, with cell training close to the coastlines. MCS will likely propagate towards south during the day. The highest threat of excessive precipitation is forecast for NW Turkey during the overnight hours. Tornado or severe wind gust events are not discounted either, especially given the degree of low level shear.