Storm Forecast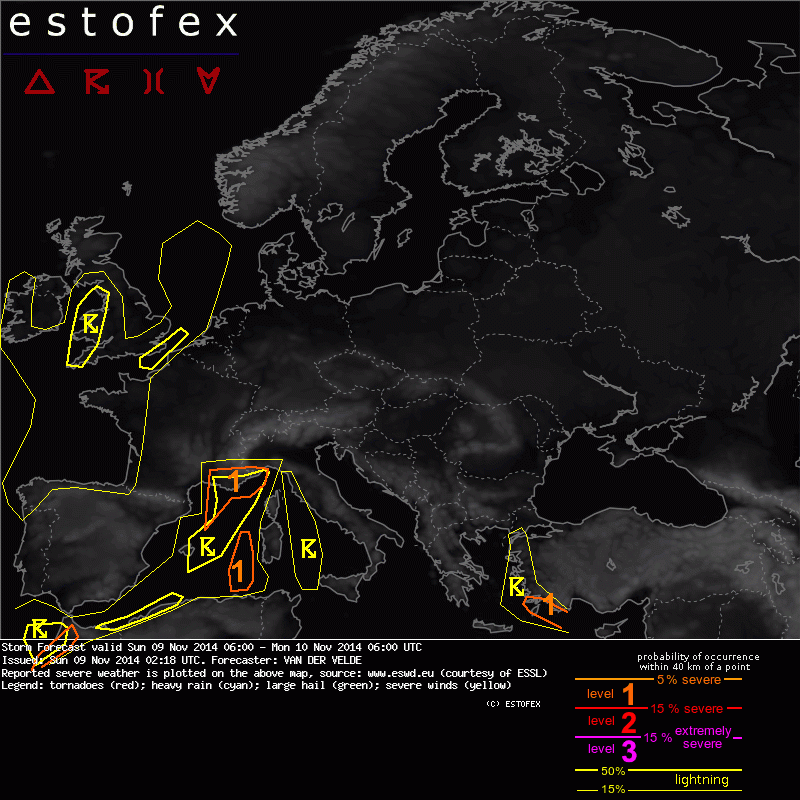 Storm Forecast
Valid: Sun 09 Nov 2014 06:00 to Mon 10 Nov 2014 06:00 UTC
Issued: Sun 09 Nov 2014 02:18
Forecaster: VAN DER VELDE
A level 1 was issued for southern France and northwestern Italy mainly for chances of tornadoes.
A level 1 was issued for southern Turkey mainly for chances of tornadoes.
A level 1 was issued for northwestern Morocco mainly for chances of tornadoes.
A level 1 was issued for a part of the western Mediterranean mainly for large hail.

SYNOPSIS

An elongated upper trough between Iceland and Morocco shifts eastwards. A cold front moves from Spain into the Balearic Sea where it loses definition. Warm air and moisture advection at low levels is directed to Sardinia, Corsica and the coast of southeastern France. Only weak CAPE develops in the warm sector. Between Africa and France strong vertical shear will be present as result of the jetstream. Low-level shear and storm-relative helicity are enhanced at the south coast of France, north coasts of Morocco and Algeria and later in a band northeast of the Balearic islands as the low surface pressure system develops over the western Mediterranean. Cold airmass convection concentrates around the British isles.

DISCUSSION

...southeastern France into Italy...

Storms may persist as result of moist air advection onshore. However, as CAPE is low and the flow not that strong, no significant precipitation threat should be present with maxima of a few tens of millimeters. SREH values indicated by the new GFS range into the 300 mē/sē with 0-1 km shear over 10 m/s, indicative of potential for tornadogenesis.

...northwestern Morocco..

As the cold unstable airmass under the vorticity maximum enters deep inland during the morning, both deep and low level shear are elevated (20 and 10 m/s repectively) and overlapping with some 200 J/kg CAPE. An isolated tornado could occur.

...southern Mediterranean...

100-200 mē/sē SREH develops north of Algeria as result of warm air advection and GFS suggests the CAPE will not be completely capped or elevated. Some cells may develop into organized multicells or supercells with large hail chances.

...southern Turkey...

At the apex of an old upper trough a shear maximum of 30 m/s 0-6 km is found, with over 200 mē/sē SREH along the southwest coast of Turkey. This would help supercell formation although forecast CAPE values are rather poor.