Storm Forecast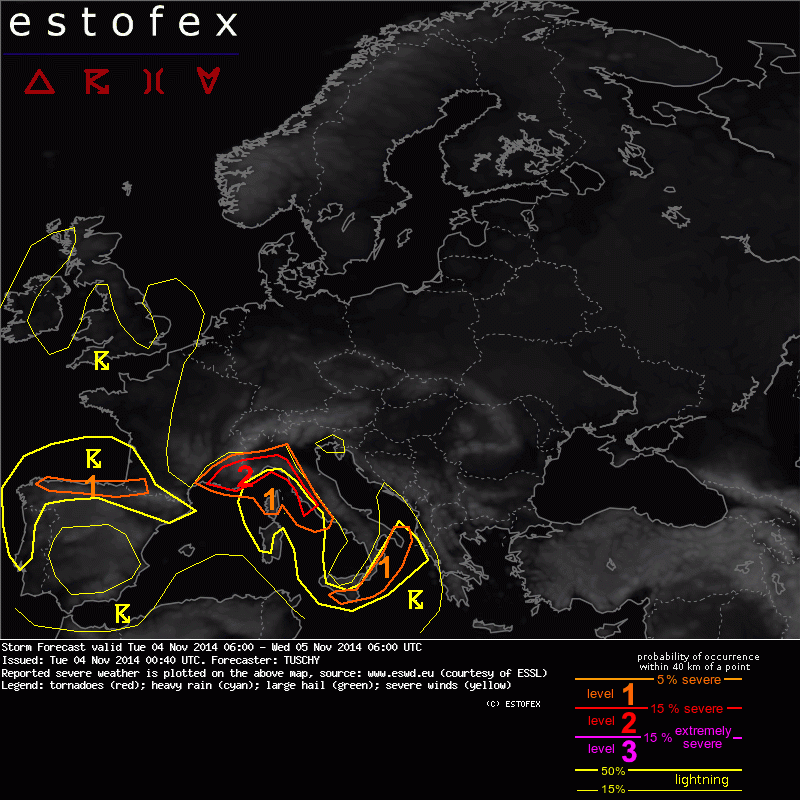 Storm Forecast
Valid: Tue 04 Nov 2014 06:00 to Wed 05 Nov 2014 06:00 UTC
Issued: Tue 04 Nov 2014 00:40
Forecaster: TUSCHY
A level 2 was issued for S/SE France and NW Italy mainly for excessive rain.

A level 1 surrounds the level 2 mainly for excessive rain, isolated large hail, an isolated tornado event and strong to severe wind gusts.

A similar level 1 was issued for parts of Sicily and S-Italy.

A level 1 was issued for NW-Spain mainly for an isolated large hail risk and excessive rain.

SYNOPSIS

A deep trough over W-Europe amplifies towards N-Morocco/Algeria. Its core (a closed cyclonic vortex) is situated over the UK with another temporal development over NE Spain. A flat ridge covers the rest of the Mediterranean all the way to Belarus.

Low/mid tropospheric levels feature a broad area with low pressure. Again, temporal strengthening of a vortex is anticipated over the far NW Mediterranean. This feature and an eastbound moving cold front comprise the severe risk. Elsewhere, no synoptic feature interacts with adequate moisture/shear for organized DMC.

DISCUSSION

... S/SE-France to NW-Italy ...

Positive tilted trough slowly turns neutral during the forecast. This kind of pattern offers deep WAA ahead with unusually warm mid-layers ... also shown by local forecast soundings. Ingredients partially fail to converge. PVA maxes out over NE Spain/SW France ahead of the temporarily consolidating vortex, but misses out moisture advection, which occurs further east. Moisture itself is not impressive with BL mixing ratios (offshore) in the upper single digits. Strengthening convergence over and south of SE France assists in tongue of rather high effective PWATs in excess of 30 mm. Shear features various maxima mainly along the coast and onshore ... both, directional and speed.

For severe storms, the main focus will be the coasts, where modest MLCAPE (500-800 J/kg) and rapidly increasing shear overlap. While coarse models show QPF maxima mainly along upslope regions, the local WRF also inidicates bands of enhanced precipitation, most likely due to training MCS activity. Forecast soundings show barely any CAPE due to very warm 500 hPa temperatures, but up to 600 hPa, some CAPE build-up will be possible. Wind field allows slow moving or back-building storms, so a level 2 for excessive rain was added. Any organized MCS (tail-end storm) may bring all kind of severe, including large hail, a tornado and strong to severe wind gusts.

For excessive rain, environmental conditions will be very conducive over all of SE France and NW Italy/SW-Alps. Deep warm cloud layers/saturated profiles indicate effective rainfall production. Prolonged period of intense upslope flow and isentropic lift likely result in extreme rainfall amounts ... widespread 100-200 l/qm are forecast with local peaks well in excess of 300 l/qm/24h. Also snow levels remain very high during the forecast period. Flooding/life-threatening flash flooding is expected. However, forecast soundings offer an hostile environment for thunderstorms well onshore and even MUCAPE signal remain very marginal at best. Hence we kept this part of the rainfall event out of our warning scheme and did not expand the level 1/2 all the way to the Alps. However, please refer to your local National Warning Agencies for more information on the dangerous weather event.

During the night, the eastward advancing trough/cold front interact with more robust low tropospheric moisture over the Tyrrhenian Sea. 20 m/s S-erly flow advects this moisture north towards N-CNTRL Italy. Despite reluctant QPF signals in models, we think that conditions improve for training MCS activity. Hence the level 2 was expanded east to cover the excessive rainfall risk. Coastal areas also see a similar severe risk with tail-end storms as described above.

Another area of concern exists from Sicily to S-Italy. Main uncertainty there will be weak forcing and stronger cap, but at least isolated/scattered CI is forecast during the night. Shear/CAPE overlap ensures rapidly organizing storms with all kind of severe, including escessive rain, large hail and an isolated tornado. Due to uncertainties of the final extent of initiation, we kept this area in a level-1.

... UK to Spain ...

Active cold sector convection occurs offshore due to large temperature spreads between the sea and the mid-levels. Waterspouts are possible along convergence zones (e.g. along coasts). Heavy rain will be another hazard... for the coasts of SW/SE UK and NE France due to slow moving storms and for NW Spain due to repeatedly onshore moving storms and upslope flow. There, isolated large hail may accompany strongest storms.