Storm Forecast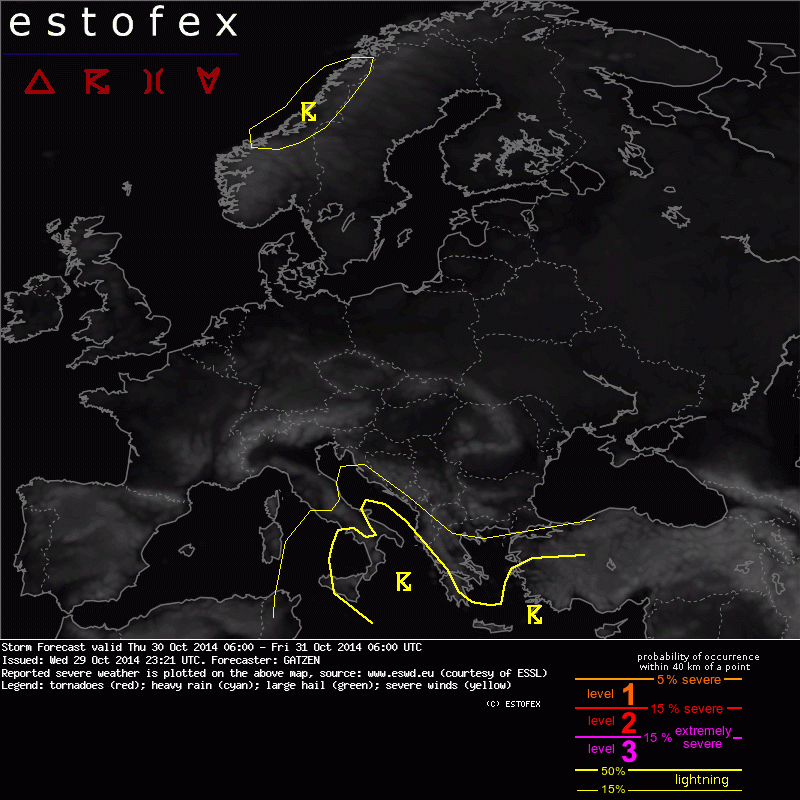 Storm Forecast
Valid: Thu 30 Oct 2014 06:00 to Fri 31 Oct 2014 06:00 UTC
Issued: Wed 29 Oct 2014 23:21
Forecaster: GATZEN
SYNOPSIS

A ridge extends from south-western Europe to the Ukraine and southern Russia. It is flanked by a broad cut-off low that remains across south-eastern Europe, and an Atlantic trough that slowly enters parts of western Europe. At its northern flank, an intense polar trough moves from Scandinavia to northern Russia. At lower levels, cold air masses remain across eastern Europe, whereas warm air advects northward across western Europe.

DISCUSSION

Southern Italy

At the western flank of the Mediterranean trough, a short-wave and associated jet streak travel south. DCVA will affect southern Italy during the period. Given rather weak low-level moisture, CAPE will be pretty low, but some thunderstorms are not ruled out during the day. Vertical wind shear is mostly below 15 m/s in the lowest 6 km, but multicells are not ruled out. The chance of large hail and severe gusts is expected to be too marginal for a level 1 threat.

Adriatic

Below the trough centre, showers and thunderstorms are forecast especially over the Adriatic Sea. Weak vertical wind shear and rather good low-level buoyancy are present, and a few waterspouts may develop.

Aegean and Turkey

Ahead of the Mediterranean trough, showers and thunderstorms are forecast over a broad region as steep lapse rates and remaining low-level moisture overlap and low-level convergence assist in initiation. Weak vertical wind shear is present, and organized storms are rather unlikely. A few large hail reports with stronger cells are not ruled out. Main threat will be excessive precipitation, especially where upslope flow will support training storms. The overall threat is rather low, though, and a level 1 is not issued.