Storm Forecast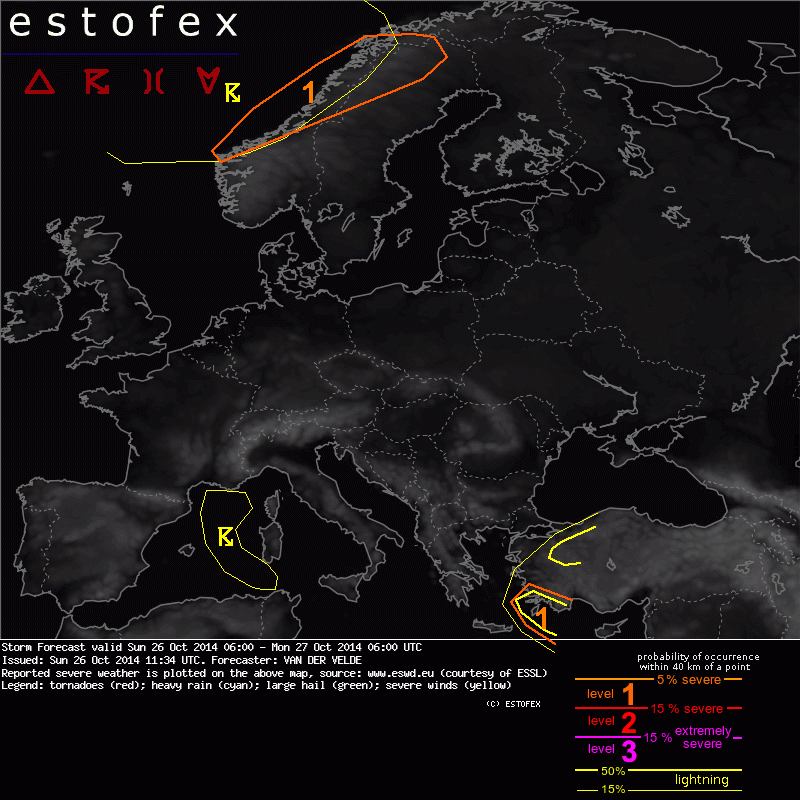 Storm Forecast
Valid: Sun 26 Oct 2014 06:00 to Mon 27 Oct 2014 06:00 UTC
Issued: Sun 26 Oct 2014 11:34
Forecaster: VAN DER VELDE
A level 1 was issued for the central Norwegian coast mainly for severe convective wind gusts and tornado chances.
A level 1 was issued for the southern Turkey coast and Cyprus mainly for large hail and

SYNOPSIS

A low over the Norwegian Sea is accompanied by strong pressure gradients and very steep lapse rates allowing deep convection with chances of severe wind gusts at the surface. Mid level highs reside over Iberian Peninsula and Ukraine/Belarus. A large upper cut off low is present over the Balkan and Turkey. In a northeasterly flow, a PV feature over the Alps will move into the western Mediterranean at night, further destabilizing a slightly unstable airmass organized in a band between the French south coast and Algeria/Tunesia. CAPE predicted by GFS along eastern Spain appears to be capped.

DISCUSSION

...Norway, N Sweden....

The convection is organized into one or two comma clouds associated with PV lobes in the GFS model. Over land, low level shear reaching over 15 m/s and deep shear of 20-40 m/s allows tornadogenesis in addition to the expected convective gusts over 25 m/s. Since the area with steep lapse rates stretches well inland including northern Finland, convection may also occur there, even though the model depicts more solid CAPE over the Norwegian Sea.

...Turkey, Cyprus...

A PV feature moving eastward is triggering organized storms along the south coast. The long straight hodographs allow for supercellular storms with large hail. As the PV feature moves quite fast it does not pose much threat for precipitation accumulations.