Storm Forecast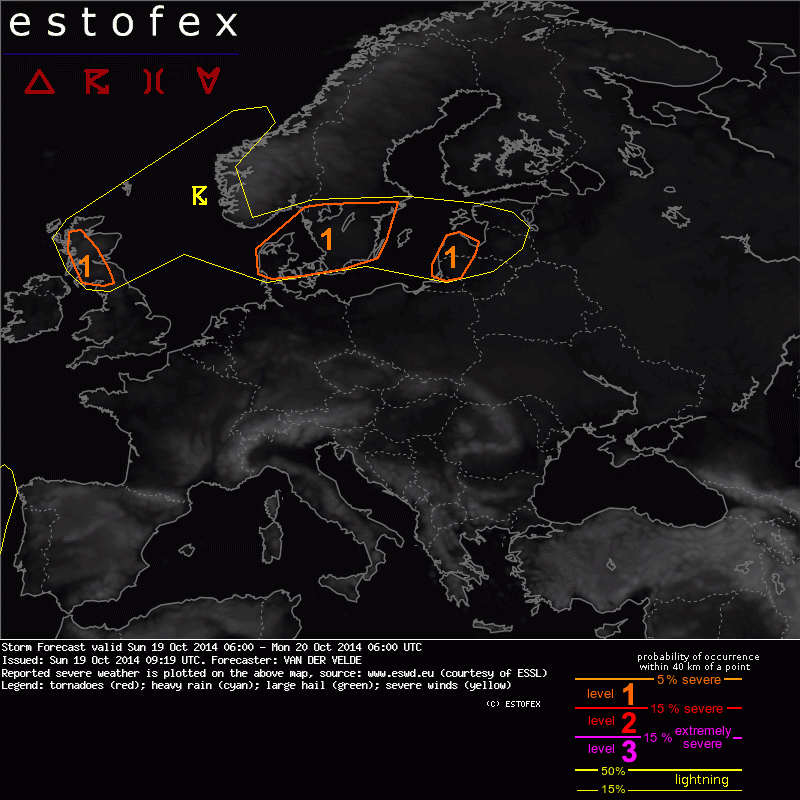 Storm Forecast
Valid: Sun 19 Oct 2014 06:00 to Mon 20 Oct 2014 06:00 UTC
Issued: Sun 19 Oct 2014 09:19
Forecaster: VAN DER VELDE
A level 1 was issued for northern UK, Denmark, southern Sweden and western Latvia and Lithuania mainly for probabilities of severe wind gusts and tornadoes.

SYNOPSIS

A large blocking high pressure system is situated over southern Europe. Depressions north of Scotland and over the Gulf of Bothnia have brought warm air far northward, with cold continental airmasses residing in northern Scandinavia and eastern Europe. Strong pressure gradients exist over British Isles, southern Scandinavia and Baltics and a cold front passes throught this region.

DISCUSSION

...Denmark, southern Sweden, Latvia and Lithuania...

GFS indicates that some CAPE with cloud tops colder than -20°C will affect the southwest coast of Norway, northern Denmark and eastwards. There is a strong boundary in low/mid level lapse rates over Denmark around noon suggesting that the band of precipitation predicted by WRF models from Netherlands to southern Denmark and Sweden is not a strong convective feature, also it is not backed by a deep PV intrusion which will stay more to the north. Instead, larger threat can be anticipated from convective features which may develop over northern Denmark and southern Sweden, under 10-15 m/s 0-1 km shear and over 30 m/s 0-6 km shear. These conditions may induce isolated short-lasting mesocyclones in storms with potential for tornadoes. Isolated severe wind gusts over 25 m/s are likely. This activity shifts to the Baltics around 00Z.

...northern UK...

Strong low-mid level winds can be transported to the surface by unorganized showers which may be thundery in Scotland. Gusts could reach over 25 m/s. 0-1 km shear is initially extreme around 20 m/s which can lead to tornadogenesis in storms. The threat should decrease in the late morning.