Storm Forecast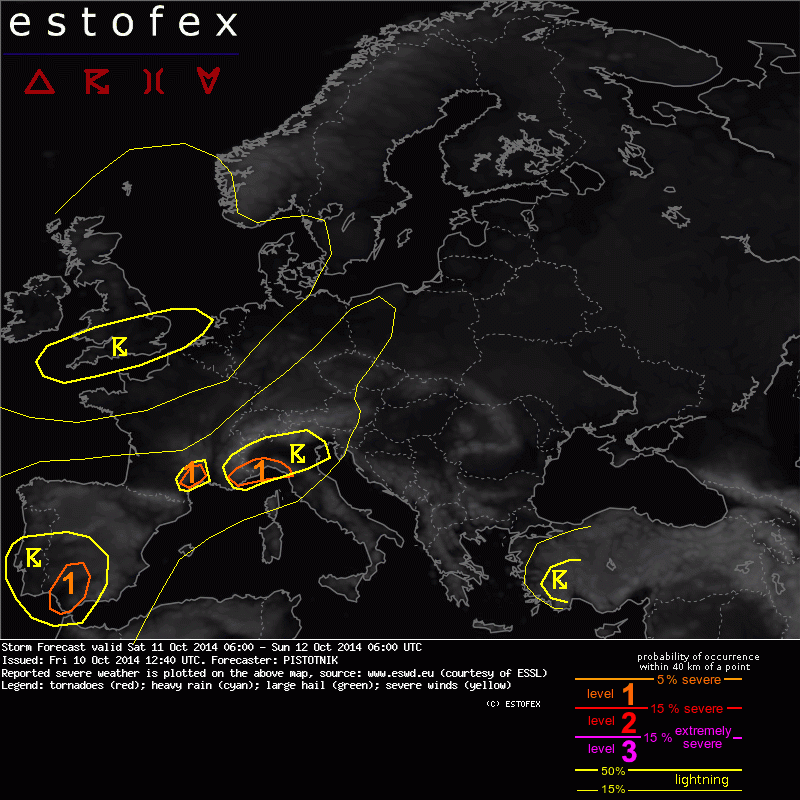 Storm Forecast
Valid: Sat 11 Oct 2014 06:00 to Sun 12 Oct 2014 06:00 UTC
Issued: Fri 10 Oct 2014 12:40
Forecaster: PISTOTNIK
Level 1 areas were issued for NW Italy, S France and SE Spain mainly for excessive precipitation and to a lesser extent for tornadoes.

SYNOPSIS

On the Southern flank of low geopotential over Scandinavia and the British Isles, a wavy frontal zone stretches from Iberia across France and north-central Europe into the Baltic region and Russia under a broad southwesterly flow. It separates temperate maritime air to the north from unseasonably warm air to the south.
Southern and eastern Europe are under anticyclonic influence. A weak and old cut-off low affects Turkey.

DISCUSSION

... Italy, S France, W Mediterranean ...

An elevated mixed layer from northwestern Africa overspreads warm and moist near-surface air over the Mediterranean Sea. This setup creates CAPE on the order of 1000 J/kg or even more (depending on the depth of the moist air and on the fetch), but also a strong cap.
Persistent onshore and upslope flow of moist air will be needed to initiate storms in this environment. Such a flow regime will be present in the first half of the forecast period in the French Alpes Maritimes and in Liguria, though it is superimposed by increasing synoptic-scale subsidence. This makes it unclear how high the storm coverage will be. Nonetheless, chances for backbuilding stationary storms are notably enhanced if initiation can be achieved. A level 1 was issued for a risk of localized downpours with flash floods. Extreme flash floods like the events around Genova (Italy) and in the Departments of Gard and Herault (France) in the past 24 hours, with localized precipitation accumulations between 100 and 400 mm, are unlikely but cannot be completely ruled out.

Late in the forecast period, a return to strong onshore flow and synoptic-scale lift will also return into SW France, where another level 1 was added on the upwind side of the Cevennes mountains. The larger part of precipitation will fall beyond the current forecast period, though.

... Portugal, Spain ...

Another cyclogenesis occurs off the Portuguese coast. CAPE up to 1000 J/kg and deep-layer shear up to 20 m/s will be present ahead of it, the former especially in southwestern Spain where onshore advection of Atlantic moisture is maximized. Scattered to widespread storms are expected, and training activity in vicinity of the slow-moving frontal boundary and in a very moist air mass will be conducive for a few flash flood events.
Low cloud bases and increasing low-level shear and veering could also promote one or two tornadoes towards the late afternoon and evening.

... England, France, BeNeLux, Germany, Alps ...

Approaching vorticity maxima will provide increasing lift in the course of the day. Together with diurnal heating, this can create a few hundred J/kg of CAPE. Isolated to scattered thunderstorms are possible over the Alps, along the diffuse frontal boundary across Germany, and in the postfrontal air mass in England and BeNeLux. They will mostly be confined to the afternoon and evening hours over land but could occur throughout the forecast period over sea, following the path of the vorticity maxima.
Highest chances for storms exist in the southern Alpine region, which experiences orographic lift. Otherwise, forecast models are reluctant to produce convective precipitation signals. This indicates that initiation may fail or may partly occur only in elevated form.

In any of the discussed regions, deep-layer shear with up to 20 m/s would suffice for better storm organization into multi- or even supercells, but low cloud bases and a lack of low-level CAPE should keep the hail and wind risk too low to contribute to the level 1 areas. The main threat is clearly excessive precipitation there.