Storm Forecast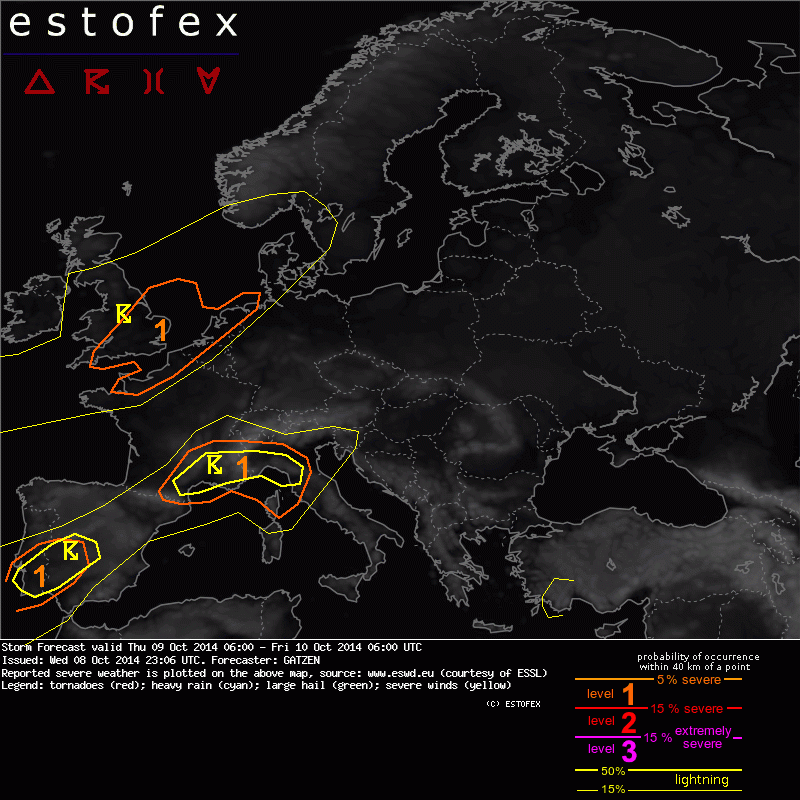 Storm Forecast
Valid: Thu 09 Oct 2014 06:00 to Fri 10 Oct 2014 06:00 UTC
Issued: Wed 08 Oct 2014 23:06
Forecaster: GATZEN
A level 1 was issued for England and parts of the North Sea region mainly for tornadoes.

A level 1 was issued for southern Portugal and south-west Spain mainly for excessive rain.

A level 1 was issued for southern France mainly for excessive rain and tornadoes.

A level 1 was issued for north-western Italy mainly for excessive rain.

SYNOPSIS

A strong south-westerly flow is still going on over North-western Europe, with a jet streak extending from the Bay of Biscay to the Baltic Sea. An African high ridges into the Balkans and Black Sea region, whereas a cut-off affects Turkey. Warm air masses are advected from the west Mediterranean and Iberia to the Alps and Poland. Maritime air masses are present across the North Sea and the British Isles. In between, a frontal boundary with rich low-level moisture extends from Iberia to the Baltic Sea. Aver the west Mediterranean, an elevated mixed layer has spread northward, leading to rich moisture across the maritime boundary layer.

DISCUSSION

British Isles and North Sea region

At the cyclonically-sheared flank of the jet streak, embedded short-wave troughs travel north-east, associated with QG forcing. The affected air mass is characterized by relatively steep lapse rates and adequate low-level moisture to allow for some CAPE. Showers and thunderstorms already going on are expected to continue on Thursday. Although moisture and lift will become weaker compared to Wednesday, some of these storms may become well-organized due to strong vertical wind shear. Especially across England, 10 m/s low-level vertical wind shear may support mesocyclones, capable of producing tornadoes. Severe wind gusts are not ruled out given strong low-level winds that can be superimposed by convective downdraft winds.

Southern Portugal to southern France

A cold front remains quasi-stationary over Iberia and France/Germany. Rich low-level moisture is present along the boundary. Latest Lisbon sounding also indicates that lapse rates are steep enough for CAPE in the order of 500 J/kg. Frontogenetical forcing is expected to support further thunderstorms that will continue to move north-east along the frontal boundary. These storms may be capable of producing excessive rain. Well-organized storms are not ruled out, especially across southern France where more than 15 m/s 0-3 km bulk shear are available. Supercells may develop in the noon and afternoon hours. These storms may produce tornadoes given also rather strong low-level vertical wind shear. Additionally, a few hail or wind reports are not ruled out.

North-western Italy

A very moist air mass overlaps with an elevated mixed layer over the west Mediterranean, allowing for CAPE of more than 1500 J/kg as indicated by latest Nimes sounding. On Thursday, thunderstorms are expected over northern Italy ahead of a short-wave trough approaching from the west. It will support warm air advection into the north of Italy. At low-levels, frontogenetical lift is forecast at the northern flank of the Mediterranean warm air plume.

Storms that form will be slow moving and capable of producing excessive rain and local flash flooding.