Mesoscale Discussion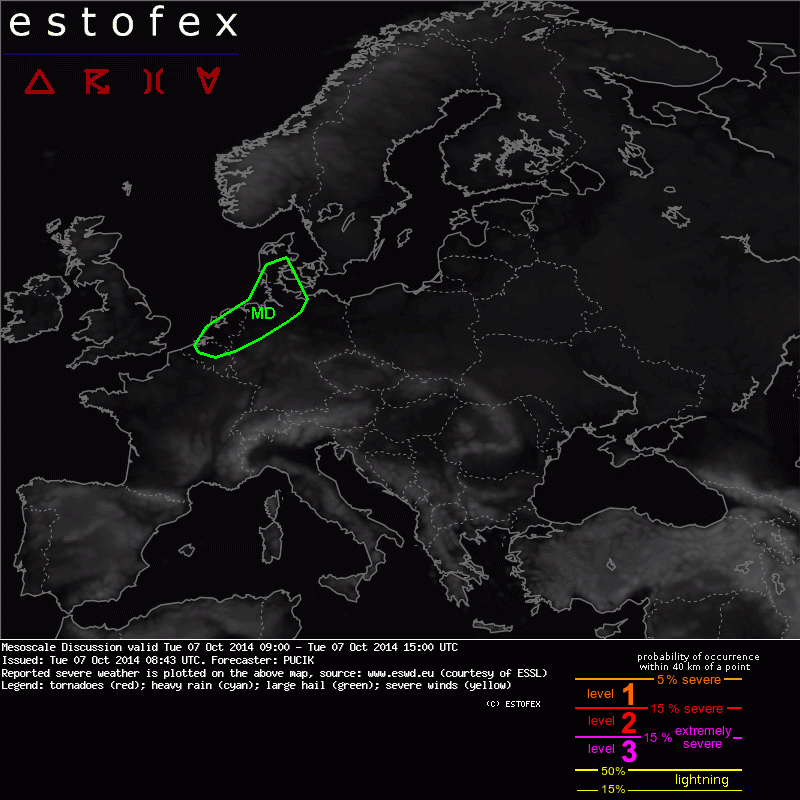 Mesoscale Discussion
Valid: Tue 07 Oct 2014 09:00 to Tue 07 Oct 2014 15:00 UTC
Issued: Tue 07 Oct 2014 08:43
Forecaster: PUCIK
An MD was issued for BENELUX, NW Germany and Denmark mainly for the risk of severe wind gusts and tornadoes.


DISCUSSION

Satellite loops reveal a passage of the trough over the region that quickly ejects NEwards. Lots of cloudiness is observed, but there should be a window for surface heating as clouds break up for a certain period. Surface data show rather moist airmass with low T-Td depressions, suggesting low LCLs. Furthemore, low level winds over Netherlands and NW Germany have backed in the last hour towards SSE-ly direction, increasing the degree of SREH.

According to the model data, 850 hPa winds should exceed 20 m/s, with 500 hPa winds reaching 30 to 45 m/s. Although not much instability will be present, given limited low level moisture and lack of steep lapse rates, strong lift from the trough should aid in the marginal destabilisation (GFS and ECMWF simulate CAPE on the order of a few hundreds J/kg). Given the degree of vertical wind shear, low topped, but well organised DMC will be possible, capable of severe wind gusts or tornadoes. Tornado threat will be enhanced especially in case isolated supercellular mode becomes dominant in this scenario.