Storm Forecast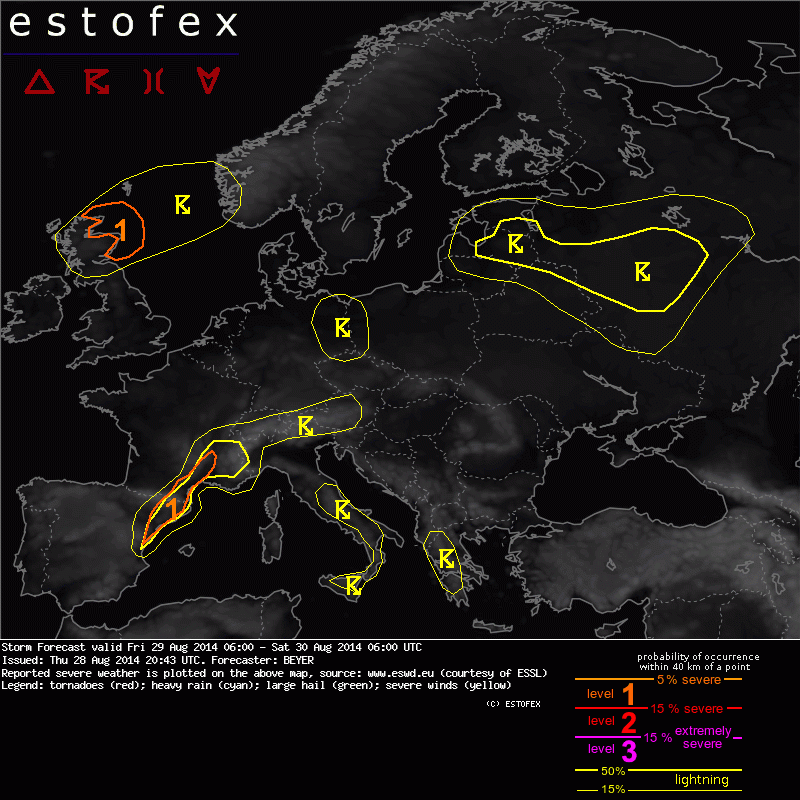 Storm Forecast
Valid: Fri 29 Aug 2014 06:00 to Sat 30 Aug 2014 06:00 UTC
Issued: Thu 28 Aug 2014 20:43
Forecaster: BEYER
A level 1 was issued for Northeastern Spain mainly for large hail and to a lesser extent for severe wind gusts.

A level 1 was issued for Southern France mainly for excessive precipitation.

A level 1 was issued for the coastline of Scotland mainly for tornados.


SYNOPSIS

Two long wave troughs influence the forecast area. One of them is situated over far Eastern Europe / Western Russia bringing rather cool airmasses and unstable conditions to this region. The second trough is influencing Western Europe. Its center is situated over Scotland and moves slowly eastward. A surface low having a perpendicular vertical axis corresponds to it. Its frontal system is influencing Eastern Germany and Poland.

Both troughs are separated by a weak ridge. Its axis is moving from Eastern Germany into Eastern Europe during the forecast time. It is mostly overrun by warm air advection in higher levels and has only weak impact since a frontal system can be found at almost the same place, as described above.

A cut of high that has a loose connection to the ridge, leads to sinking motion and stable conditions over parts of Northern Europe.

Southern Europe is lying south of the frontal zone and is influenced by warm and humid airmasses. A strong capping can be found over most of the Mediterranean. It is somewhat weaker over continental areas.


DISCUSSION

Northeastern Spain...

...steep lapse rates can be found over most parts of the Spanish inland. Since they are also very dry, showing high reaching inverted-v-profiles in the soundings, no convection can develop. Close to the Mediterranean airmasses are much more humid originating from the sea as streamlines indicate. Mixing ratios of 11 to 15 g/kg are forecasted. Although lapse rates are weaker than further inland, CAPE values of 1500 to 2000 J/kg should be available during the day.

In the first half of the day this region is influenced by an IPV maximum that may hold as a trigger for the initiation of convection. This disturbance moves eastward during the afternoon hours. A developing sea breeze front may assist the development of convection in the second half of the day.

Current thinking is that first convection can already occur at the beginning of the day. Later on new convection is possible near the frontal boundary that separates both airmasses. This area will move eastward when the see breeze is weakening. Due to the lack of further lift mechanisms convection will decay in the late evening hours.

Having shear values of 20 m/s in the first half of the day and 15 m/s later on (0 6 km) a better organization is possible. There is also the chance of a few supercells that may bring large hail. Stronger developments have also the chance for severe wind gusts. This is supported by a rather large dewpoint depression in lower layers.


Southern France...

...is lying downstream of a cold front and is influenced by rather humid airmasses having mixing ratios of 10 to 12 g/kg. At the same time steep lapse rates are advected from Spain. The combination of both results into CAPE values of about 1000 J/kg. While higher CIN values near the Mediterranean make initiation more questionable, capping is much weaker further inland. Since surface streamlines show a slightly convergent flow and with the help of the slowly southeastward moving cold front, initiation is quite likely.

Shear values are only about 10 m/s between 0 and 6 km. On the other hand winds in 500 and 700 hPa are weakening in the afternoon hours. This enhances the threat for excessive precipitation due to a slow thunderstorm movement and ppws between 30 and 34 mm. This threat is supported by Corfidi vectors that also point in the direction of slow moving storms in the afternoon hours.

Convection will weaken and dissipate in the evening hours when the front is moving further southeastward and pressure is rising.


Great Britain...

...is influenced by the upper level low which is also associated with cool temperatures. Together with diurnal heating showers and a few thunderstorms (CAPE ~200 to 400 J/kg) can develop. During the afternoon and night hours the pressure center is moving eastward to the North Sea. Warm sea water will keep the possibility for a few thunderstorms.

Having slow mid- and upper level winds in the vicinity of the trough center as well as hints for low level convergence the development of a few waterspouts is possible.


Rest of the forecast area...

...over Eastern Germany ahead of the cold front CAPE values of 200 to 400 J/kg also create the possibility for a few thunderstorms whereas severe weather is quite unlikely due to weak DLS.

Inland of Italy and Greece orography may help to initiate a few thunderstorms especially in the afternoon hours. Again DLS is insignificant.

Far Eastern Europe and Western Russia are influenced by cool airmasses in the vicinity of the trough. Day time heating of lower layers leads to a steepening of the lapse rates and thus to the development of a few hundred J/kg of MLCAPE. Several showers and thunderstorms should develop in this region. They can bring marginal hail and a few stronger wind gusts. Lacking shear prevents a better organization of convection and thus the occurrence of severe weather.