Storm Forecast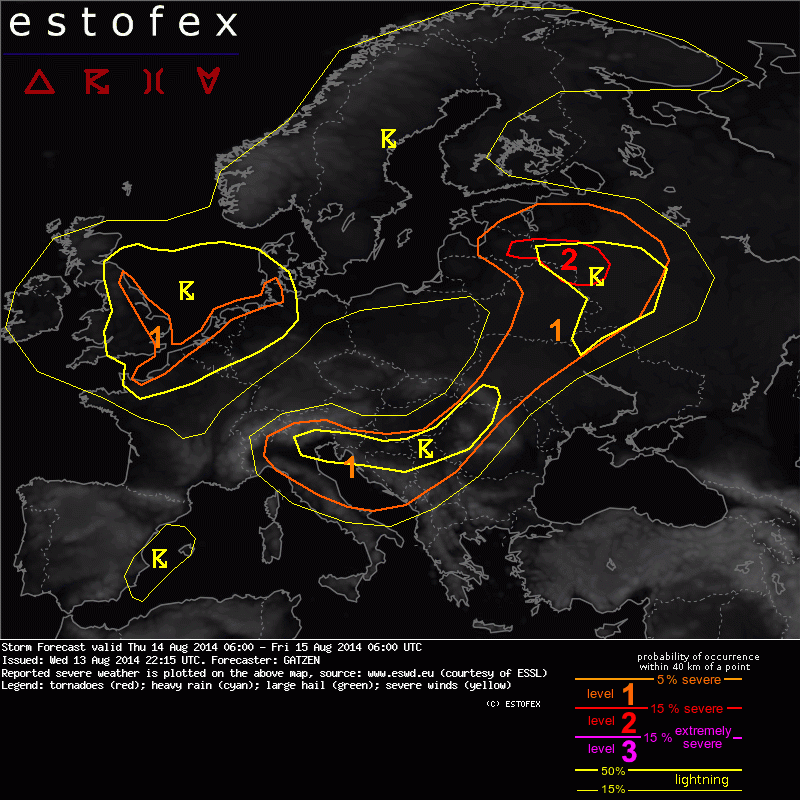 Storm Forecast
Valid: Thu 14 Aug 2014 06:00 to Fri 15 Aug 2014 06:00 UTC
Issued: Wed 13 Aug 2014 22:15
Forecaster: GATZEN
A level 2 and 1 were issued for parts of south-western Russia, northern Belarus, and eastern Latvia and Estonia mainly for tornadoes, severe wind gusts, and to a lesser extend excessive precipitation and large hail.

A level 1 was issued for the northern and central Adriatic region, the central Balkans into the western Ukraine mainly for large or very large hail and to a lesser extend excessive rain, severe wind gusts, and tornadoes.

A level 1 was issued for eastern England, north-eastern France, northern Netherlands and Germany mainly for excessive precipitation and waterspouts.

SYNOPSIS

A long-wave trough covers western and central Europe, yielding a strong south-westerly flow from the central Mediterranean to north-eastern Europe. Several vort-maxima will travel with this jet stream across the Balkans and eastern Europe on Thursday. Another vort-maxima is associated with the axis of the long-wave trough that moves from the British Isles towards France during the day. At lower levels, warm and well-mixed air spreads northward into south-western Russia ahead of a frontal boundary. Cool air masses dominate most of Europe further west. Best moisture is associated with the frontal boundary from south-western Russia to the south Mediterranean, despite rich moisture across the Black Sea. However, some better moisture can be also found near the axis of the long-wave trough.

DISCUSSION

South-western Russia into Belarus and Latvia

A strong south-westerly jet will continue to affect eastern Europe. An intense short-wave trough moving into Poland and the Czech Republic at 00 UTC will reach Belarus on Thursday morning. Ahead of the associated vort-max, strong QG forcing is expected, and a rather well-developed surface low will move across the Baltic States. It will support a strong southerly low-level jet spreading over Belarus into Russia on Thursday morning, advecting an elevated mixed layer into eastern Belarus and south-western Russia.

At low levels, rich moisture sampled by latest Budapest sounding is forecast to spread northward as well. An overlap with the steep lapse rates is most likely in the wake of the cold front, where models indicate CAPE around 1000 J/kg. But CAPE is also expected in the warm sector further east, given low-level convergence ahead of the cold front.

Current scenario is a well-developed low pressure system producing intense warm-frontal precipitation over the area in the morning hours. Behind the warm front, cold air advection can begin over Belarus in the wake of the short-wave trough, leading to weak QG forcing. Frontogenetical forcing may allow for some thunderstorms along the cold front, though. Further north-east, better QG forcing will allow for better low-level convergence, and thunderstorms seem to be quite likely. Main convective activity is expected to spread from northern Belarus and eastern Latvia into Russia during the noon and afternoon.

A region with high low-level winds and nearly southerly winds behind the warm front will allow for 20 m/s 0-3 km bulk shear and high potential for storm organization. Every isolated storm that forms in this environment can quickly become a supercell with the potential of producing strong tornadoes given up to more than 15 m/s 0-1 km bulk shear. Furthermore, every supercell that forms may be capable of producing large hail and severe wind gusts.

However, low-level buoyancy is questionable given a lot of clouds and rain near the surface low centre. Therefore, a level 1 is issued for most regions to address this uncertainty. Level 2 is issued for the areas with the highest thunderstorm potential.

Northern and central Adriatic into Balkans

Another short-wave trough travels into the northern Adriatic in the afternoon. Together with some warm air advection ahead of low geopotential over northern Italy QG forcing will overspread the frontal boundary. The affected air mass will be rather stable given rather cool westerly low-level winds and very warm winds at 850 hPa. The capping inversion will likely limit the potential of initiation. However, every storm that develops can become severe given 15 m/s 0-3 km bulk shear. Large or very large hail is not ruled out together will locally excessive rain, severe wind gusts, and tornadoes. Convective activity will spread south-east during the evening. Increasing cold air advection in the evening hours will further limit the potential of storms.

North Sea, British Isles, northern France

In the range of the trough axis, weak winds, rich moisture, and rather high low-level buoyancy are expected to increase the chance for non-supercell tornadoes. Additionally, slow moving storms may produce excessive precipitation, especially along the land-sea-breeze convergence over eastern England, late in the period also over northern France, Benelux, and Germany.