Storm Forecast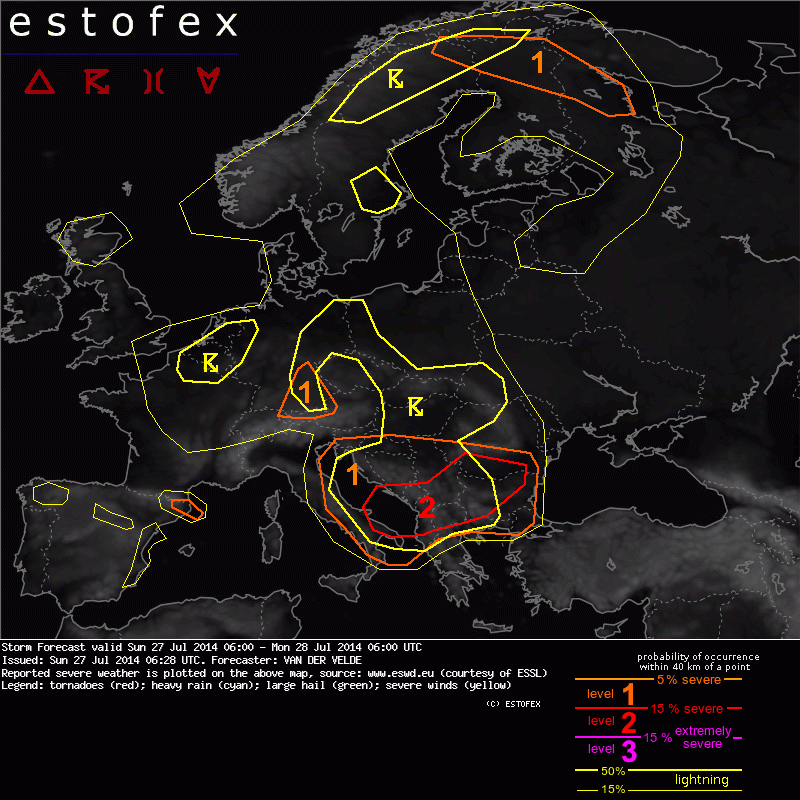 Storm Forecast
Valid: Sun 27 Jul 2014 06:00 to Mon 28 Jul 2014 06:00 UTC
Issued: Sun 27 Jul 2014 06:28
Forecaster: VAN DER VELDE
A level 2 and a level 1 were issued for SE Italy, S Adriatic Sea, SW Balkan mainly for excessive convective precipitation, large hail, and tornadoes.
A level 1 was issued for S Germany and the northern Alpine region mainly for excessive convective precipitation.
A level 1 was issued for N Scandinavia mainly for large hail.
A level 1 was issued for N Catalonia mainly for large hail.

SYNOPSIS

Slight low pressure prevails from N Scandinavia into central Europe and Balkan, with steep lapse rates and sufficient moisture to create weakly capped MLCAPE of 500-1500 J/kg. Vertical shear and deep lifting will be weak or absent over a large part of this area. However, two upper/mid level lows are found on the map. One moves from Scotland toward northern France with the potential of destabilizing the Benelux, S UK and NW France at night. The other low moves from Italy into southern Balkan and is causing active thunderstorms over a large area and enhanced deep layer shear.

DISCUSSION

...Italy and Balkan...

Over 15 m/s 0-6 km deep layer shear is present throughout the level 2 area, which can interact with storms to form mesocyclones producing large hail. Limiting factor is lack of hodograph curvature, keeping SREH low, except for a somewhat elevated strip (100-150 mē/sē) along the Balkan west coast predicted by GFS. The forcing is strong with a PV maximum rolling in. It may cause a linear MCS dragging along Montenegro and Albania with a rain threat. Severe gusts may also be locally produced as delta-theta-e indicates values over 20K. To the northwest along the Adriatic, LCL heights are low. In the morning the chances are good for spout-type tornadoes along the Adriatic coasts as well as high/severe rain sums.

...S Germany...

Low LCLs in GFS, CAPE to the north and an approximately north-south convergence line impeding on the north side of the Alps could be a recipe for training storms unloading locally excessive rain sums.

...N Scandinavia...

Coexistence of decent CAPE and shear/helicity and medium LCLs with enhanced upper level buoyancy by good lapse rates may favor a local large hail event along the warm front.

...NE Catalonia (Spain)...

More than 15 m/s deep layer shear and convergence at the lee side of the Pyrenees could trigger a multi/supercell thunderstorm with large hail chances.

...other areas in central Europe...

There is a lack of storm-relative winds for storm organization and longevity and a lack of lifting processes (except orography). However LCLs are quite high and lapse rates steep, resulting in moderate CAPE (>1000 J/kg) and strong enough updrafts to locally produce large hail. Slow storm motion may cause flash floods.