Storm Forecast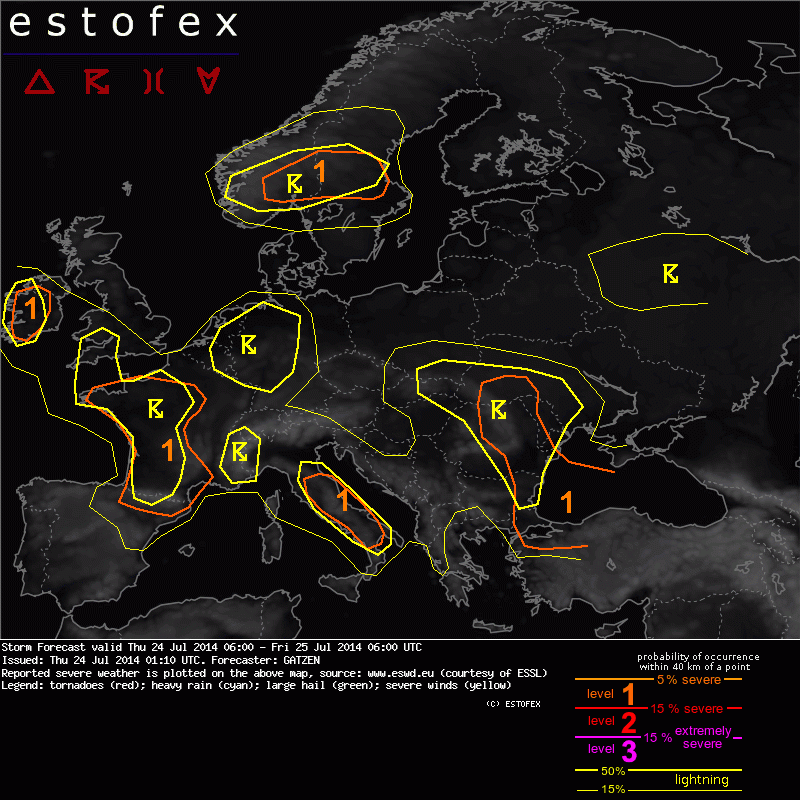 Storm Forecast
Valid: Thu 24 Jul 2014 06:00 to Fri 25 Jul 2014 06:00 UTC
Issued: Thu 24 Jul 2014 01:10
Forecaster: GATZEN
A level 1 was issued over north-western Turkey mainly for large or very large hail.

A level 1 was issued for southern Sweden and Norway, western and central France, and north-western Germany mainly for large hail and excessive precipitation.

A level 1 was issued for Ireland and Italy as well as from the Balkans to south-western Ukraine mainly for excessive precipitation.

SYNOPSIS

High-over-low blocking continues over Europe. This situation is associated with weak mid-level flow over most regions. With slightly stronger flow over southern Europe, a lifting trough will affect the southern Balkans and Aegean region on Thursday. It is followed by another short-wave trough that moves over the central Mediterranean. Further north, a closed upper low moves east across central Germany. Rather weak lapse rates and limited low-level moisture are expected over most of Europe through-out the forecast period.

DISCUSSION

North-western Turkey

The axis of a lifting trough will cross western Turkey in the morning hours, providing QG forcing. At lower levels, diurnal heating will lead to steepening lapse rates, while low-level northerly winds are associated with upslope flow of a moist maritime air mass from the Black Sea. Current thinking is that initiation will be likely in the late morning hours over north-western Turkey. Given strong deep layer vertical wind shear east of the trough centre, storm organization is quite likely, and well-developed multicells and supercells are forecast. Main threat will be large or very large hail, although a tornado is not ruled out. Convective activity spreads east with the trough axis during the period.

Italy

The axis of a Mediterranean trough will cross Italy on Thursday. Diurnal heating of a relatively moist boundary-layer will lead to CAPE and storms are forecast over the mountains and along sea-breeze convergence lines. Main threat with these storms will be excessive precipitation over the mountains.

Other regions

Weak vertical wind shear will dominate over most of Europe. Steep low-level lapse rates due to diurnal heating and moist low-level air will lead to CAPE especially over France, southern Sweden, and from the Balkan Peninsula to the southern Ukraine. Storms are forecast that will merge to clusters during the period. Main threat will be large hail with the most intense storms and excessive precipitation with clusters of storms. Additionally, local downbursts with pulse storms and severe gusts at the leading edge of cold pools are not ruled out. Non-supercell tornadoes may also occur, especially over France where instability is strongest. Storms will decay after sunset over most areas but may go on over Scandinavia as well as over western France and the Pyrenees due to some QG forcing ahead of the approaching mid-level trough.