Storm Forecast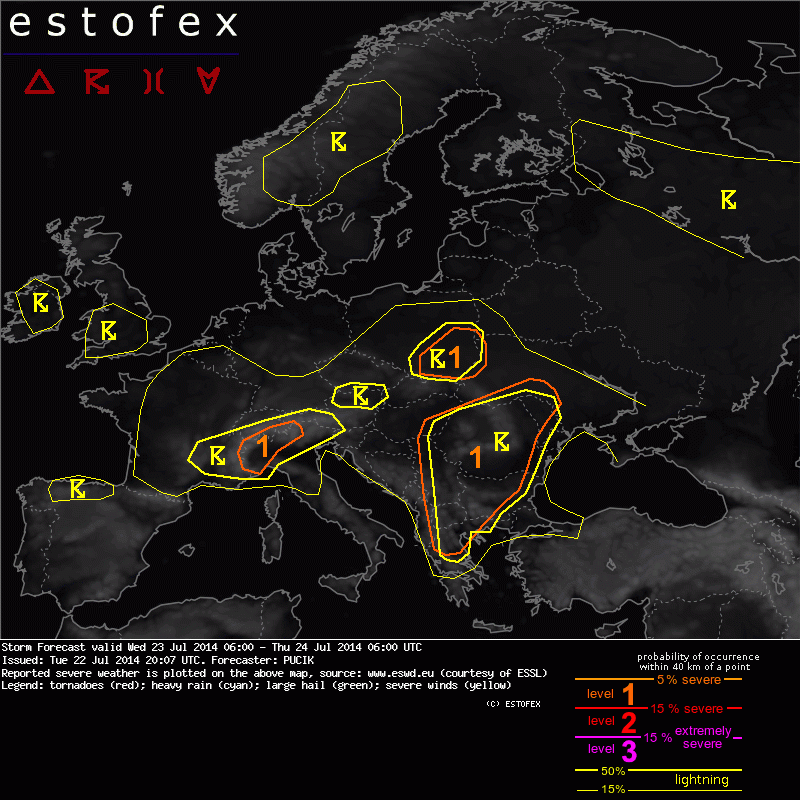 Storm Forecast
Valid: Wed 23 Jul 2014 06:00 to Thu 24 Jul 2014 06:00 UTC
Issued: Tue 22 Jul 2014 20:07
Forecaster: PUCIK
A level 1 was issued for NW Italy, SE Poland, SE Hungary and Balkans area mainly for excessive precipitation.

SYNOPSIS

Speaking of mid to upper troposphere, an Omega-type pattern will prevail also over this forecast period. Setup will feature a highly amplified ridge over W Europe / Scandinavia and a low over Balkans and parts of Central Europe. Especially under the low pressure system, marginally to moderately unstable, moist airmass is situated with scattered to widespread DMC activity. Speaking of surface pressure patterns, these will duplicate the upper tropospheric patterns with high pressure centered over the Norwegian Sea and low pressure centered over Balkans.

DISCUSSION

... NW Italy, S Poland, SE Hungary and Balkans area ...

Under relatively weak prevailing flow, these areas will experience scattered to widespread tstm activity, easily initiating in the conditions of rather low LCLs / LFCs. Models simulate marginal to moderate instability in modest lapse rates with skinny CAPE profiles, as suggested by Tuesday 12 UTC ascents. Current thinking is that slow moving storms forming in moist environment will pose a risk of excessive precipitation, especially in case that cell training develops over the mountainous regions. Other threats should be less pronounced, even though marginally large hail is not ruled out with the stronger multicell clusters (especially in case of Balkans, where the highest CAPE values are simulated).