Storm Forecast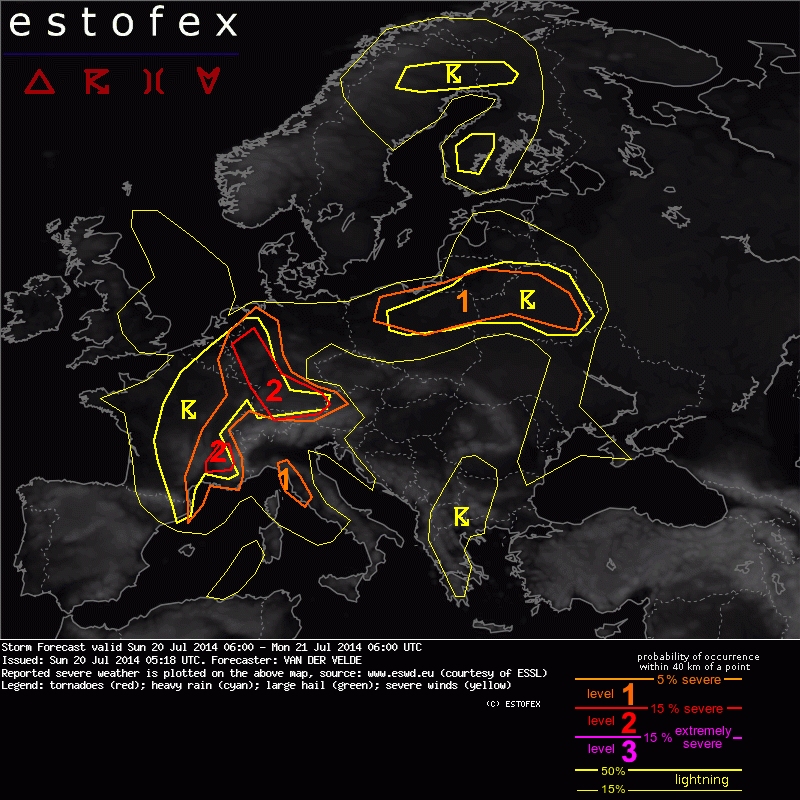 Storm Forecast
Valid: Sun 20 Jul 2014 06:00 to Mon 21 Jul 2014 06:00 UTC
Issued: Sun 20 Jul 2014 05:18
Forecaster: VAN DER VELDE
A level 2 has been issued for southern Germany mainly for large hail and severe convective wind gusts.
A level 2 was issued for southern France mainly for large hail and excessive convective precipitation.
A level 1 has been issued for northern Poland, Belarus and Lithuania mainly for large hail.
A level 1 was issued for western Germany and adjacent areas mainly for large hail.
A level 1 was issued for eastern France mainly for excessive convective precipitation.
A level 1 was issued for northwestern Italy mainly for large hail, severe wind gusts and tornadoes.

SYNOPSIS

A mid level trough expands its influence from western Europe into central Europe. Its associated cold front will advance eastwards to central/eastern France. In the warm sector locally up to 1000-1500 J/kg MLCAPE is forecast by GFS, and 10-15 m/s deep layer shear should be present. It also will have medium altitude cloud bases whereas the colder airmass has LCLs below 1000 m. GFS also depicts strong upper level divergence over eastern France, southwestern Germany and Belgium, possibly as result of model convection.
Another smaller trough is moving southward over the Baltic States with strong lifting over Poland and Belarus.

DISCUSSION

...Poland, Belarus, Lithuania...

The presence of 15-20 m/s 0-6 km shear and enhanced SREH suggests some storms will develop as supercells with a hail threat. The high LCL of 1500-2000m is supportive of that, but lack of good CAPE (<500 J/kg predicted) and upper level buoyancy in particular lowers the confidence in widespread large hail. The PV feature appears a linear source of lift and may trigger a linear system rather than supercells.

...Germany...

With relatively modest 0-6 km shear (10-15 m/s, over 20 m/s BL-8 km shear) the backed low level winds do produce curved hodographs with over 200 mē/sē of 0-3 km SREH in southern Germany, where also 1000-2000 J/kg MLCAPE should be present with little capping in the afternoon. Supercells with large hail are the expected mode. Large scale lift for destabilization comes from a sharp intrusion of PV crossing the Alps around 15-18Z.
Slightly enhanced shear conditions also apply to western Germany where LCL is still reasonably high, there is 1000-1500 J/kg MLCAPE predicted (GFS) within a convergence line, so a large hail chance should exist. Isolated excessive precipitation is also likely.

...France...

Eastern and southern France may allow supercellular storms with large hail by the same reasoning as in Germany, although training and clustering of storms as the cold front slowly passes through may turn the situation into a local excessive convective precipitation threat.
Western and northern France have some chance of spout-type tornadoes due to steep low-level lapse rates and buoyancy, low LCLs, weak low level shear and slow storm motion. It requires a source of surface vorticity.

...Italy...

During the night the northern Mediterranean low shifts to northern Italy. During the day most CAPE is predicted to be capped, but in the early morning next day parcels can be free of CIN. The cold front appears to have potential for convection and enhanced low level shear to over 12 m/s and deep layer shear over 20 m/s suggests a tornado threat around the NW Italian shore. Severe wind gusts may occur as well.