Storm Forecast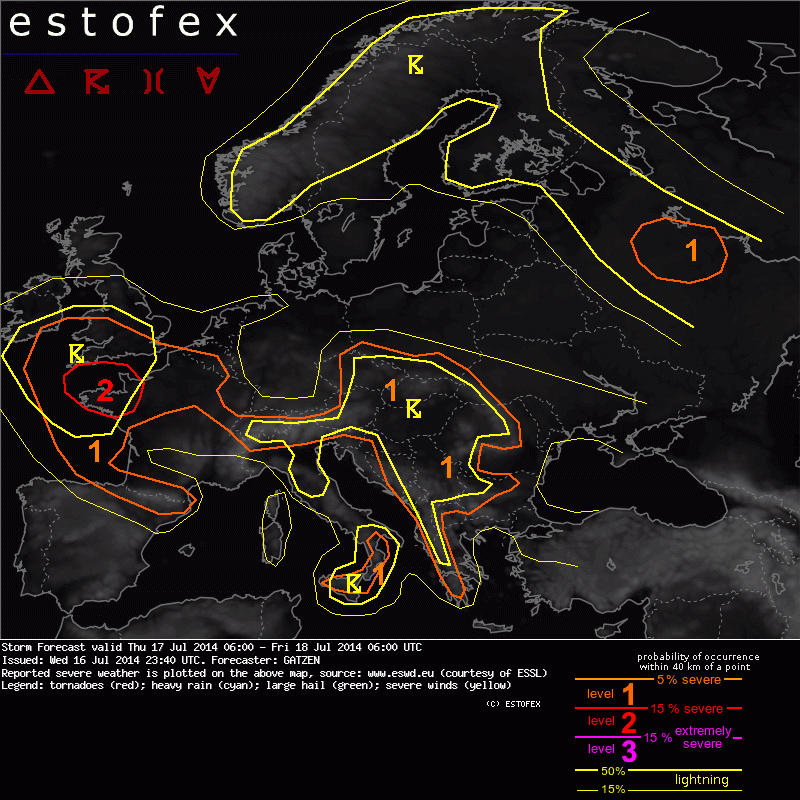 Storm Forecast
Valid: Thu 17 Jul 2014 06:00 to Fri 18 Jul 2014 06:00 UTC
Issued: Wed 16 Jul 2014 23:40
Forecaster: GATZEN
A level 2 was issued for the northern Bay of Biscay region mainly for severe wind gusts and large hail and to a lesser extend tornadoes and excessive precipitation.

A level 1 was issued for parts of northern and central France mainly for large hail.

A level 1was issued for western Russia mainly for large hail.

A level 1 was issued for the southern Alps mainly foir large hail and excessive precipitation.

A level 1 was issued for southern Italy mainly for large hail and excessive precipitation.

A level 1 was issued for regions in central and south-eastern Europe maily for excessive precipitation and locally large hail.

SYNOPSIS

A broad upper trough is placed over the Balkans and Black Sea region. A rather moist and slightly unstable air mass will allow for diurnally driven thunderstorms over a widespread area. A ridge axis extends from the west Mediterranean to central Europe. With a south-westerly flow from Iberia to Scandinavia, several upper waves travel north-east on Thursday.

DISCUSSION

Western Europe

A well-developed short-wave trough travels across the Bay of Biscay to the British Isles. Ahead of this trough, a plume of well mixed and very warm air originating from the Atlas mountains will spread northward, reaching the southern British Isles late in the period. At lower levels, moisture will increase in the warm air advection regime from northern France to the southern British Isles. This will result in increasing instability with MLCAPE in excess of 1000 J/kg over northern France. Moisture will be weaker over southern France what results in
smaller CAPE and a quite strong capping inversion.

Due to strongest large scale lift ahead of the approaching trough and near a cold front that enters the area from the west, storms are forecast across the central Bay of Biscay during the day that will spread northward in the afternoon and evening. Due to strong vertical wind shear below a low-level jet ahead of the cold front, storms will merge to a broad MCS that moves into the southern British Isles during the evening and night hours. The main threat will be severe winds along the leading gust front. Large or even very large hail is forecast especially with more discrete cells over France, but is also not ruled out with the MCS that enters the British Isles. Excessive rain is not too likely as the system moves northward quickly. Moreover, tornadoes may be possible given the strong low-level vertical wind shear. The main limiting factor is the weak buoyancy of the boundary layer over the British Isles.

Other areas

Weak vertical wind shear will be present over most of Europe, and chances of storm organization are weak. A level 1 was introduced for a large area over central and south-eastern Europe due to the chance of excessive precipitation given slow-moving storms and rich low-level moisture. Large hail is not ruled out with the stronger storms, though, with the highest chance over the southern Alps as well as across western Russia due to steep lapse rates. Storms are forecast to weaken after sunset, and the severe potential will gradually decrease.