Storm Forecast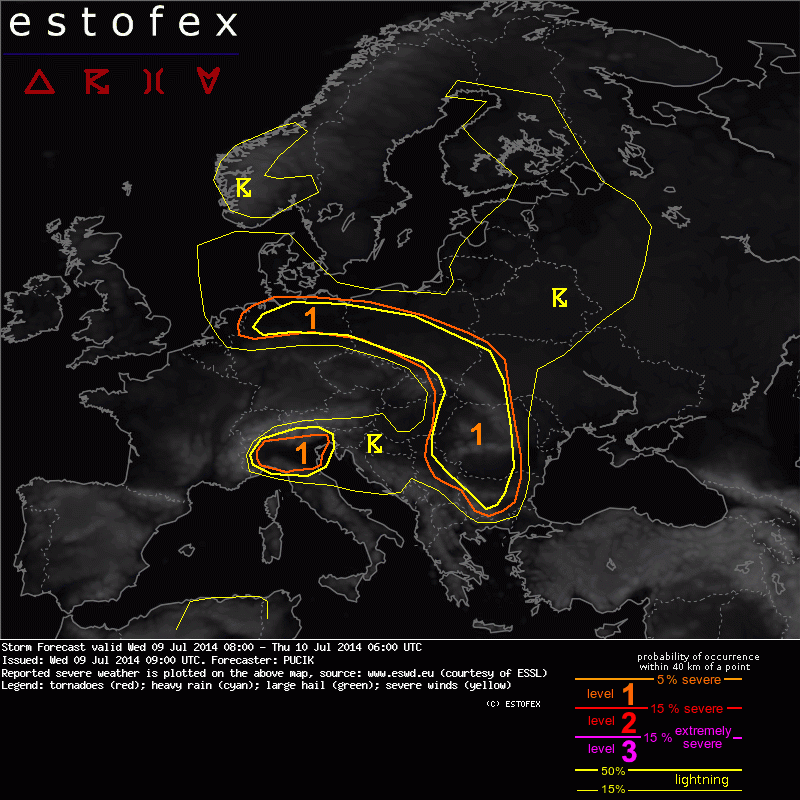 Storm Forecast
Valid: Wed 09 Jul 2014 08:00 to Thu 10 Jul 2014 06:00 UTC
Issued: Wed 09 Jul 2014 09:00
Forecaster: PUCIK
A level 1 was issued for NW Germany, Poland, E Slovakia, E Hungary, N Romania mainly for excessive precipitation and to the lesser extent for severe wind gusts and tornadoes.

A level 1 was issued for Central Romania, Bulgaria and E Serbia mainly for large hail and severe wind gusts.

A level 1 was issued for Northern Italy mainly for large hail and excessive precipitation.

SYNOPSIS

Dominant macrosynoptic feature will remain in the form of a deep, cut-off low centered over S Germany / SE France, moving towards N Italy during the day. Strong, westerly flow at mid to upper troposphere will persist on its southern flank. Closer to the surface, low will have two centeres - one over N Germany and another one over NW Italy. A warm front will push westwards towards BENELUX during the day while a cold front will continue towards Balkans. 00 UTC soundings show moist airmass with PW values between 30 and 40 mm over much of Central Europe. Marginal to moderate CAPE values will develop in the warm sector ahead of the frontal boundary with scattered to widespread tstm initiation.

DISCUSSION

... NW Germany through Poland, E Slovakia, E Hungary and N Romania ...

00 UTC soundings from the area show high PW values, as mentioned above, with high RH through much of troposphere. Moderate southeasterly flow, 10 - 15 m/s, was observed close to the 850 hPa layer. Not much of a change is expected during the day - with rather skinny CAPE profiles and moist troposphere, it seems that excessive precipitation will be the primary threat. In case of stronger cells or if cells align perpendicullary to the low level flow, severe wind gusts may occur as well. Enhanced LLS (towards the late afternoon with values above 10 m/s) and low LCLs would point towards the tornado threat. However, this is highly conditional provided that isolated supercell storm mode is unlikely in this setup.

... Central Romania to Bulgaria and E Serbia ...

Compared to yesterday, lapse rates should be less steep, providing mostly for marginal to moderate CAPE values, in combination with moist surface airmass with dewpoints reaching 15 - 20 °C. Stronger mid-level flow (opposing easterly surface flow) will result in moderate DLS values, attaining values around 15 m/s, which is already sufficient for well organised convection, including a possibility for supercells, especially in the regions with locally enhanced shear. Main threats in this region should include severe wind gusts and marginally large hail from the stronger cells.

... N Italy ...

A Lvl 1 is issued as cold mid-level temperatures provide for rather steep lapse rates and moderate CAPE values, which may result in a few large hail reports with stronger cells. Degree of cell organisation is questionable, with degree of vertical wind shear increasing towards the south and decreasing towards the late afternoon. If supercells manage to develop (provided strong jet-stream around the noon above the region), large hail and severe wind gusts threat would become more prominent. With slow moving storms, isolated excessive precipitation event over the mountainous areas is not ruled out either.