Storm Forecast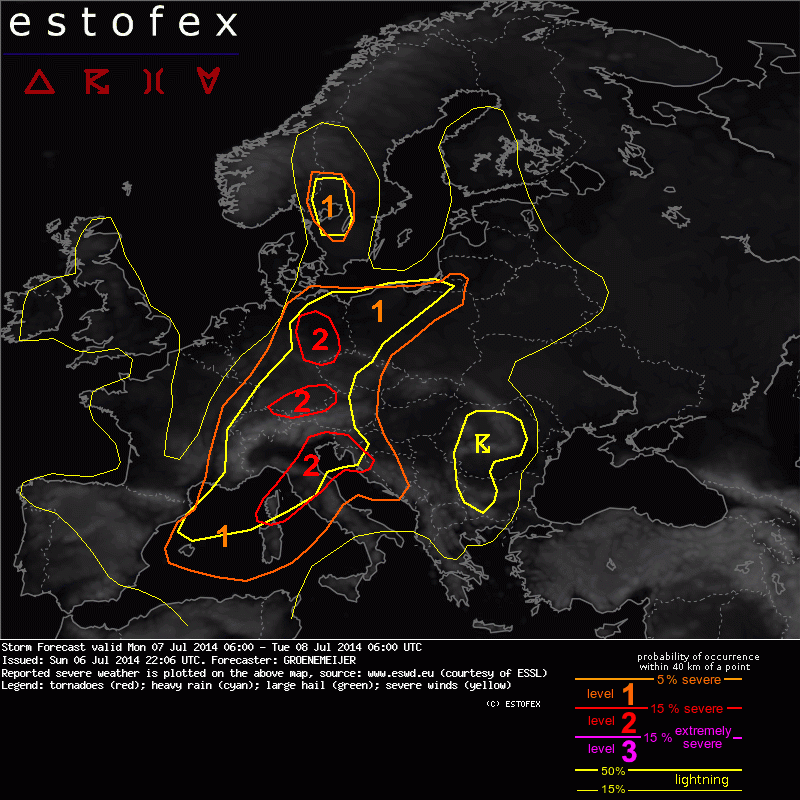 Storm Forecast
Valid: Mon 07 Jul 2014 06:00 to Tue 08 Jul 2014 06:00 UTC
Issued: Sun 06 Jul 2014 22:06
Forecaster: GROENEMEIJER
A level 2 was issued for parts of central and northeastern Germany mainly for extreme rainfall, and to a lesser extent for large hail and severe winds.

A level 2 was issued for a part of S Germany and and the adjacent plains for large hail and to a lesser extent for severe winds and extreme rainfall.

A level 2 was issued for Corsica, parts of northern Italy, western Slovenia and western Croatia mainly for large hail and to a lesser extent for severe wind gusts and extreme rainfall.

A large level 1 area was issued covering Poland, the Czech Republic, much of Austria, SE Germany, the NW Balkans, Italy and the western Mediterranean mainly for a risk of large hail, isolated severe winds gusts and extreme rainfall. The level 1 also covers parts of W and N Germany, France, Switzerland mainly for a risk of extreme precipitation.

SYNOPSIS...

A longwave trough stretches all the way from Iceland towards the Iberian Peninsula. Several local potential vorticy (PV) maxima - shortwave troughs - are part of this trough. Most importantly, a PV maximum over the sourthern Bay of Biscay is projected to move into the northern part of the Western Mediterranean basin, before lifting NEward on Tuesday. Pressure falls ahead of the system - and ahead of a subtle vorticity maximum preceding it - will lead to covergence across Germany and northern Italy.

DISCUSSION...

NE Germany...

Fairly steep lapse rates advected into the area from the southeast and increasing low-level moisture, should yield 1000-1500 J/kg of CAPE across NE Germany ans W Poland. Across the level 2 area in Germany, presistent and increasing convergence is forecast by NWP guidance. The covergence zone predicted by the mdoel would have a NNW-SEE orientation, which is very parallel to the, roughly, northward storm motion vector. Hence, training storms are forecast to occur, locally leading to very high precipitation rates, especially during the eveing and overnight. In addition, large hail and perhaps isolated severe wind gusts may occur, which are most likely to occur with earlier isolated storms.

S Germany...

After a first surge of cooler low-level air from the west, pressure falls ahead of the approaching trough should cause the low-level flow to turn back to easterly. Although, NWP giudance indicates somewhat less steep lapse rates than on Sunday, enhanced moisture should yield around 1500 J/kg CAPE. In combination with 20 m/s of 0-6 km bulk shear thsi should prove adequate for the formation of a few supercells capable of producing large hail and severe wind gusts.

Corsica, Italy, NW Balkans...

Strong 20-30 m/s 0-6 km bluk shear and ample CAPE (1000-2000 J/kg) should be in place across the level 2 area. Some storms will likely initiate across Corsica and the Apennine mountains during the afternoon. NWP guidance suggests that the storms may well continue during the evening and overnight. In addition, the approach of the trough should lead to relatively widespread initiation across the N Adriatic and adjacent coastal areas during the evening and night. The storms will experience more than enough shear to turn into supercells with large hail as their main threat. In addition, extreme rainfall and heavy wind gusts are an issue. The rainfall threat appears to be highest along the Slovenian and Croatian sections of the level 2 area.

W Sweden...

Some 10 m/s of deep-layer shear and CAPE aroudn or above 1000 J/kg should enable some large hail to form locally. A few severe wind gusts are also not ruled out.