Mesoscale Discussion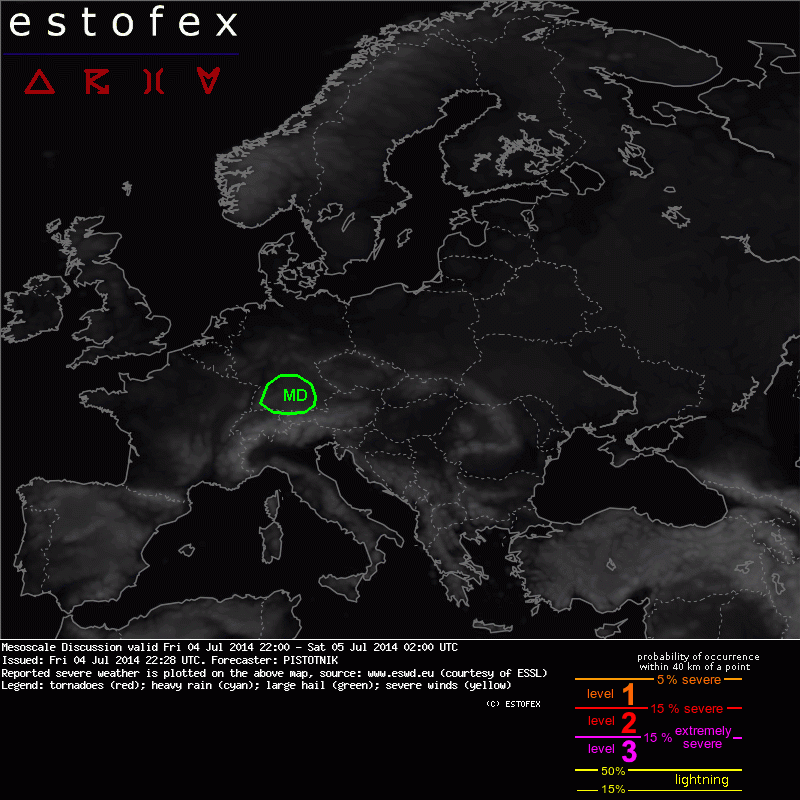 Mesoscale Discussion
Valid: Fri 04 Jul 2014 22:00 to Sat 05 Jul 2014 02:00 UTC
Issued: Fri 04 Jul 2014 22:28
Forecaster: PISTOTNIK
Like it was expected, the behaviour of the low-level wind and the resulting moisture distribution in the Northern Alpine foreland has been - and still is - crucial for today's thunderstorm development. In Switzerland, hot and dry downslope winds (Foehn) have mostly been confined to Alpine valleys, while rich moisture with dewpoints between 16 and 20°C could accumulate beneath the capping inversion over the Northern forelands. As a result, a large cluster of strong thunderstorms has formed and moved norteastward. It has failed to acquire an obvious bow echo structure but produced wind gusts up to 31 m/s (Neuchatel).

In contrast, a stronge surge of dry South Foehn (with isolated severe gusts) from the Rhine valley has pushed deeply into Southern Germany in the evening and has removed the formerly available moisture. For example, the dewpoint has dropped in just 30 minutes from 14°C to 6°C in Friedrichshafen, in just one hour from 19°C to 5°C in Oberstdorf and in two hours from 17°C to 7°C and from 14 to 7°C in Kempten and on Hohenpeissenberg, respectively, with the passage of this dryline.
While forecast models had suggested the presence of (strongly capped) CAPE well in excess of 1000 J/kg ahead of the dryline, little or no CAPE at all is available any more in its wake.

According to latest observations, the dryline has become stationary roughly along a line from Constance northeastward to Ulm. With the pronounced pressure rise at the flanks and in the wake of the Swiss storm cluster, it will start to regress soon and some better moisture will return towards the Alpine rim. Yet it needs to be awaited if this will suffice to enable thunderstorms in Southern Germany beyond the validity period of this Mesoscale Discussion (02 UTC).

Until then, the former Swiss storm cluster and additional storms that have formed over the Black Forest will continue to move northeastward on the "moist" side of the dryline boundary and will affect the area around Stuttgart and Ulm. As they gardually leave the area of substantial CAPE, they will become elevated and weaken. However, isolated severe wind gusts are still possible along its leading edge.