Storm Forecast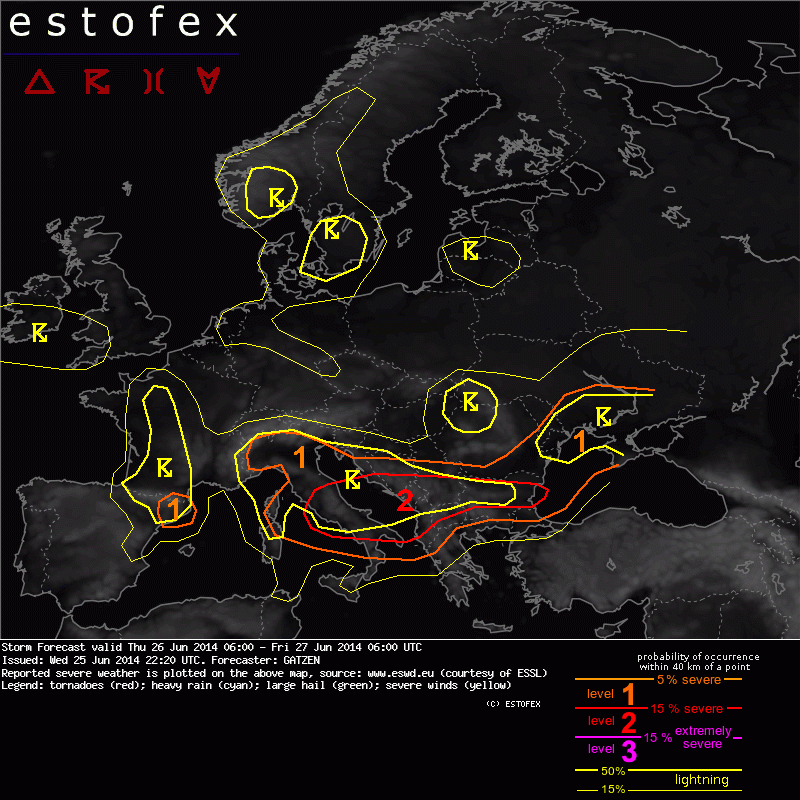 Storm Forecast
Valid: Thu 26 Jun 2014 06:00 to Fri 27 Jun 2014 06:00 UTC
Issued: Wed 25 Jun 2014 22:20
Forecaster: GATZEN
A level 2 was issued for central and south-eastern Italy, the central and southern Adriatic Sea, southern Croatia, Bosnia, and Serbia, Montenegro northern Albania, and central Bulgaria mainly for large hail, severe wind gusts, and excessive precipitation and to a lesser extent tornadoes.

A level 1 was issued for Italy mainly for large hail.

A level 1 was issued for north-eastern Spain mainly for large hail.

SYNOPSIS

A lifting trough moves from the west Mediterranean to the Balkan Peninsula, while a polar trough over Germany moves into the Ukraine. Both troughs are associated with strong mid-level jet streaks that will merge over the Balkans on Thursday, indicating a sharp frontal boundary. While dry air will spread into Romania, a tongue of rich moisture will remain over Bulgaria, where also steep lapse rates are forecast. A second lifting trough ejecting from the Mediterranean low will lead to QG lift in the afternoon and evening hours.

In the wake of the south-east European troughs, a westerly flow is affecting the Mediterranean and western and central Europe. An Atlantic trough moves into the British Isles region.

DISCUSSION

The Balkans and Ukaine

Convective activity is expected to still go on in the morning hours over eastern Romania, Bulgaria, and Ukraine at the cyclonically sheared flank of the mid-level jet and ahead of the approaching polar trough. Although the boundary-layer will be stable, deep moisture and steep lapse rates are forecast to support partly elevated storms. Vertical wind shear will be around 20 m/s in the lowest 6 km and organized storms, mostly well-developed multicells and bow echoes, are forecast. Main threat is severe winds with bow echoes as well as large hail.

In the morning hours, dry air masses will spread into Romania and northern Bulgaria in association with the polar trough passage. Latest models indicate a new frontal boundary across central Bulgaria at noon. Strong capping is expected along and south of the frontal boundary and initiation is not likely.

In the afternoon hours, a lifting trough will approach the Balkans from the south-west, associated with another strong mid-level jet streak. At its cyclonically sheared flank, initiation becomes likely from southern Bosnia and Montenegro into central Serbia and northern Bulgaria. Main limiting factor will be the low-level air mass as moisture recovery may be too weak to lead to surface-based storms. When storms root to the boundary-layer, 30 m/s deep layer bulk shear will be more than supportive for well-organized storms, including intense supercells and bow echoes. Large hail, severe wind gusts and tornadoes are possible with any surfaced-based storm in the afternoon and evening hours. Additionally, excessive precipitation is forecast. The highest potential is expected along the western Balkans coasts, where upslope flow will allow for persistent storms.

Italy and surroundings

An intense short-wave trough travels north-east across Italy in the morning and noon hours. A strong mid-level jet streak will be located at its southern flank. At lower levels, a moist boundary layer and rather steep lapse rates are present, leading to CAPE in the order of 1000 J/kg. At the cyclonically sheared flank of the jet streak, initiation is likely in the morning hours. Sea-breeze convergences and outflow boundaries will be the foci of new convective storms in the noon hours.

Very strong vertical wind shear, with a deep layer shear of 30 m/s, will lead to rapid storms organization, and supercells are forecast that pose a threat of very large hail, severe wind gusts, and tornadoes. Tornadoes are especially expected when storms interact with sea-breeze fronts or outflow-boundaries. Storms can merge to bow echoes, spreading across the Adriatic Sea into the Balkan Peninsula, posing a threat of high winds. In the evening, the activity is expected to weaken in the wake of the trough axis.

From northern to central Italy, vertical wind shear will be much weaker. Storms that form during the day may be associated with locally large hail and heavy precipitation.

Central Germany

Another short-wave trough moves into northern Germany. A mid-level jet streak will move across central Germany at its southern flank. With a moist north-easterly low-level upslope flow over central Germany as well as steepening lapse rates near the base of the trough, weak CAPE is expected especially by latest GFS model. Some storms are forecast in the afternoon and evening hours, spreading from the North Sea to south-eastern Germany. Due to the strong deep layer vertical wind shear, a few bowing lines and supercells are not ruled out, capable of producing large hail and severe wind gusts. Overall threat is limited, though.

France to north-eastern Spain

In a diffluent flow regime ahead of a new approaching Atlantic trough, diurnal heating creates steep low-level lapse rates in a moist air mass. Thunderstorms are forecast over the mountains, spreading eastward during the period. Weak vertical wind shear will limit severe potential, but a few large hail reports are not ruled out, especially over north-eastern Spain, where vertical wind shear is highest due to the sea-breeze.

Southern Scandinavia to north-east Germany

In a well-mixed polar air mass, non-mesocyclonic tornadoes and waterspouts are still a threat.