Storm Forecast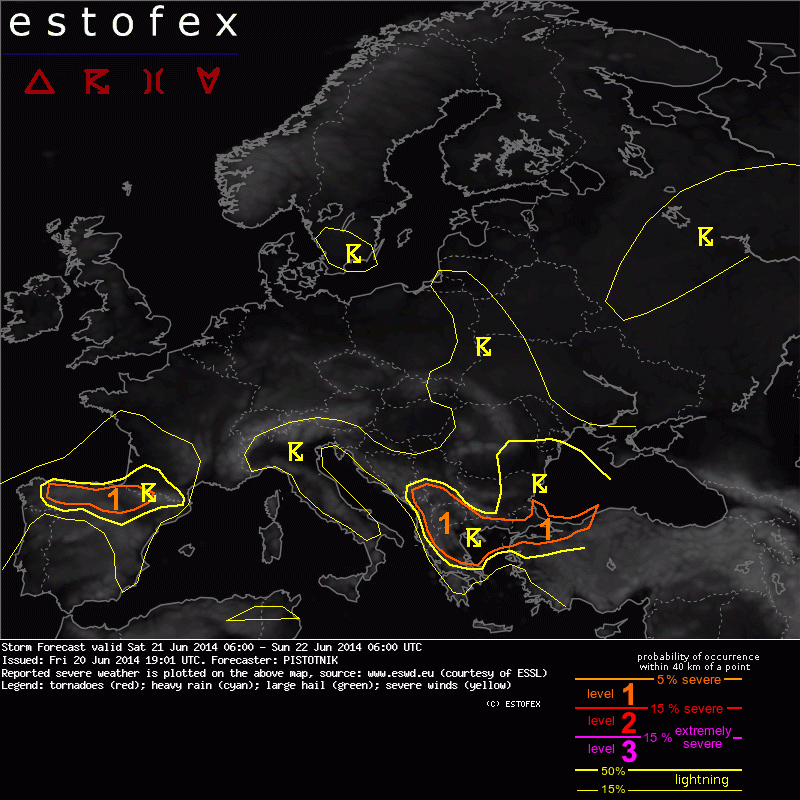 Storm Forecast
Valid: Sat 21 Jun 2014 06:00 to Sun 22 Jun 2014 06:00 UTC
Issued: Fri 20 Jun 2014 19:01
Forecaster: PISTOTNIK
A level 1 was issued for Montenegro, Albania, the Republic of Macedonia and the Greek mainland mainly for large hail.

A level 1 was issued for the Aegean and Black Sea coasts mainly for waterspouts.

A level 1 was issued for N Spain for large hail and to a lesser extent for severe wind gusts.

SYNOPSIS

Stationary waves have established over Europe. A large and pronounced upper-level low sits over Finland, and a long-wave trough stretches South all the way into Turkey. In its wake, a Northwesterly flow advects cool and dry air into much of Europe. More robust CAPE up to 1000 J/kg is confined to the Black, Aegean, Ionian and Adriatic Sea. It can be easily consumed beneath the cool upper levels to the East, while it is increasingly capped towards the West.
An upper-level ridge extends from the Western Mediterranean to Ireland. A stationary cut-off low off the Portuguese coast advects hot air from Morocco into Iberia.

Compared to the recent turmoil (an extreme cold spell even with snow in Northeastern Europe and a severe thunderstorm outbreak in Southeastern Europe), a rather calm forecast period is expected.

DISCUSSION

... Romania, Bulgaria, Black Sea, Turkey, N Aegean region ...

A weak vorticity maximum travels Southeast in the morning hours, followed by the main trough axis with stronger vorticity advection in the evening overnight. Vertical wind shear is weak. Scattered thunderstorms will be active during much of the forecast period. The relatively warm sea surface, rather cyclonic background wind and land breeze convergences provide favourable conditions for waterspouts in the morning and then again in the evening and overnight. Localized heavy precipitation is possible as well with clustering storms.

... Italy into W Balkans and Greece ...

Friday evening's surface observations showed highly heterogeneous low-level moisture, depending on the presence of onshore/upslope or offshore/downslope flow.
At least some pockets of enhanced moisture can be fed into upslope circulations again on Saturday, and isolated to scattered afternoon thunderstorms are possible over the mountains. Deep-layer shear around 20 m/s beneath the Northwesterly jet allows an organization into multicells. A level 1 is issued for a risk of (marginally) large hail over the Southern Balkans and Greece, where the highest coverage of storms is expected.

... SW Europe ...

Steep lapse rates are generated in response to diurnal heating over Spain. With fairly strong Southwesterly flow aloft, they will overspread rich moisture along the North coast. CAPE up to 1000 J/kg is possible under 15-20 m/s deep-layer shear. Storms will initiate over the mountains and can turn into multi- oder supercells. Large hail is possible and dry subcloud layers may promote a few severe downbursts as well.
Storms will likely cluster and spread into Southwestern France in the evening and overnight while they become elevated. The severe weather risk will decrease then.

... N and E Europe ...

Showers in the well-mixed cool air may grow deep enough to produce a little lightning. With very limited instability and mostly weak vertical wind shear, severe weather is not expected.