Storm Forecast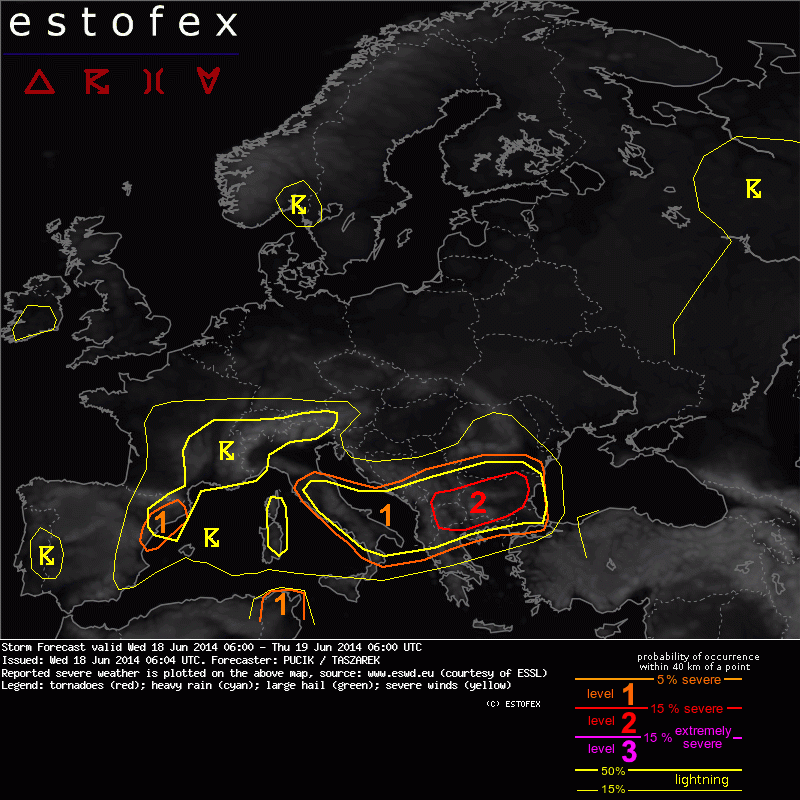 Storm Forecast
Valid: Wed 18 Jun 2014 06:00 to Thu 19 Jun 2014 06:00 UTC
Issued: Wed 18 Jun 2014 06:04
Forecaster: PUCIK / TASZAREK
A level 2 was issued for Southern Serbia, Macedonia and Bulgaria mainly for large hail, severe wind gusts and excessive precipitation.

A level 1 was issued for Southern Italy, Adriatics and southern Balkans mainly for large hail, severe wind gusts and excessive precipitation.

A level 1 was issued for Central Italy mainly for excessive precipitation.

A level 1 was issued for Northeastern Spain mainly for large hail and severe wind gusts.

A level 1 was issued for Tunisia mainly for large hail and severe wind gusts.

SYNOPSIS

An active weather pattern for the southern part of Europe is forecast to continue with the persistent and almost quasi-stationary positively-tilted trough that will be centered over the Gulf of Lyon. At its southern flank, strong mid tropospheric westerly to southwesterly flow is simulated with a short-wave impulse moving from Italy towards Balkans during the day. Southwestern flow will advecting a plume of EML from N Africa towards Greece and S Balkans. To the north, a deep low filled with cold air will remain over NW Russia. Between this feature and an extensive ridge over the Atlantic, prevailing NW-ly, rather dry, flow will prevent DMC activity over much of Europe. Three exceptions being:
A/ the Eastern Mediterranean and Balkans with good overlap of steep lapse rates and abundant low-level moisture
B/ France and parts of Germany, placed under a cool mid-level temperatures of the aforementioned trough.
C/ Ahead of the low over Russia, along and ahead of the cold front.

DISCUSSION

... Southern Italy towards Southern Balkans ...

Models are very consistent in the PVA maximum travelling from S Italy towards the Balkans during the day, reaching the Balkans coastline by approximately 12 UTC. It will travel in rather strong southwesterly slow reaching over 20 m/s at 500 hPa. Thanks to this, strong DLS is forecast over the region, with values between 20 and 25 m/s. Hodographs should be mostly linear, without much SREH, perhaps apart from the western Balkans coastline and SE Bulgaria. Nevertheless, conditions would favour well organised DMC, including supercells.

Inconsistency begins in terms of the CAPE values - it seems that the plume of the steeper lapse rates will remain mostly to the south of the area with initiating storms. CAPE will perhaps remain on the order of 500 - 1000 J/kg, with higher values possible especially closer to the sea, where more abundant low-level moisture should be available.

A few storms are ongoing over the wester part of Lvl 1 already in the morning, with lots of low level cloudiness hampering surface insolation over the region. As such, instability buildup remains questionable. Nevertheless, conditions seem to be quite favourable for supercells capable of large hail and/or severe wind gusts. Cell clustering may result in an MCS with threat of excessive precipitation thanks to the high values of PW. This will especially be pronounced along the coastlines and near the mountain ranges, where surface convergence may continually trigger new cells.

A high-end Lvl 1 is introduced for this region. A level 2 is introduced for an area, where the combination of threats should be the most prominent. In case that more instability materializes, threat of very large hail with supercells will be present here.

... Central Italy ...

Slow storm motion in the weak vertical wind field may induce some excessive precipitation events. This may happen especially if storms fire along the coastal convergence zones, with possibility for a few foci of CI, where repetitive cell triggering may result in a training pattern.

... Tunisia ...

A favourable overlap of moist onshore flow and very steep lapse rates above is forecast for this area. Moreover, strong mid-tropospheric flow will contribute to the significant wind shear over the mid-troposphere. In result, if storms manage to develop, they may become long-lived supercells capable of large hail and severe wind gusts. Limiting factor should be relatively isolated initiation and also the questionable degree of low level moisture (and CAPE values). Thus, Lvl 1 seems to be sufficient attm.

... Northeastern Spain ...

With moist southeasterly onshore flow and rather cool-mid level temperatures, models agree on the development of CAPE values around 500 J/kg. It seems that steeper lapse rates will be more displaced to the west, not overlaping with the best low-level moisture. With strong northwesterly flow aloft, around 20 m/s of DLS is forecast. Storms will likely initiate along the coastal convergence zones and in strong vertical wind shear, they may organise into multi / supercells. Especially in case of supercells, isolated threats of large hail and severe wind gusts will exist.

... Baltic States to Western Russia ...

Behind the cold-front, a strong NW-ly flow is simulated with windspeeds btw. 15-20 m/s at 850 hPa level and 20 to 25 m/s at 500 hPa level. With very cold mid-level temperatures, some of the models point out marginal instability over the region, with CAPE values around 100 J/kg. With very strong wind shear, much of it confined to the lower troposphere, some severe wind gust / tornado threat could develop if some sustained DMC managed to develop. With no strong forcing and in weak CAPE, confidence seems too low attm to warrant a Lvl 1.