Storm Forecast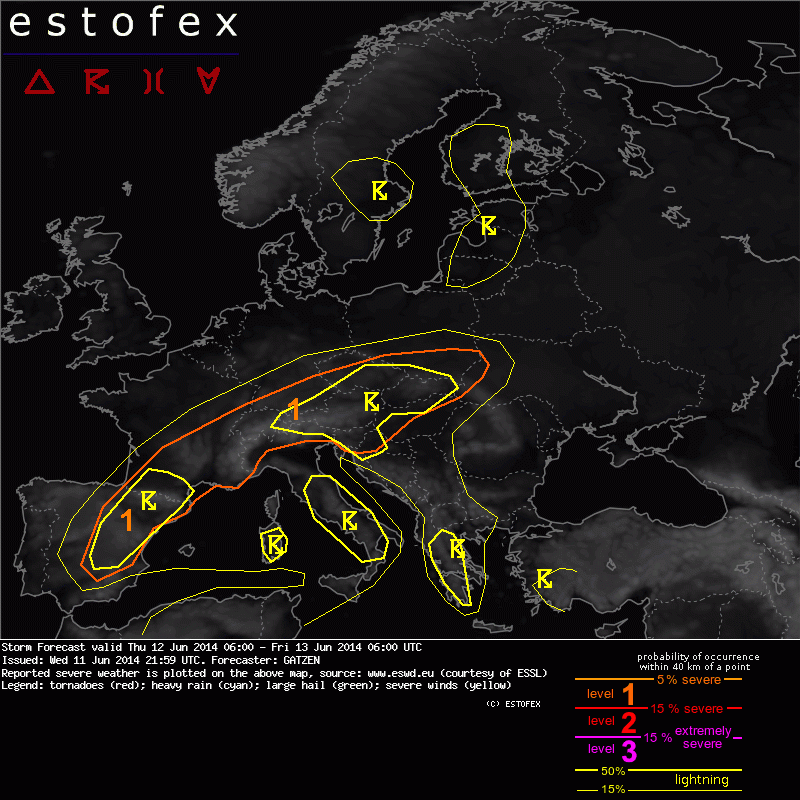 Storm Forecast
Valid: Thu 12 Jun 2014 06:00 to Fri 13 Jun 2014 06:00 UTC
Issued: Wed 11 Jun 2014 21:59
Forecaster: GATZEN
A level 1 was issued for the Alps, southern France into the Pyrenees, the Czech Republic and Slovakia, and the northern Balkans mainly for excessive precipitation and isolated large hail and severe wnd gusts.

A level 1 was issued for central and northern Spain mainly for large hail and severe wind gusts.

SYNOPSIS

A trough crosses Scandinavia today and digs south over east central Europe on Friday. Upstream, a new ridge will intensify over western Europe. With westerly to northerly flow, steep lapse rates and rich boundary-layer moisture will be pushed south into the Mediterranean, whereas stabilization makes progress to the north of the Alps.

DISCUSSION

Southern France, Alpine region, Czech Republic, Slovakia and south-east Poland into northern Balkans

A northerly low-level flow will continue on Thursday. Robust low-level moisture of more than 11 g/kg will be pushed further south, and upslope flow is forecast over the Pyrenees, the Massif Central, the Alps, and the Tatra mountains. Weaker lapse rates will be advected from the north during the period, but at least moderate instability of more than 1000 J/kg can be expected over a broad region.

Especially over parts of the Czech Republic, northern Austria, and southern Germany, overnights storms may be still active in the morning hours. New initiation is likely in the later morning and noon hours especially along outflow boundaries and over the mountains. Weak winds will allow for slowly moving and rather weakly organized storms, posing a threat of excessive precipitation. Large hail and severe wind gusts may occur with stronger storms, especially when orographic flow supports supercells. Storm intensity and coverage is forecast to weaken from the north in the course of the day due to the advection of weaker lapse rates and drier low-level air.

Mediterranean

In a weakly sheared environment, another round of thunderstorms is forecast. Along sea-breeze convergence lines and over mountains, initiation is expected during the day, given steep lapse rates, strong diurnal heating and adequate low-level moisture. Main threat with this activity will be isolated excessive precipitation. Severe wind gusts may also occur, especially over Spain, where latest soundings indicate larger inverted-v profiles. Convective activity is forecast to decay during night except for the west Mediterranean below a mid-level trough centre.