Mesoscale Discussion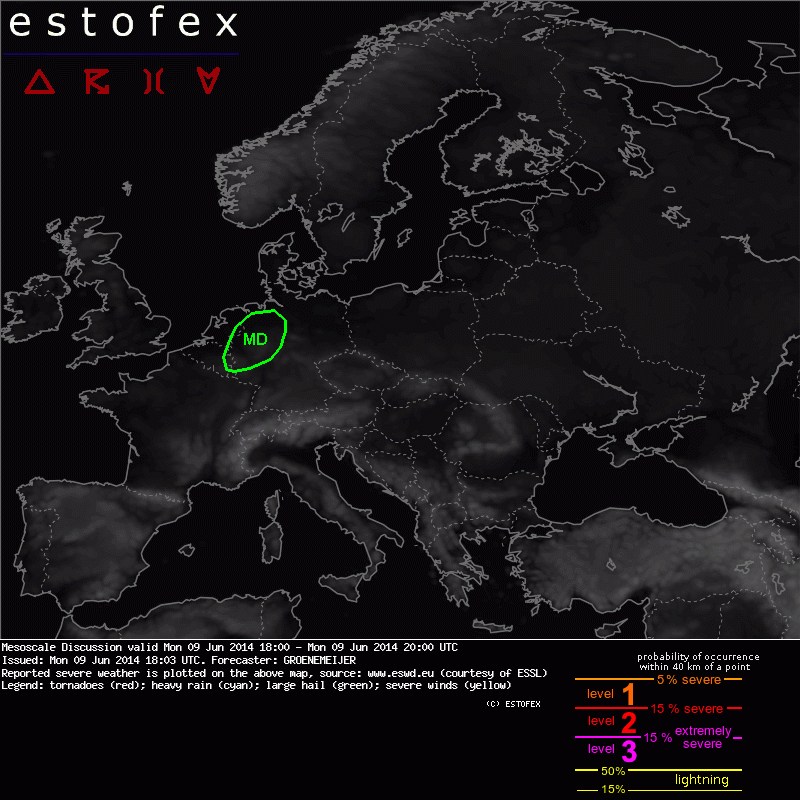 Mesoscale Discussion
Valid: Mon 09 Jun 2014 18:00 to Mon 09 Jun 2014 20:00 UTC
Issued: Mon 09 Jun 2014 18:03
Forecaster: GROENEMEIJER
Along an older gust front, strong storms have formed over eastern Belgium, moving into SE Netherlands and W Germany, in an area of high CAPE (~2000 J/kg), along with adequate (20 m/s) 0-6 km shear.

Prominent convergence of low-level wind ahead of the storms, as well as their movement into an even more unstable air-mass with dew point temperatures around 20 C suggest the storms will strengthen further and develop into a bowing system capable of producing widespread wind damage.

The storms will be capable of producing very large hail in excess of 5 cm diameter, and extreme wind gusts > 32 m/s. The wind gust threat will continue to increase as the storms organize into a bowing system.

Given the relatively low lifted condensation level, that will drop further, and because of increasing low-level (0-1) shear, forecast by numerical models, there is some risk of tornadoes, which may be strong. This threat would be maximized with any relatively isolated storms that manage to form, or the southern tip of the larger system.