Storm Forecast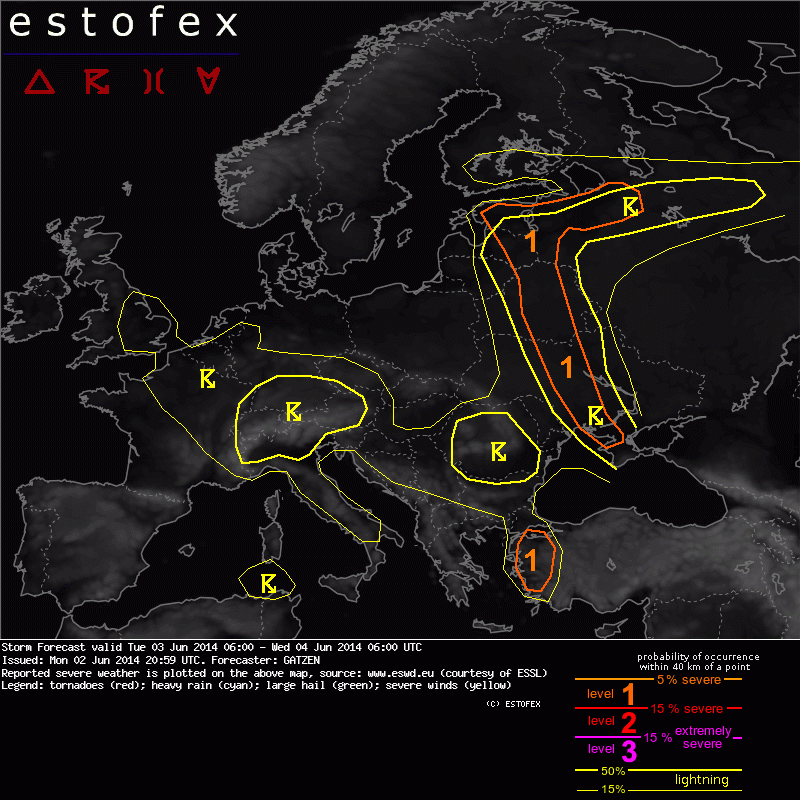 Storm Forecast
Valid: Tue 03 Jun 2014 06:00 to Wed 04 Jun 2014 06:00 UTC
Issued: Mon 02 Jun 2014 20:59
Forecaster: GATZEN
A level 1 has been issued for north-western Russia and Estonia mainly for excessive precipitation, large hail, and tornadoes.

A level 1 has been issued for Latvia, central Belarus, and central Ukraine mainly for excessive precipitation and large hail.

A level 1 has been issued for western Turkey mainly for large hail.

SYNOPSIS

Broad low geopotential is still present across central Europe and extends well into the central Mediterranean, flanked by a Russian high and a ridge over the west Mediterranean. Ahead of the trough, an intense lifting short-wave trough travels into the Aegean on Tuesday.

Rather cold and dry air masses are present over most of Europe. Somewhat better moisture spreads into France and UK, but rich low-level moisture can be only found along a frontal boundary over eastern Europe as well as over the east Mediterranean. Given also rather weak lapse rates over most places, a calm forecast period is expected.

DISCUSSION

Baltic States, north-western Russia, central Belarus and central Ukraine

Warm and dry air masses are present over western Russia. With easterly to southerly winds, warm air advection takes place over eastern Europe, and a sharp warm front will form on Tuesday, stretching from north-west Russia to Latvia and than southward all the way to the Black Sea. North-west of the warm front, low-level moisture will reach values around 11 g/kg in the lowest 30 hPa.

Whereas lapse rates will be rather poor in the cold air mass, steep lapse rates will evolve over Russia in response to diurnal heating. With south-easterly flow, these lapse rates may overspread the moist cool air, so that CAPE is possible.

QG forcing is weak, but frontogenical forcing will likely support initiation during the day. Storms forming along the leading convergence line will move nearly parallel to the boundary across the Ukraine, Belarus, and eastern Latvia, enhancing the potential of excessive precipitation. Given the weak vertical wind shear, hail and severe wind gusts are only locally forecast. The best chance of large hail exists over the Ukraine where some QG forcing is expected due to an approching short-wave trough, leading to steepening lapse rates in the afternoon.

Over Estonia and north-western Russia, vertical wind shear will be stronger given a southerly low-level flow that overspreads easterly to northerly surface winds. Therefore, storms rooting to the boundary-layer may organize and mesocyclones are not ruled out, capable of producing large hail and tornadoes. Main limiting factor is the limited low-level buoyancy, especially near the Baltic Sea.

Storms are forecast to decay after sunset.

Aegean Sea region

An intense short-wave trough moves across the east Mediterranean into Turkey and weakens. Until the evening hours, this trough will be associated with a strong mid-level jet streak, leading to strong DCVA over the southern and central Aegean Sea region. The affected air mass is characterized by rich low-level moisture and steep mid-level lapse rates, but also a strong capping inversion.

It is quite questionable if the cap will break on Tuesday. Diurnal heating over Greece and Turkey is limited due to clounds and some rain until the late morning. Current thinking is that storms will be likely elevated, but may produce locally large hail due to the strong deep layer vertical wind shear. Best potential is expeced over western Turkey.