Storm Forecast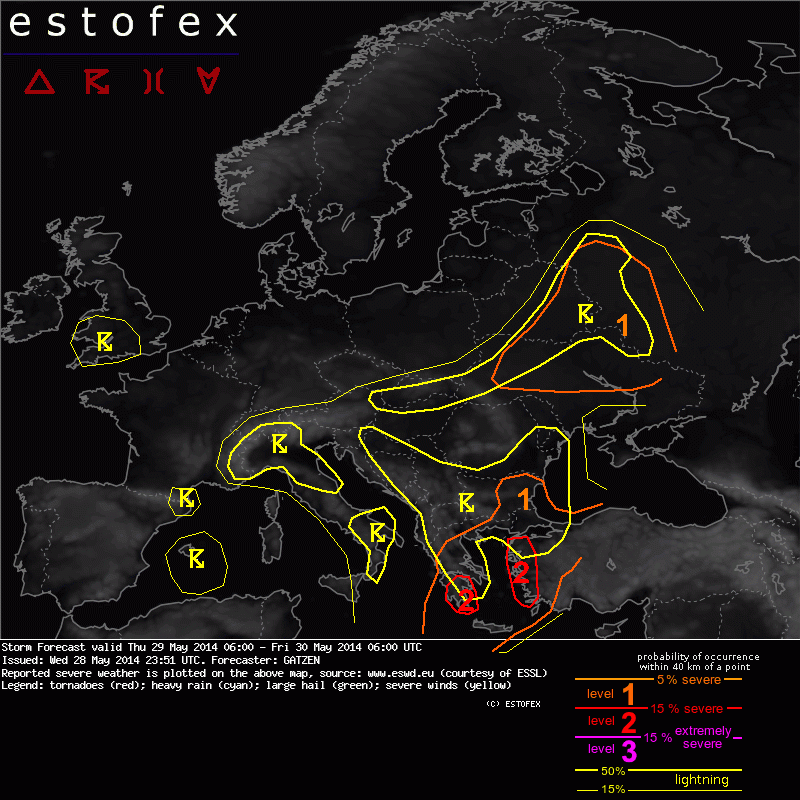 Storm Forecast
Valid: Thu 29 May 2014 06:00 to Fri 30 May 2014 06:00 UTC
Issued: Wed 28 May 2014 23:51
Forecaster: GATZEN
A level 2 was issued for southern Greece and western Turkey mainly for very large hail and severe wind gusts.

A level 1 was issued for the Aegean region mainly for large hail, severe wind gusts, tornadoes, and excessive precipitation.

A level 1 was issued for north-western Turkey and eastern Bulgaria mainly for large hail and tornadoes.

A level 1 was issued for the northern Ukraine and western Russia/eastern Belarus mainly for large hail and excessive precipitation.

SYNOPSIS

A large trough covers Europe, pushing the polar jet stream to Spain, the south Mediterranean, and Turkey that is affected by a strong mid-level jet streak on Thursday. Over northern Europe, a polar trough is located over the Baltic Sea just west of a high pressure system over the North Sea. Cold and dry air masses will spread into central Europe.

DISCUSSION

Southern Greece and Aegean

A strong jet streak enters the area from the south-west on Thursday. This dynamic situation is associated with strong DCVA and warm air advection in the morning hours into Greece and the Aegean Sea. Models indicate the formation of a strong south-westerly low-level jet ahead of a cold front that enters Greece during the noon hours.

A tongue of rich low-level moisture is expected to advect onshore across southern Greece in the morning hours. Low-level mixing ratio may exceed 14 g/kg in the lowest km. Additionally steep lapse rates originating from the Atlas mountains will overlap with the moisture, and CAPE will likely reach more than 1500 J/kg. Due to the rather cool sea surface, a capping inversion is forecast with CIN about 200 J/kg, limiting the chance of initiation initially.

However, lift will likely become strong enough to break the cap. Lift will evolve especially ahead of the cold front in the warm air advection regime and will be modified by upslope flow and sea-breeze fronts. Scattered storms are forecast in the area around southern Greece in the late morning and during noon. These storms will rapidly organize due to 20 m/s 0-3 km bulk shear and even 25 m/s deep layer vertical wind shear. Supercells capable of producing very large hail are forecast. Severe wind gusts are also not ruled out. Tornadoes are not ruled out.

In the afternoon, convective activity will shift to the Aegean region. Drier low-level air will lead to a stronger cap, but also stronger low-level vertical wind shear. Every storm that continues to be surface-based may profit from the strong low-level vertical wind shear, and the tornado potential may increase. Along the Turkish western coasts, storms may produce all kinds of severe weather in the afternoon and evening, including excessive precipitation and tornadoes. Storms will gradually weaken during the night, but some severe events are not ruled out through-out the night in the strongly-sheared and slightly unstable environment.

North-western Turkey to eastern Bulgaria and surroundings

A rather moist boundary-layer is present over the Black Sea region. It will remain on Thursday and may even spread westward due to easterly winds in the warm air advection regime ahead of the approaching short-wave trough.

Atop of the boundary-layer, an elevated mixed-layer is advected north-eastward and overlaps with the moisture, creating CAPE in the order of 1000 J/kg. Diurnal heating may allow for higher CAPE, latest GFS indicates peak values of 2000 J/kg across Bulgaria. Initially weak capping will allow for early initiation over the Bulgarian mountains and along sea-breeze fronts. Locally large hail and excessive precipitation are forecast.

In the afternoon, the strong 700 hPa jet will enter the area from the south-west. The warm air mass may lead to increasing CIN, but also increasing vertical wind shear. Current thinking is that storms may become more isolated but also better organized. Large hail and tornadoes seem to be possible over Bulgaria and north-western Turkey.

Convective activity will go on during the night near the base of the approaching trough. Decreasing vertical wind shear will limit the severe potential, though.

Northern Ukraine into western Russia and eastern Belarus

East of the approaching polar trough, a tongue of rich moisture is advected into western Russia. Good low-level mixing leads to a nearly uncapped unstable air mass that allows for initiation in the late morning hours. Old outflow boundaries will be the focus of initiation that is also supported by upslope flow, low-level warm air advection and convergence.

Although most storms will be weakly organized due to limited vertical wind shear, pulse storms may be capable of producing excessive precipitation and large hail. Later on, larger storm clusters will pose a continuing threat of excessive rain together with local severe wind gusts along gust fronts. Storms will spread northward and will rapidly weaken after sunset, but may continue well into the night hours.

Other thunderstorm areas

Weak vertical wind shear will limit storm organization over the other thunder areas. However, pulse storms may be capable of producing large hail and excessive precipitation. This threat seems to be highest over the Balkans.