Storm Forecast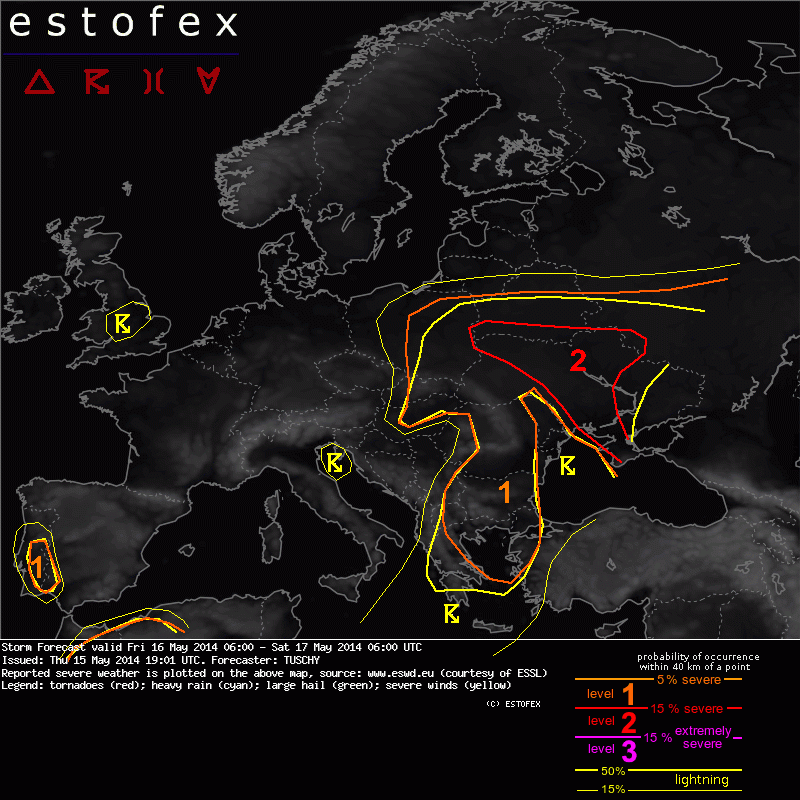 Storm Forecast
Valid: Fri 16 May 2014 06:00 to Sat 17 May 2014 06:00 UTC
Issued: Thu 15 May 2014 19:01
Forecaster: TUSCHY
A level 2 was issued for parts of the Ukraine and S-Belarus mainly for large to very large hail, severe wind gusts and excessive rain. A few tornado events are also forecast.

A level 1 surrounds the level 2 area and also includes parts of Romania, Bulgaria, the Aegean Sea, NW Turkey, Hungary and Slovakia mainly for large hail, excessive rain and an isolated tornado event.

A level 1 was issued for most of CNTRL/S Portugal mainly for large hail and an isolated severe downburst event. An isolated tornado event is possible.

A level 1 was issued for NE Morocco and NW Algeria mainly for excessive rain and large hail.

SYNOPSIS

The center of the slowly filling upper low over Serbia drifts to the west and hits the N-Adriatic Sea during the night. Numerous mid/upper level waves circle that vortex with the most prominent wave crossing the Aegean Sea until sunset and approaching the W-Black Sea during the night.

A compact upper low over Portugal feels the influence of the major vortex over SE Europe and drifts to the south and later on to the southeast towards Morocco.

High-index flow pattern continues over far N-Scandinavia as numerous troughs affect Scotland, N-Norway and N-Sweden.

In the lower troposphere, a broad LL depression covers most of Serbia, Bulgaria, Romania and the W-Black Sea all the way to the Ukraine. Models differ in developing smaller vortices in this extensive area of low pressure, but the strongest vortex probably remains anchored beneath the mid/upper vortex over Serbia/W-Romania, which also steers fronts to the N and W. The upper low over Portugal also tries to enlarge to the lower troposphere, but no data of the current model suite supports a closed LL circulation.
Two high pressure regions over UK and NW Russia try to connect. Together with dry air, no DMC is forecast for those places.
Further north, fronts move east but not enough moisture exists for enhanced convection.

DISCUSSION

.... Aegean Sea, parts of Greece, W-Turkey, Bulgaria, Romania, SW-Ukraine into Slovakia and N-Hungary ...

As the vertically stacked low pulls away to the west, a deep baroclinic zone over Romania/Bulgaria broadens/expands more to the west and south. Also 850/700 hPa levels show an increase of thetae with an ongoing convergent flow pattern in the low/mid troposphere. During the forecast no significant relocation of this zone is forecast. This fetch of unstable air curls around the vortex towards Slovakia and Hungary.

Not much synoptic forcing is needed to get convection going in this weakly capped air mass. Either ongoing storms from the overnight hours with a re-strengthening tendency during the late morning hours or early initiation is forecast and widespread thunderstorms occur between noon and evening. DLS of 10-15 m/s and 500-1000 J/kg MLCAPE prompt us to expect a large hail (isolated very large hail) threat with strongest storms, next to heavy rain, as numerous storms likely affect the same area and as storms grow upscale into clusters. Excessive rain is possible over S-Poland, N-Hungary and Slovakia where highest effective PWs and training convection is expected. LCLs below 1000 m and up to 150 J/kg LLCAPE indicate a chance for an isolated tornado event .
Thunderstorms gradually weaken until midnight, but a few ongoing thunderstorm clusters remain possible all night long with pockets of 300-600 J/kg MUCAPE. The same for the Aegean Sea. Despite an isolated large hail risk over the Aegean Sea and NW Turkey, nothing severe is anticiapted.

... Ukraine, S-Belarus and CNTRL/E-Poland ...

A pronounced warm front is forecast to lift north with a broadening postfrontal warm sector covering all of the Ukraine, S-Belarus and E-Poland. Latest synop reports (15th, 17Z) yield BL dewpoints in the mid-tens and ongoing moisture advection and evapotranspiration should add more moisture for today's setup...especially in the proximity of the warm front. During the daylight hours, NW-ward spreading warm sector outruns steeper mid-layer lapse rates but better phasing is forecast during the night. This keeps magnitude of CAPE (weakly capped 1000-1500 J/kg MLCAPE during the daytime hours) rather stable during the night ... in the range of 500-1000 J/kg MLCAPE (although a stronger cap exists).

A 25 m/s mid-level speed maximum over the W-CNTRL Ukraine keeps DLS in the 15-20 m/s range with decreasing values to the east. A spatiotemporal overlap occurs with favorable conditions for long-lived and organized convection mainly in the level 2 area.

Main uncertainty exists during the day in respect of CI, as no strong forcing mechanism can be detected. However, WRF/EZMWF agree in a convergent low-tropospheric flow east of Moldova, where isolated CI is forecast during the daytime hours (also favored by the upslope component of the southerly flow). Another focus for more widespread CI exists along the N-ward lifting warm front over the N-Ukraine during the afternoon and evening hours. We would not be surprised if a first large/organized thunderstorm cluster evolves just north of Luzk-Kiev. S/SE-erly winds steer this cluster towards S-Belarus.
During the afternoon and evening hours, a mid/upper jet approaches the Ukraine from the W-Black Sea and attendant left exit region with enhanced 300hPa divergence overspread the aforementioned convergence zone east of Moldova. Therefore scattered to widespread thunderstorms evolve over S-CNTRL Ukraine from the late afternoon hours onwards and another thunderstorm cluster likley drifts to the N/NW. Both clusters probably interact and start to affect E-Poland after midnight from the E/SE.

Any developing storm poses a large to very large hail risk, given strong flow/shear and fat mid-layer CAPE profiles in forecast soundings. High LCLs (1-1.5 km AGL) lower towards the NW Ukraine and along the warm front, where organized storms could produce a few tornadoes. The same risk exists for Odessa to the Crimean Peninsula, where sea breeze fronts could regionally induce backed LL flow. High-based storms over CNTRL/E Ukraine could produce a few severe downburst events and cold-pool driven clusters might cause concentrated swaths of strong to severe wind gusts mainly from NW Ukraine to CNTRL Poland and also towards S-Belarus. No significant attenuation of the severe risk is forecast during the night .
A gloss: GFS brings a 15-20 m/s 850/700 hPa speed maximum to E-Poland during the night. There are indications that a weak short-wave enters E-Poland during the night, which could induce a strengthening low-tropospheric wind field. Hence there is a chance for a long-lived MCS event, which rides along the thetae ridge to the NW, affecting NW Ukraine, SW Belarus and most of CNTRL/E Poland during the night. Severe winds, large hail and heavy rain would be the main hazard.

... Portugal ...

The southbound moving upper low interacts with rich BL moisture (LL mixing ratios up to 9 g/kg) and a confined region of 500-1000 J/kg MLCAPE evolves. DLS remains weak with 10 m/s or less, but 15 m/s 0-3 km shear and increasing LL shear during the late afternoon point to an augmented chance for organized pulsating thunderstorms. Large hail and strong wind gusts will be the main hazard. Interaction of mature storms with coastal sea breeze fronts could support an isolated tornado event. Storms start to weaken after sunset but a large hail risk continues until midnight due to MUCAPE of up to 800 J/kg.

... N-Morocco and NW Algeria ...

As the upper low from Portugal moves closer to the area of interest during the afternoon, scattered thunderstorms develop over the W-Atlas mountains. 20 m/s DLS and steep lapse rate between 500-700 hPa result in a large hail threat. Clustering storms also bring heavy/excessive rain with an enhanced flash flood risk. Overnight clusters move deeper into N-Algeria and therefore out of our forecast area. Flash flood producing rain will be the main hazard.