Storm Forecast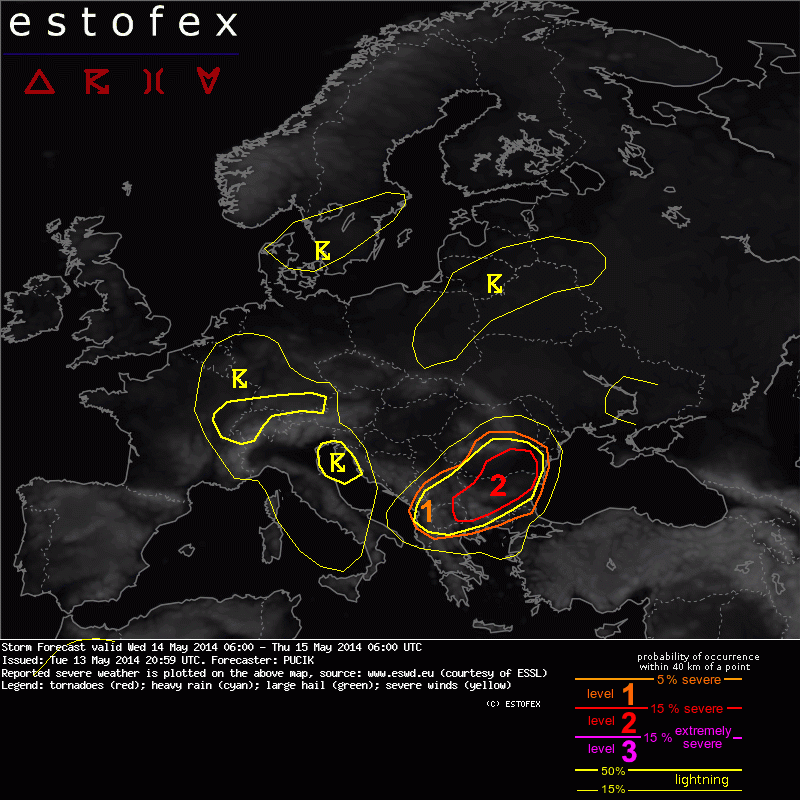 Storm Forecast
Valid: Wed 14 May 2014 06:00 to Thu 15 May 2014 06:00 UTC
Issued: Tue 13 May 2014 20:59
Forecaster: PUCIK
A level 2 was issued for E Macedonia, Bulgaria and S Romania for large to very large hail, severe wind gusts, tornadoes and excessive precipitation.

A level 1 was issued for parts of Serbia, Macedonia and Romania mainly for excessive precipitation, large hail and severe wind gusts.

SYNOPSIS

Satellite loops reveal trough crossing much of Central Europe with its axis stretching towards Italy as of Tuesday evening. During Wednesday, trough will continue eastwards, quickly transforming into a cut-off low, centered over Serbia by evening hours. To the south of the center, pronounced mid and upper tropospheric jet-streak is simulated with windspeeds over 35 m/s at 500 hPa level. To the west, a ridge will cover much of eastern Atlantic.

Closer to the surface, deepening surface low over the Balkans with attendant strengthening frontal system will likely result in high local precipitation amounts. Ahead of the cold front, in the WAA regime, scattered to widespread DMC is forecast in a belt from Macedonia towards Southern Romania. It is this region that deserves close inspection.

Besides that, a very steep pressure gradient will arise between high over E Atlantic and surface low over Balkans - with belt of 25 to 30 m/s of 850 hPa flow running from S Poland towards Hungary by Wednesday evening. Even steeper gradients are simulated for Thursday.

DISCUSSION

... Macedonia, S Serbia towards Bulgaria and S Romania ...

Ahead of the deepening surface low, tied to the left exit region of mid-level jet-streak, WAA regime will cover much of Bulgaria and S Romania. Here, a warm front is simulated lifting northward during the day. An advection of moist low-level airmass is forecast from the Aegean / Black Sea. In conjuction with pronounced synoptic-scale lift (high values of PVA combined with low level WAA), this setup will create low to moderate degree of latent instability. Furthermore, with mid-level jet overspreading this region, 20 to 30 m/s of DLS is forecast. Thanks to the WAA regime and deepening of the surface low, favourable veering of winds with height will result in long, curved hodographs, as evidenced by forecast sounding from S Romania (featuring SREH over 300 m2/s in the 0-3 km layer).

Overall, conditions will be very favourable for widespread, well organised convection. Especially early into the period, supercells are likely with threats of large to very large hail, severe wind gusts and tornadoes. Due to the strong lift, quick storm clustering is expected with one or more MCS emerging towards the evening, posing primarily risks of severe wind gusts and excessive precipitation. Such MCS will translate towards Central Romania during the night hours, fed by 20 m/s low level jet.

One of the questionable factors is the amount of cloudiness that could limit the daytime heating and also widespread initiation of (elevated) convection early into the forecast period. If both factors apply, severe weather threat could be significantly reduced. Nevertheless, Level 2 seems to be warranted for this region.

... BENELUX through E France, W Germany into Italy ...

In the northwesterly flow aloft, with cool mid-level temperatures, scattered, diurnally-driven convection is forecast. Only storms forming over France will experience better vertical wind shear, albeit this shear will be only limited to the mid to upper troposphere. CAPE values on the order of few hundreds of J/kg are simulated. Though some stronger multicells might be capable of marginally large hail or severe wind gusts, coverage of severe should be too isolated to warrant a Lvl 1.