Mesoscale Discussion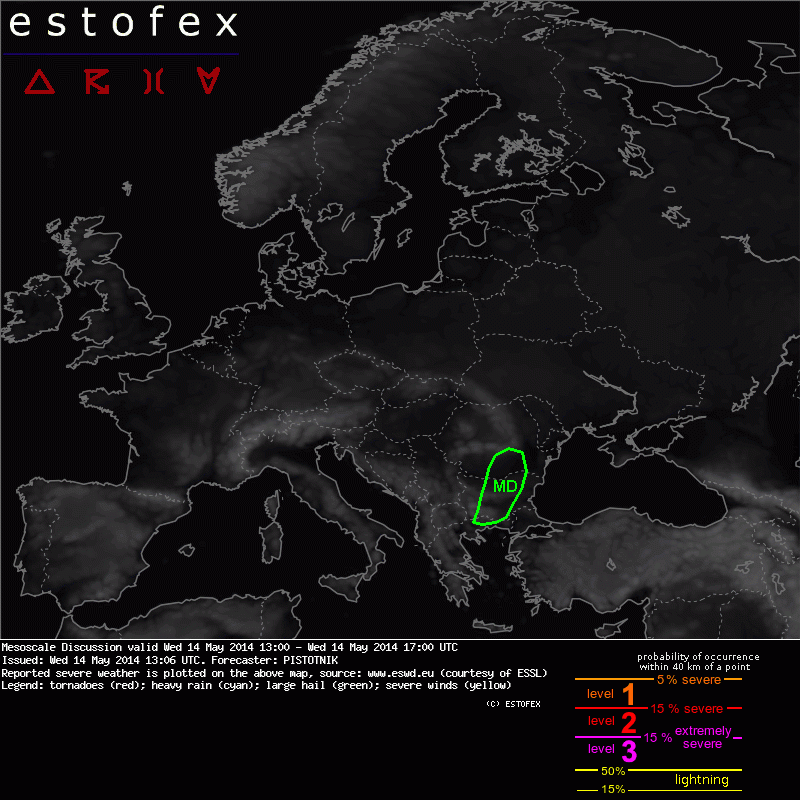 Mesoscale Discussion
Valid: Wed 14 May 2014 13:00 to Wed 14 May 2014 17:00 UTC
Issued: Wed 14 May 2014 13:06
Forecaster: PISTOTNIK
According to latest surface observations, strength and position of the deepening surface low centered over Northwestern Bulgaria seem to follow the forecast models. An increasing number of storms has initiated along the eastward shifting cold front, roughly aligned to the Western edge of the highlighted area. Ahead of it, scattered insolation and strong warm air advection have resulted in rising temperatures and dewpoints (e.g. Plovdiv with 21/17°C and Gorna Orechovista with 22/18°C at 12 UTC) with Easterly surface winds.
Storms are organizing very well while they move northeast into the strongly sheared and helical wind profiles of the warm air advection regime. A bow echo is currently moving across the oblasts of Pleven and Lovech. Severe wind gusts and localized hail can be expected with its passage. As soon as the bow echo crosses the pronounced warm front along the Romanian border, it will encounter strong Northeasterly surface winds (7-10 m/s) and much lower surface temperatures (13-15°C). Convection will quickly become elevated and weaken, but will still pose a threat of heavy precipitation over Southern Romania.
Further South, some storms with radar reflectivities up to 60 dBZ have kept a more discrete appearance over the Southwestern quadrant of Bulgaria and as far South as the Thessaloniki hinterland in Greece. An organization into supercells with a threat of large to very large hail and damaging wind gusts can be expected, possibly followed by a clustering into an MCS later on. Especially in a corridor between the Balkan mountains to the South and the Danube river to the North, strongly backed surface winds ahead of the surface low may even promote a few tornadoes.