Storm Forecast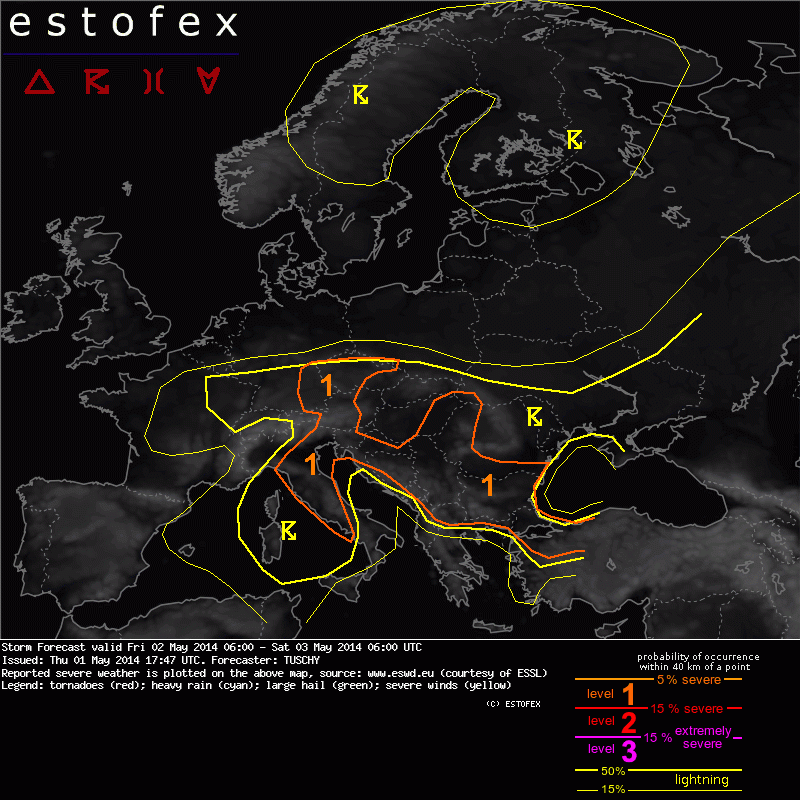 Storm Forecast
Valid: Fri 02 May 2014 06:00 to Sat 03 May 2014 06:00 UTC
Issued: Thu 01 May 2014 17:47
Forecaster: TUSCHY
A level 1 was issued for SE Germany, parts of the Czech Republic, CNTRL Austria and the Balkan States mainly for a few large hail reports and excessive rain. An isolated funnel/short-lived tornado event is possible.

A level 1 was issued for parts of Italy mainly for excessive rain. An isolated waterspout event is possible.

A level 1 was issued for NW Turkey mainly for a few large hail events.

SYNOPSIS

At mid/upper levels not much change is forecast. Weak gradients prevail with 500 hPa temperatures below -20 °C for most places. A strengthening vortex exits SE France during the start of the forecast and approaches the Tyrrhenian Sea from the NW during the overnight hours. Numerous weak mid-layer vortices with no significant change in strength continue to drift to the E/NE from the Balkan States to the Ukraine, whereas a substantial increase of mid-level heights is forecast just W/SW of Ireland. Therefore the blocking pattern continues.

In the lower troposphere however a change of the air mass continues from N to S, as a leisurely southbound moving cold front is followed by cooler/drier air from Scandinavia. Another synoptic feature will be a frontal boundary linked to the strengthening vortex over the W/NW Mediterranean. Other than that numerous more or less pronounced mesoscale convergence zones and the orography itself once again play a major role in initiation and regional thunderstorm coverage.

DISCUSSION

... Lightning and level areas ...

Weak 0-6 km flow regime is forecast for today, although shear increases somewhat along the southbound drifting cold front where 10-15 m/s shear is forecast. Similar values occur in the range of the gradually strengthening vortex over the NW Mediterranean and NW Italy. The overlap of 500-800 J/kg MLCAPE and aforementioned shear however is not widespread. Otherwise less than 10 m/s 6 km bulk shear and several hundred J/kg MLCAPE support another round of diurnal driven disorganized convection with upscale growth into numerous clusters.

Initial thunderstorms pose an isolated large hail threat especially in regions, where MLCAPE approaches 1kJ/kg, which is the case over SE Germany, the NW Balkan States to W-Romania. Betimes the threat shifts to heavy/excessive rain due to slow moving storms with complex thunderstorm-thunderstorm interaction and upscale growth into smaller clusters. A broad level 1 area was issued, where both hazards seem to be more elevated. We don't want to exclude an isolated funnel/short-lived tornado event in the level area, where LLCAPE exceeds 150 J/kg.

Thunderstorms gradually lose intensity until midnight and diminish in coverage, apart from offshore storms over the Mediterranean. Over CNTRL Italy, LL winds start to respond to the strengthening synoptic vortex and a few more pronounced convergence zones could set up over the E-Tyrrhenian Sea (S-N oriented) and over the far NW Adriatic Sea (E-W oriented). Especially the convergence zones over the E-CNTRL Tyrrhenian Sea are well placed beneath the left exit of a 30 m/s mid-layer jet, so a gradually southward sagging MCS with training convection is possible. Excessive rain is forecast. In addition, a few waterspout reports can be expected.