Storm Forecast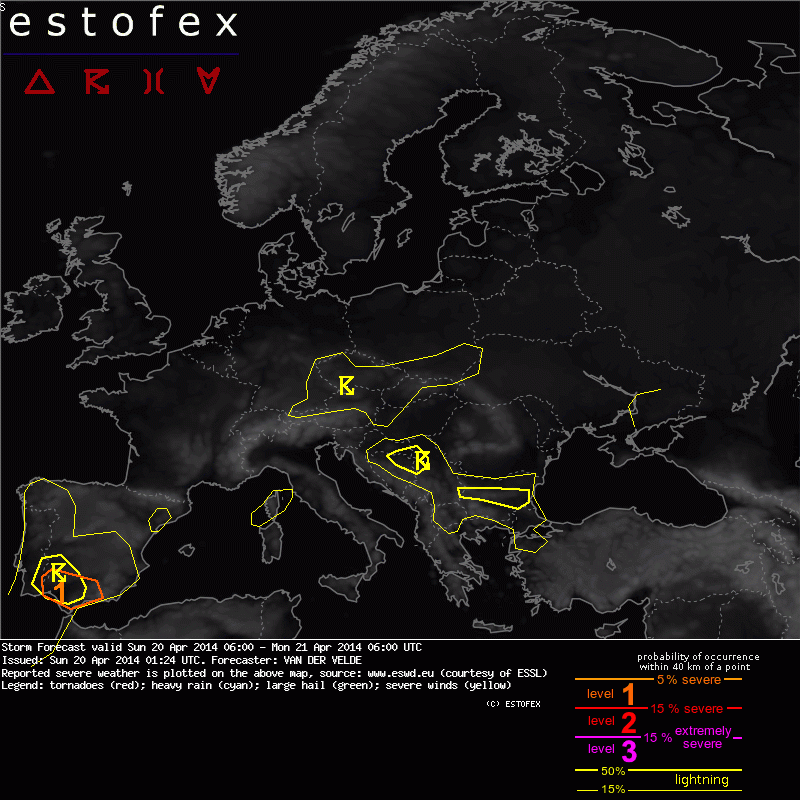 Storm Forecast
Valid: Sun 20 Apr 2014 06:00 to Mon 21 Apr 2014 06:00 UTC
Issued: Sun 20 Apr 2014 01:24
Forecaster: VAN DER VELDE
A level 1 was issued for southwestern Iberian Peninsula mainly for marginal large hail/tornado threat.

SYNOPSIS

Low pressure areas at the surface is found over Spain and develops over the English Channel and France. A trough extends eastward over the Alps to Ukraine. Blocking high pressure is present over Scandinavia and Russia. A strong easterly flow develops north of the French low and the trough.
There are three important shortwave troughs around the main mid level low. The most dynamics are associated with the trough over the southern UK where an occluded front will linger for a while. The other two affect southern Iberian Peninsula and central Europe, Poland in particular.

DISCUSSION

...southwestern Iberian Peninsula...

Relatively strong moisture transport from the Atlantic to the peninsula and low level temperature advection with steep lapse rates above allows the presence of a few hundred J/kg CAPE over a large area. The baroclinic setup generates moderate vertical wind shear, especially to the east, with 15-25 m/s deep layer shear and 100-200 m²/s² 0-3 km SREH. This can lead to organized multicell and supercell storms which pose a slight threat of large hail (the environment is not very energetic and also the cloud base (LCL) is very low). In the very south of Spain the 0-1 km shear vector magnitude will reach over 10 m/s, which in combination with aforementioned supercell chances and low LCL will increase the threat of an isolated tornado.

...southwestern UK...

GFS model predicts very slight MUCAPE and EL colder than -20°C in a very limited area along the occlusion. If convection develops, strong low-level veering winds with height and associated SREH is present, with 0-1 km shear of 10-15 m/s predicted by GFS. The storm-relative winds in mid levels are not strong though. A level 1 would probably overestimate a tornado threat given the really marginal CAPE and lack of an upper level jet for dynamic development.