Storm Forecast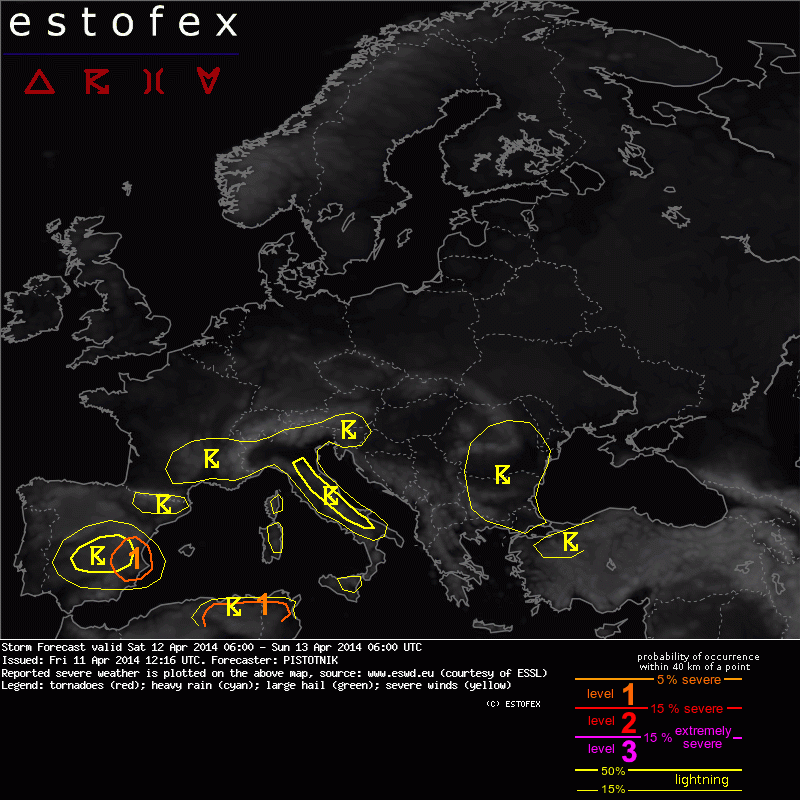 Storm Forecast
Valid: Sat 12 Apr 2014 06:00 to Sun 13 Apr 2014 06:00 UTC
Issued: Fri 11 Apr 2014 12:16
Forecaster: PISTOTNIK
A level 1 was issued for SE Spain, NE Algeria and Tunisia for large hail and to a lesser extent for severe wind gusts.

SYNOPSIS

Weak geopotential gradients dominate across most of Europe. An upper-level trough extends from the Baltics across the Alps into Northern Spain and slowly moves southeastward, gradually merging with a stationary upper-level low centered over Eastern Bulgaria and Romania. These areas experience unsettled and moderately warm conditions. High pressure brings stabilization and rising temperatures from the Bay of Biscay into France, BeNeLux and Northern Germany.
Further North, a meandering polar jet runs across the Northern Atlantic and Scandinavia. The occluding frontal system of a strong cyclone centered near Iceland crosses Norway and the British Isles, but deep convection is not expected.

DISCUSSION

Isolated to scattered afternoon thunderstorms will develop across the Southern half of Europe. Convective initiation is facilitated over orographic features and in general ahead of the southeastward digging trough axis. Limited CAPE and weak shear make severe weather unlikely.
The only exceptions are the level 1 areas over Southeastern Spain and coastal areas of Algeria and Tunisia, where Northeasterly sea breezes beneath moderate Westerly flow aloft enhance vertical wind shear to values around 15 m/s in the lowest 3 km. Some better organized storms are possible and pose a risk of isolated large hail and marginally severe downbursts. However, the cap on top of the maritime boundary layer will be quite strong, so convective initiation should stay rather isolated despite some lift support ahead of travelling vorticity maxima.