Storm Forecast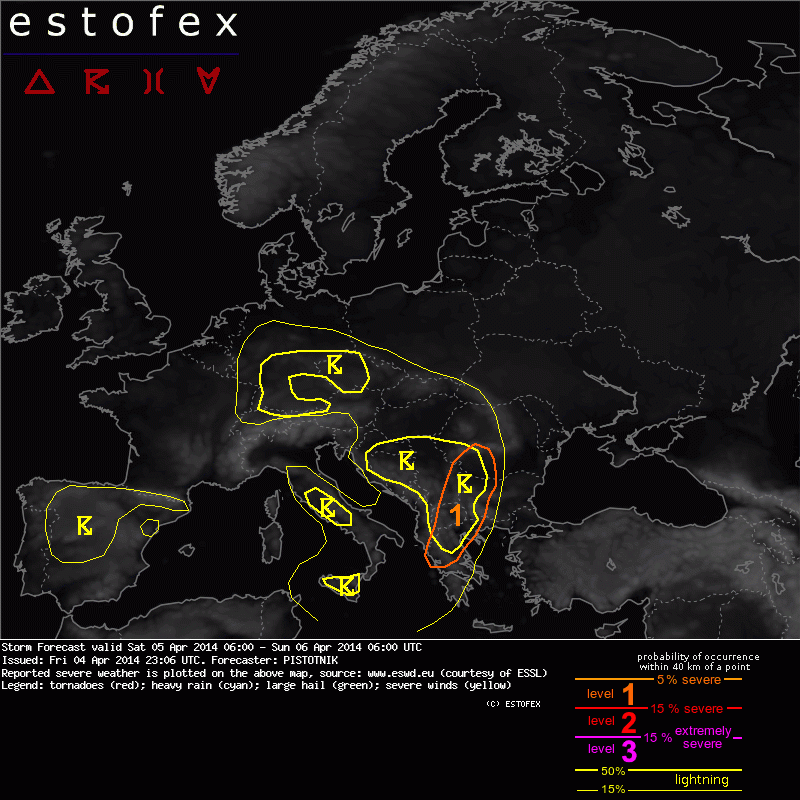 Storm Forecast
Valid: Sat 05 Apr 2014 06:00 to Sun 06 Apr 2014 06:00 UTC
Issued: Fri 04 Apr 2014 23:06
Forecaster: PISTOTNIK
A level 1 was issued for parts of Greece, the Republic of Macedonia, Serbia, Romania and Bulgaria mainly for large hail and to a lesser extent for severe wind gusts.

SYNOPSIS

The complex, meridional springtime pattern persists into the current forecast period.
A cut-off low moves slowly eastward over Southern Italy. Its frontal system stretches from Northern Italy in occluded form to Western Romania, where it opens up into a warm front continuing to the Black Sea and a cold front running south towards Western Greece and the Ionian Sea. The resulting warm sector over Bulgaria and Greece is overspread by the remnants of a Saharan elevated mixed layer (refer to Fri 12 UTC's Brindisi and Zadar soundings).
The second feature of interest is a stationary and inactive frontal boundary under anticyclonic influence (sometimes referred to as a "baroclinic leaf") further North. It runs from the North Sea across Northern Germany, the Czech Republic and Slovakia into Romania, where it merges with the warm front of the Italian low mentioned before. It separates a body of warm air wobbling in the no man's land over Central Europe from remnants of a late polar outbreak to the Northeast. The cold and dry air has also left a transient surface high that moves from Belarus to the Ukraine.
Over Western Europe, an upper-level ridge peeks into Iberia and France, followed by a maritime Southwesterly flow ahead of an Atlantic low-pressure system.

DISCUSSION

Numerous areas of Central Europe, Italy and parts of Spain will see scattered afternoon and evening thunderstorms. CAPE forms in response to daytime heating and is mostly limited to a few hundred J/kg, as it will be consumed pretty soon. In the absence of large-scale forcing, convective initiation is favoured by the frontal boundary in Central Germany and Bohemia, by the proximity to the low's center in the Southern half of Italy, and by orographic features elsewhere. Beneath the coldest mid-levels, some storms may also form over the Tyrrhenian and Ionian Sea throughout the forecast period.
Vertical wind shear is generally weak, and severe weather is unlikely.

The only exception is Southeastern Europe, where the unstable air mass is overspread by somewhat stronger deep-layer shear (initially around 20 m/s and decreasing thereafter) in the warm sector over the Southern Balkans. Warm air advection provides some lift and also results in a more helical flow closer to the occlusion point, especially in the bordering region between Bulgaria and Romania, though the best helicity will probably be tied to a too cool boundary layer to enable surface-based convection. Nonetheless, scattered storms over orographic features in the warm sector and near/along the trailing cold front can organize into multicells and possibly a few supercells. Moderate-sized hail is possible with better organized storms especially as long as they stay discrete, and rather high cloud bases could also promote isolated severe wind gusts.
A level 1 was issued for the area where enhanced shear and a sufficiently high confidence in convective initiation overlap. Thermodynamic and kinematic conditions would be equally good further Southeast over the Aegean region, but the capping will get very strong beneath the elevated mixed layer and should suppress any storms there.