Storm Forecast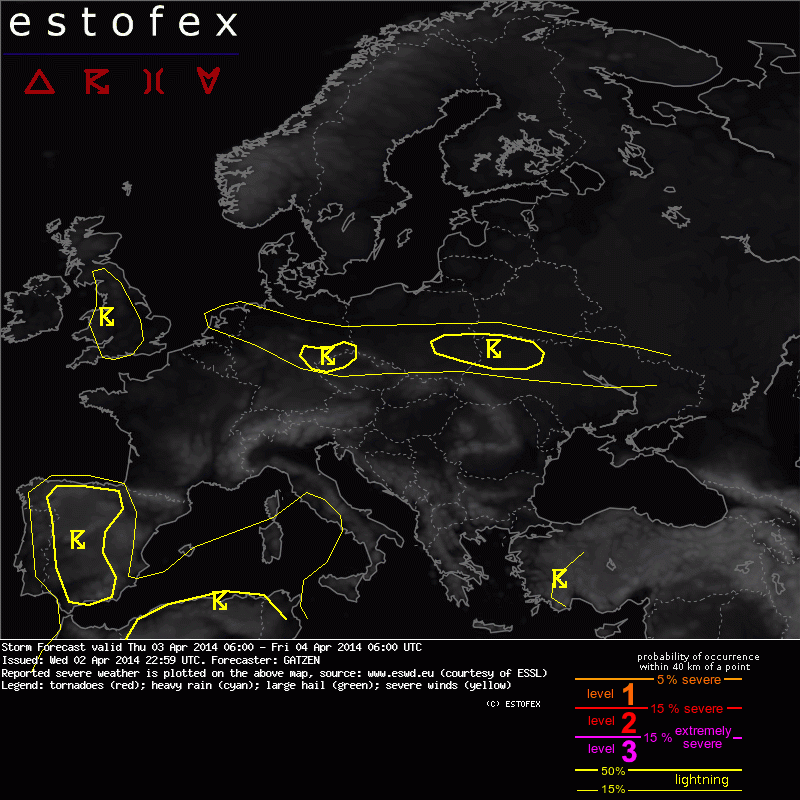 Storm Forecast
Valid: Thu 03 Apr 2014 06:00 to Fri 04 Apr 2014 06:00 UTC
Issued: Wed 02 Apr 2014 22:59
Forecaster: GATZEN
No threat levels have been issued.

SYNOPSIS and DISCUSSION

An east Mediterranean high ridges into central Europe and the North Sea region. A large polar trough is situated on the downstream flank of this ridge, with a short-wave trough moving into Belarus. Its jet streak will affect Poland and western Ukraine, where rich low-level moisture and steep lapse rates are present. Ahead of an intensifying cold front, CAPE will build and a few storms are forecast, but weak vertical wind shear and weakly organized thunderstorms are forecast.

Across western Europe, an amplified trough becomes negatively tilted and affects the west Mediterranean. An elevated mixed layer will spread northward ahead of the trough, resulting in a huge capping inversion that will likely suppress any deep moist convection. In the wake of the cold front, a deep cold polar air mass will become unstable due to low-level heating, and showers and thunderstorms will affect parts of the west Mediterranean. Vertical wind shear is limited and organized thunderstorms are not likely.

Across central Europe, rather steep lapse rates have developed in the last days. Rich low-level moisture can be found especially near a frontal boundary from Poland into northern Germany and further into the British Isles. Scattered thunderstorms may be possible here in the noon and afternoon hours. Best chances of organized convection exist over the British Isles, where wind shear is in the order of 10 m/s in the lowest 3 km due to a southerly jet ahead of the west European trough. Multicells are forecast with a weak chance of marginally severe hail and excessive rain. The overall potential seems to be too weak for a level 1 threat.