Storm Forecast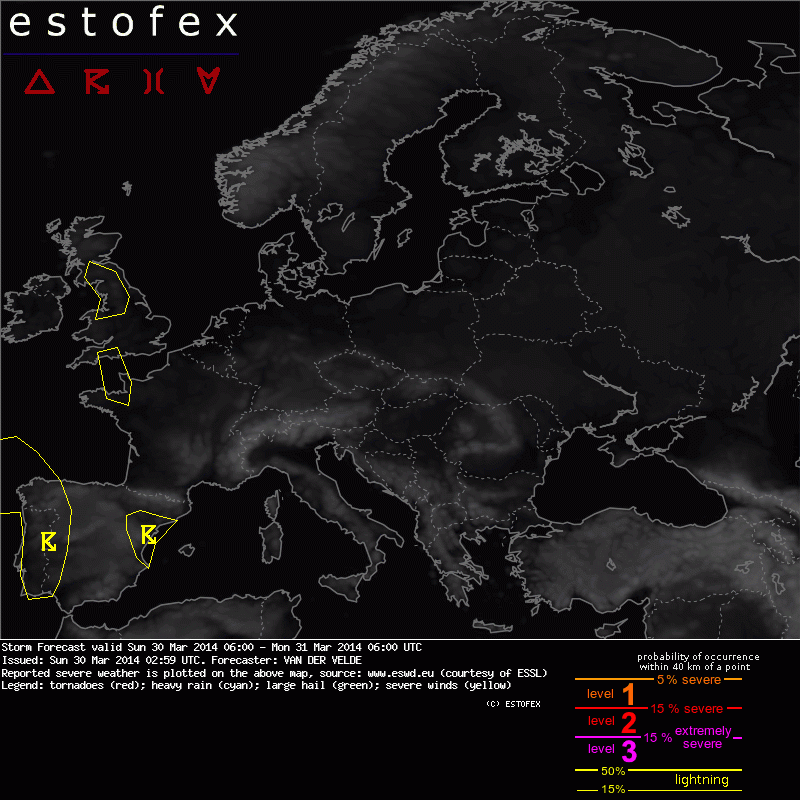 Storm Forecast
Valid: Sun 30 Mar 2014 06:00 to Mon 31 Mar 2014 06:00 UTC
Issued: Sun 30 Mar 2014 02:59
Forecaster: VAN DER VELDE
No threat levels issued.

SYNOPSIS

A large part of Europe is under the influence of a ridge of high pressure. Turkey is affected by the strong wind field of a low pressure area that moved deeper into the Middle East. An Atlantic low produces clouds and some rain to the Iberian Peninsula, British Isles and western France. Modest surface-based CAPE of less than 200 J/kg are forecast around Portugal and adjacent Atlantic. A band of QG lift produced by warm air advection over a weak frontal convergence zone is favorable for the development of some storms. There will be low LCL (600-800m) and moderate shear. Cloud top height and buoyancy at cold cloud levels seems a limiting factor for severe weather. The best shear is located where CAPE is more questionable (northern Portugal). Storm motion would be fast and some wind gusts can be produced by convective cells, but confidence does not warrant a level 1.
Patches of slight elevated-parcel CAPE appear to be forecast over eastern Spain and in a band from NW France to Scotland. There is very little lift along with it. An isolated thunderstorm may occur.