Storm Forecast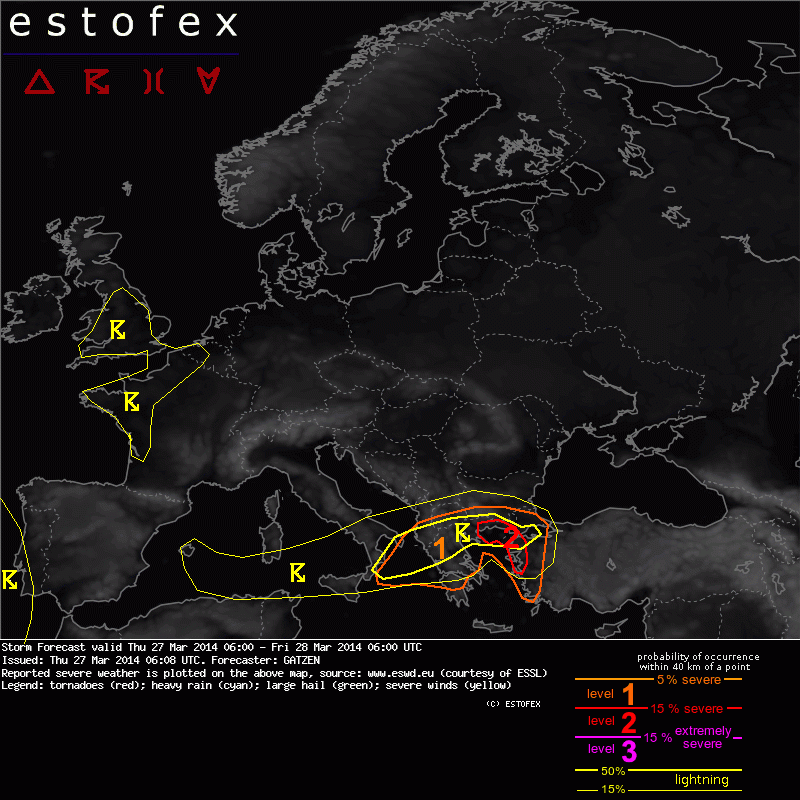 Storm Forecast
Valid: Thu 27 Mar 2014 06:00 to Fri 28 Mar 2014 06:00 UTC
Issued: Thu 27 Mar 2014 06:08
Forecaster: GATZEN
SYNOPSIS

Europe is affected by a high-over-low blocking today. The associated trough will break into two parts, one over western Europe, the other moving from the Tyrrhenian Sea to the Balkans. Cold air remains across western Europe, whereas warm air advection sets in over the eastern portions, together with moisture increase below the inversion. The best low-level moisture can be found over the southern Balkans and the Aegean ahead of the approaching Mediterranean trough.

DISCUSSION

Aegean region

Latest Athinai sounding shows a moist boundary layer with a 0-1 km mixing ratio of 7 g/kg. With a southerly flow, warm air advection is present and further moisture increase is likely due to low-level convergence and mid-level capping.

The warm air is characterized by an elevated mixed layer originating from the Sahara desert, confirmed by latest HEMM ascend. GFS also shows rapidly increasing lapse rates until the noon. Due to the rather cool boundary layer, CAPE will be capped initially.

During the day, the Mediterranean trough will slowly approach from the west. A strong mid-level jet streak will spread into central Greece and later into the central Aegean Sea. DCVA and warm air advection will provide QG lift. At low levels, south-easterly winds will continue to advect moisture into Greece and the northern Aegean Sea region. Best moisture with mixing ratios near 9 g/kg according the GFS will be located in a narrow band just ahead of a cold front approaching from the west. Within this band, GFS indicates almost no capping due to strong lift and rich low-level moisture. Thunderstorms have already formed along the cold front over southern Italy.

Current thinking is that the storms ahead of the cold front will continue eastward today, affecting Greece in the noon hours and the central and northern Aegean Sea in the afternoon or evening. East of this convection, capping is expected to limit thunderstorm potential. Best chances will remain over the north Aegean region, where current storms may go on until the afternoon.

Strong vertical wind shear will result in well-organized convection. A line of storms is expected in the western portions, whereas multicells and supercells are forecast across the Aegean Sea that will merge to a cluster or MCS later on. Main threat will be severe winds with the convective line across western Greece, whereas large hail will be most likely in the southern portions due to the steeper lapse rates in the hail growth zone. Due to the strong low-level vertical wind shear, tornadoes are forecast as well, with the highest potential across the north Aegean region and north-western Turkey, and even a strong event is not ruled out. Convective activity will go on until the morning hours across western Turkey.

Severe threat will be weaker further north, where CAPE will be weaker and capping stronger, but severe storms are also not ruled out from Albania to Bulgaria and the Black Sea.