Storm Forecast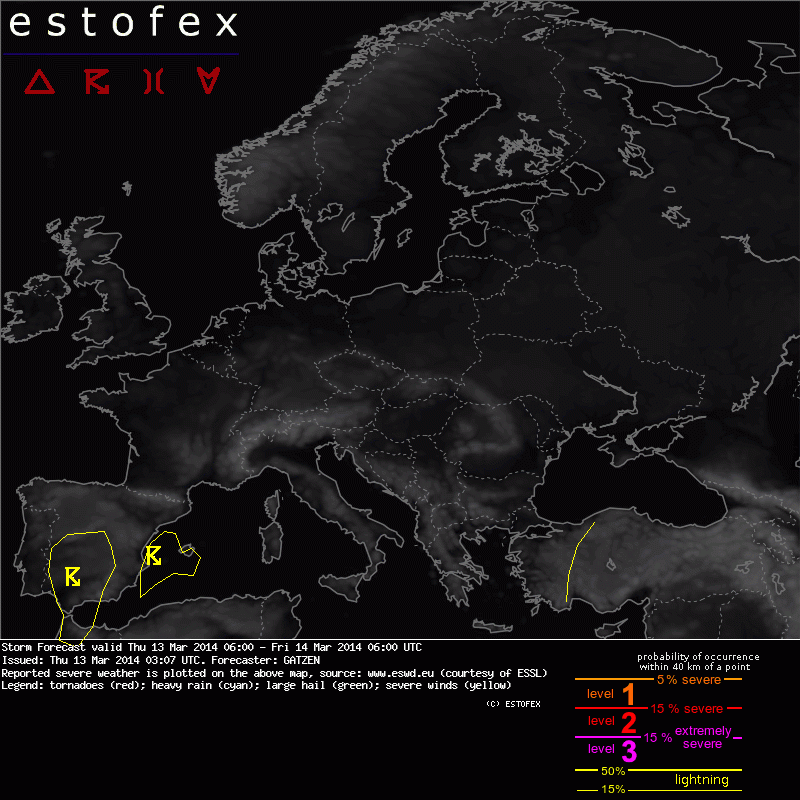 Storm Forecast
Valid: Thu 13 Mar 2014 06:00 to Fri 14 Mar 2014 06:00 UTC
Issued: Thu 13 Mar 2014 03:07
Forecaster: GATZEN
SYNOPSIS / DISCUSSION

The west Mediterranean is affected by a cut-off low today. An embedded short-wave trough will move west and affects the Iberian Peninsula. Some offshore thunderstorms have developed during the night hours and will continue in the morning, before they weaken in the wake of the short-wave trough. Over Iberia, daytime heating and the approach of the short-wave trough will result in steep lapse rates. Although low-level moisture is weak, current thinking is that a few high-based storms can form in the noon and afternoon. With weak vertical wind shear, organized storms are not expected. Given the dry boundary-layer, strong wind gusts due to dry microbursts are not ruled out. The threat is too marginal for a level 1, however. Storms will decay in the evening hours.

Further north, high pressure will continue across most of Europe, although the polar jet starts to move south across Scandinavia. An intense short-wave trough travelling into west Scandinavia will be associated with a tongue of better moisture around 5 g/kg in the lowest km. Steep low-level lapse rates are forecast along a cold front and a narrow convective rain band is likely, that may also produce isolated thunder. When entering Scandinavia, storms will decay due to weak low-level moisture.

East of the high pressure area, a cut-off low affects Turkey today. Cold mid-levels and daytime heating will result in a deeply-mixed boundary-layer. High-based storms are not ruled out in the noon and afternoon, capable of producing gusty winds that may exceed severe levels locally. Most of the activity is expected to the east of the forecast area, though. Storms will decay after sunset.
.