Storm Forecast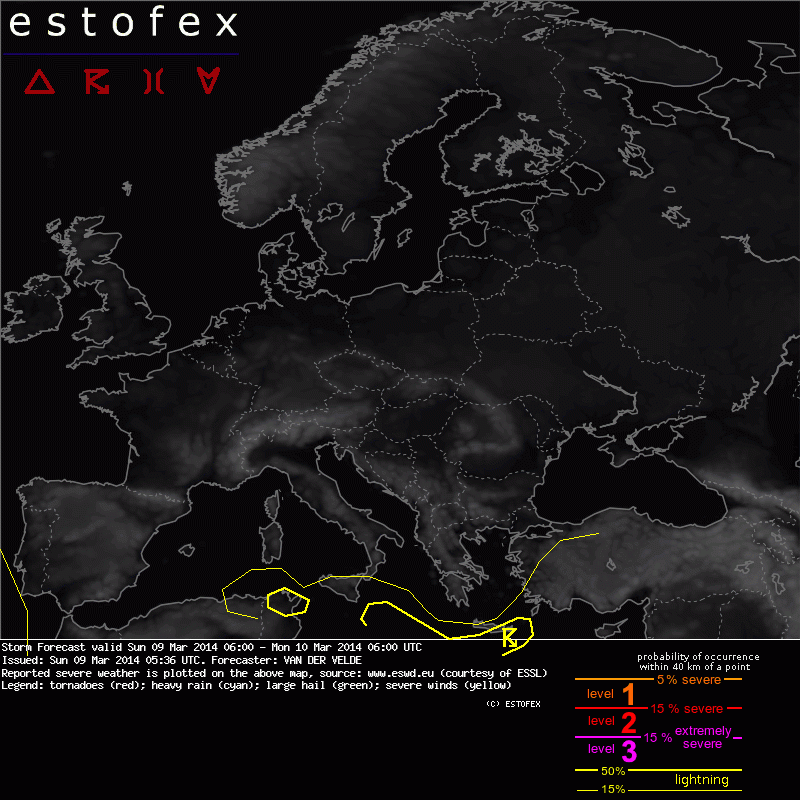 Storm Forecast
Valid: Sun 09 Mar 2014 06:00 to Mon 10 Mar 2014 06:00 UTC
Issued: Sun 09 Mar 2014 05:36
Forecaster: VAN DER VELDE
No threat levels were issued within the visible area.

SYNOPSIS

A large anticyclone ensures stable conditions over Europe, except for Scandinavia, the eastern Balkan and Turkey and the S/E Mediterranean Sea. A large upper low over the eastern Mediterranean creates a strong southerly flow with reasonably high moisture (10 g/kg ijn GFS model) combining with steep lapse rates and synoptic scale lifting processes to create conditional instability. Another low destabilizes the Atlantic west of Morocco (Canary islands).

DISCUSSION

...Middle East...

Major convective activity should occur from Egypt to Turkey with Syria as main focus, with a few hundred J/kg MUCAPE and moderate to strong deep layer shear. In the northeast corner of the Mediterranean there should be strong storm-relative helicity (>250 mē/sē) which aids mesocyclogenesis. LCLs for SB parcels are high over Syria, 2000 m. In other regions only elevated parcels may cause deep convection. The strong shear favors multi- and supercellular storms and mesoscale convective systems, with large hail and severe wind gusts possible (as result of the deep, steep lapse rates). At night a shortwave trough comes out of Egypt to Israel, but appears to be displaced from optimal CAPE farther north and east.

...Turkey...

Modest CAPE develops over Turkey during the day. In central Turkey under the jet the deep layer shear is very strong and low level convergence is present as trigger, but doubt exists whether the ratio of updraft to shear allows any sustained updrafts.

...Canary Islands area...

A cold front will become stationary and a focus of thunderstorms with a threat of excessive precipitation. The quasi-geostrophic lift becomes very large at night and the south side of the CAPE area is crossed by the subtropical jet stream, creating very strong deep layer shear, so it is possible that some supercells may develop, with large hail as main threat, although low cloud base under 1000 m may reduce its chance.