Storm Forecast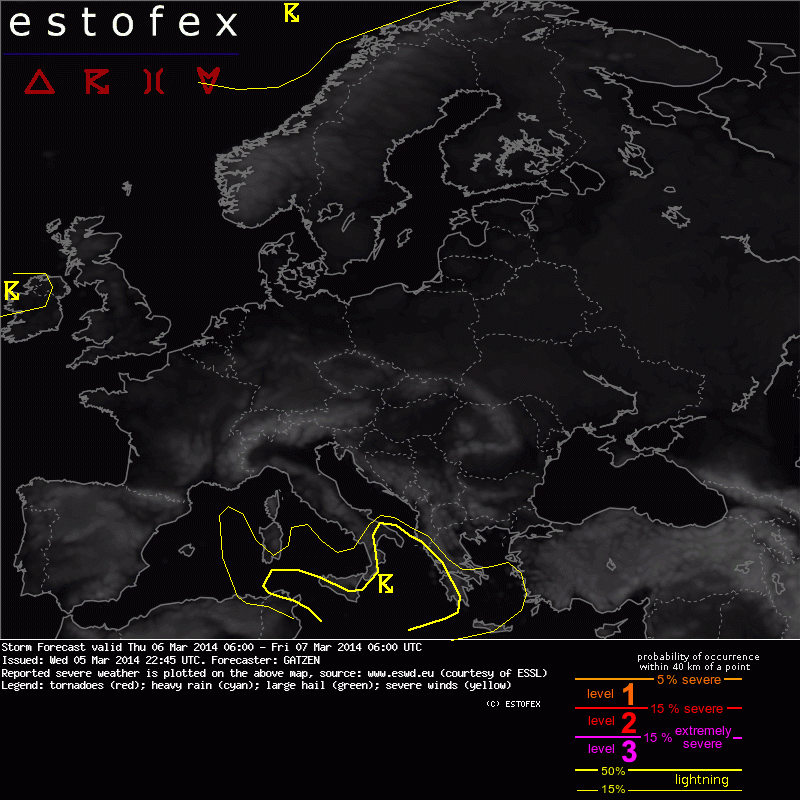 Storm Forecast
Valid: Thu 06 Mar 2014 06:00 to Fri 07 Mar 2014 06:00 UTC
Issued: Wed 05 Mar 2014 22:45
Forecaster: GATZEN
SYNOPSIS / DISCUSSION

A broad trough extends across the Mediterranean. Soundings indicate the presence of cold mid-level air and rather steep lapse rates, decreasing to the east. Although moisture is poor and northerly winds will continue to advect dry air masses, some CAPE is expected. Best moisture is expected across the Ionian Sea below the trough centre due to low-level convergence, and CAPE can exceed 500 J/kg. Over Sicily and southern Italy, daytime heating will also allow for weak CAPE.

Thunderstorms are expected along the land-sea-breeze fronts, with a higher offshore potential at night and daytime driven onshore storms. Given the weak vertical wind shear, weak organization is forecast. Waterspouts are expected especially across the Ionian Sea along the convergence zone.

To the east of the Mediterranean trough, stable lapse rates are forecast in a south-westerly flow. With dry westerly winds in the boundary-layer, CAPE is not expected to evolve. This is also forecast for most of the European continent due to low-level dry air and mid-level ridging.

Late in the period, a strong Atlantic jet streak will affect Ireland. Cold mid-level air masses and some low-level warm air advection ahead of the cold front are expected to create low-level steep lapse rates. Although moisture is rather weak with 5 g/kg, some thunderstorms are not ruled out along the narrow cold-frontal rain band. Severe wind gust potential will be slightly increased by the convection, but a thread level is not warranted at this time.