Storm Forecast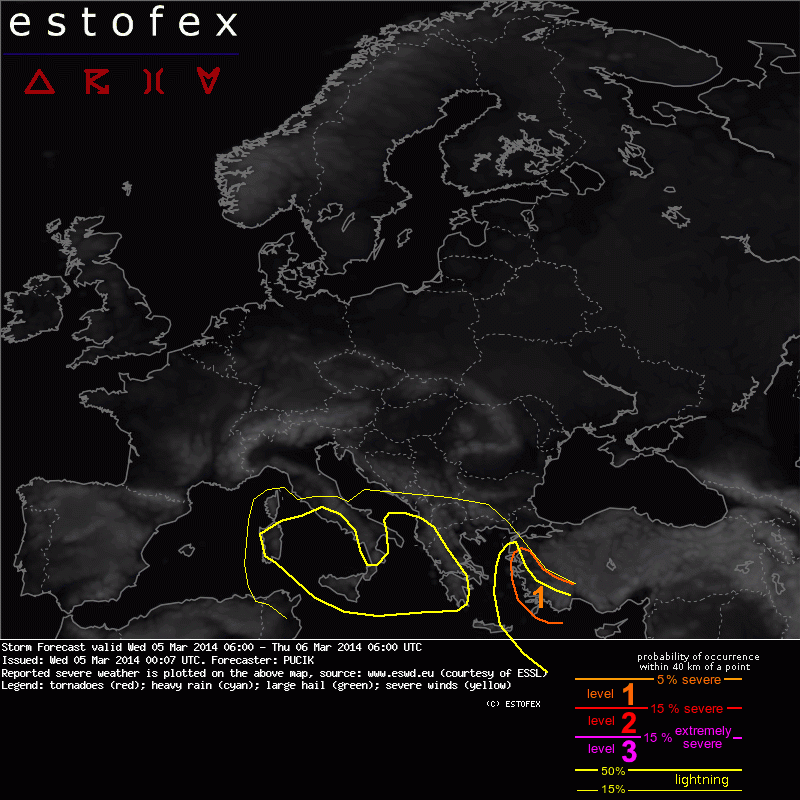 Storm Forecast
Valid: Wed 05 Mar 2014 06:00 to Thu 06 Mar 2014 06:00 UTC
Issued: Wed 05 Mar 2014 00:07
Forecaster: PUCIK
A level 1 was issued for parts of Turkey mainly for excessive precipitation and to the lesser degree for tornadoes and marginally large hail.

SYNOPSIS

As in the previous forecast period, the major macro-synoptic scale feature will be a large cyclonic vortex centered over the Mediterranean. It is expected to slowly fill in during the day, moving slightly towards the east. A ridge will amplify from the Atlantic to Western Europe while most of Central and Eastern Europe will remain under weak geopotential gradients. Dry and stable low-level airmass will preclude any pronounced risk of DMC over much of Europe. The exception being the Central and Eastern Mediterranean - here, cold mid-level temperatures result in quite steep lapse rates and marginal CAPE values. An isolated waterspout or small hail events might occur with storms in this area.

DISCUSSION

... Turkey ...

As of 23 UTC Tuesday, satellite loops reveal a short-wave trough crossing over Northern Libya. It is expected to eject northeastwards towards Turkey and should reach it around 12 UTC Wednesday. Ahead of the weak frontal boundary, strong southerly low-level jet around 20 m/s at 850 hPa is simulated. This jet should transport enhanced low-level moisture towards the north, with mixing ratios around 8 g/kg. Especially south of Turkey, modest degree of overlap with steeper lapse rates yielding CAPE values on the order of hundreds J/kg. Quite strong mid to upper tropospheric flow, parallel to the boundary, will likely result in a large, parallel-stratiform convective system moving eastwards during the day, with an attendant threat of excessive precipitation. This threat will be somewhat limited by the lack of higher CAPE and only modest values of low-level moisture. In case that some isolated form of convection manages to form, perhaps in form of isolated supercells (given strong DLS around 25 m/s), marginally large hail or tornado are not ruled out either.