Storm Forecast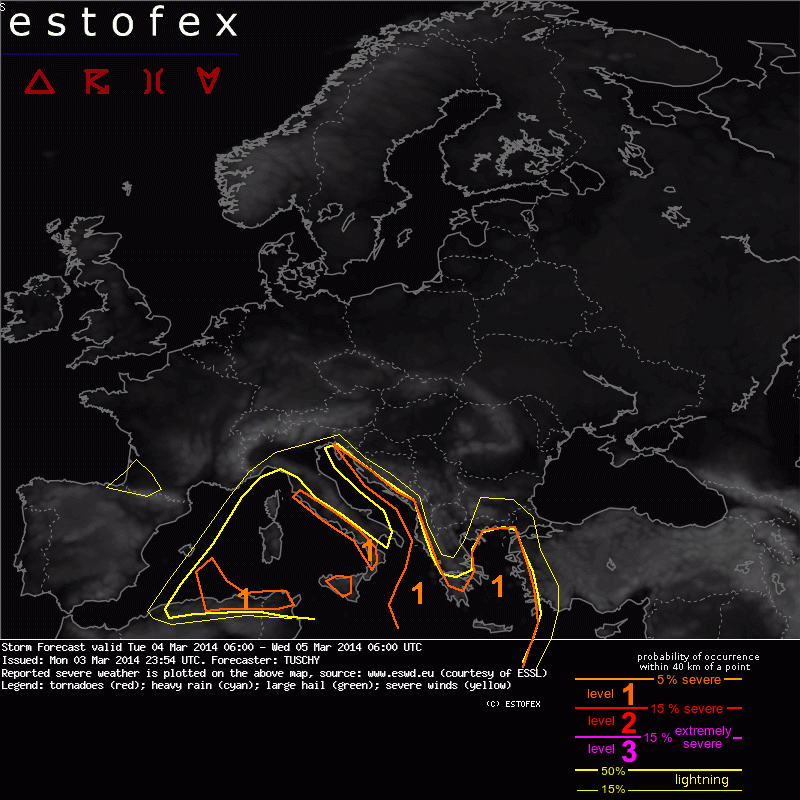 Storm Forecast
Valid: Tue 04 Mar 2014 06:00 to Wed 05 Mar 2014 06:00 UTC
Issued: Mon 03 Mar 2014 23:54
Forecaster: TUSCHY
A level 1 was issued for NE-Algeria mainly for large hail, severe wind gusts, excessive rain and an isolated tornado event.

A level 1 was issued for N-Tunisia mainly for large hail, excessive rain and an isolated tornado event.

A level 1 was issued for the westward facing coasts of C/S Italy, parts of Sicily and the E-Adriatic/E-Ionian Sea mainly for waterspouts.

A level 1 was issued for parts of the Ionian Sea mainly for large hail.

A level 1 was issued for Crete, the Aegean Sea and adjacent areas mainly for large hail, severe wind gusts, excessive rain and an isolated tornado event.

SYNOPSIS

A large-scale Rossby wave covers most of Europe. An active baroclinic zone along its rims steers numerous vortices from west to east. Those depressions filter moisture-rich air to the north and therefore beneath the colder mid-/upper-levels. Convective-wise the spin-down of a broad LL depression atop the warm waters of the Mediterranean will be the main focus for deep convection....to be more specific, an eastbound moving synoptic front will spark most thunderstorms (passing by the Ionian Sea until 18Z and crossing the Aegean Sea during the overnight hours).

High pressure over Russia advects cold and dry air to the west, which precludes thunderstorm probabilities for this forecast period.

DISCUSSION

... C-Mediterranean ...

Widespread thunderstorm development is anticipated in a weakly sheared and moderately unstable environment (0-6 km shear less than 10 m/s with 300-800 J/kg MLCAPE). Forecast profiles indicate rather steep lapse rates atop SSTs of 12-18 °C (increasing from west of Corsica to the Ionian Sea) with widespread LLCAPE build-up expected. Conditions for waterspouts will be good ... especially along the coasts of Italy and over the Ionian Sea and adjacent areas. Mesoscale dictates that risk and it will be hard to pinpoint any area of special interest. However, westward facing coasts of Italy and the Adriatic/Ionian Sea likely see the deepest marine layer due to frictional induced coastal convergence. Probabilities for stronger updrafts with somewhat fatter low- to mid-layer CAPE profiles atop convergent flow along the coasts increases the probabilities for waterspouts to a marginal level 1. Same for Sicily, where marine layer may spread well inland and so will the tornado risk. Beside that hazard, sleet and heavy rain will accompany showers/thunderstorms ... even a few large hail events over the Ionian Sea and adjacent areas will be possible. Therefore the level 1 was expanded well offshore. This risk continues all night long with a slow decrease in thunderstorm activity from west to east.

... NE-Algeria and N-Tunisia ...

Onshore flow gets squeezed along the Tell Atlas and Aures Mountains. We expect the marine layer to spread inland along the coast beneath cold mid-levels, so 200-500 J/kg MLCAPE are forecast. DLS of 40 m/s over NE Algeria drops to less than 10 m/s over N-Tunisia with similar strength of the near BL flow forecast in both countries. Expect organized multicells and isolated supercells to move offshore over NE Algeria with a rapid demise thereafter due to the rough orography and rapidly decreasing CAPE. A few large hail and severe wind gust reports are forecast next to excessive rain (especially along the upslope flank of the mountains). An isolated tornado event is possible with aforementioned shear conditions.

Further east, over N-Tunisia, the risk for organized storms decreases conform to decreasing DLS. Still, strong to severe pulsating storms with sleet/isolated large hail and heavy rain move over N-Tunisia. An isolated tornado event is possible due to a favorable overlap of LL CAPE/shear.

Thunderstorm activity wanes after sunset when mid-levels heat by 4-6 K, which suppresses offshore activity.

... Aegean Sea, Crete and W-Turkey ...

Eastbound moving synoptic front approaches the area of concern during the evening hours. This front slows down beneath diffluent upper-level flow and it awaits a strong impulse, which circles the main vortex during the overnight hours from N-Algeria to the Ionian Sea. During the night, a 30 m/s jet at 500 hPa moves closer to that front, which results in an overlap of 20-30 m/s deep layer shear and 300-600 J/kg MLCAPE. Crete and areas to the south will see strongest 0-3 km shear in excess of 15-20 m/s.

Initiation likely awaits the front, so expect thunderstorm development during the evening hours between Greece and Crete and later initiation further to the E/NE. The link to the most unstable air will be the best over/south of Crete, where CAPE/shear overlap points to well organized multicells/isolated supercells with large hail, severe wind gusts and an isolated tornado event. Further north, the setup becomes more messy with rapidly clustering storms and widespread initiation. During initiation stage, rotating storms are possible with isolated large hail, strong to severe wind gusts and a few tornadoes, but betimes the main hazard changes to heavy/excessive rain, which affects most of the Aegean Sea and adjacent areas. Beyond 00Z, storms also approach W-Turkey with an ongoing severe risk beyond 06Z (into Day 2).