Storm Forecast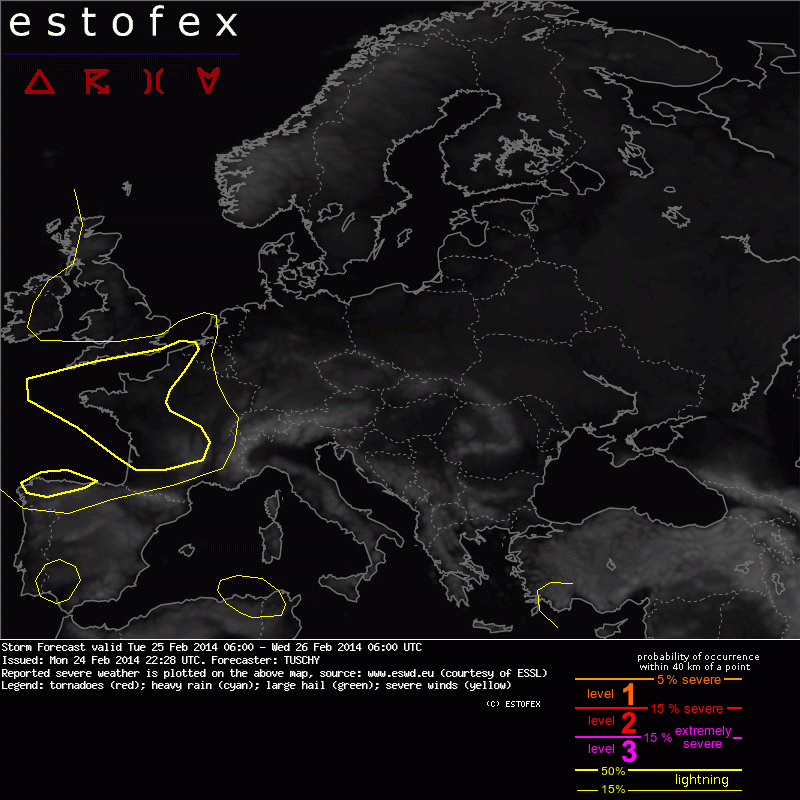 Storm Forecast
Valid: Tue 25 Feb 2014 06:00 to Wed 26 Feb 2014 06:00 UTC
Issued: Mon 24 Feb 2014 22:28
Forecaster: TUSCHY
SYNOPSIS

Weak mid-layer height gradients with numerous large-scale vortices linger over S/C and E-Europe. A cyclonic vortex over N-Algeria rotates east and flattens over Sicily/Malta. A NW-SE elongated upper trough over SE-Europe offers no significant motion to the NE. Numerous cyclonic swirls mark the respective centers, which reform constantly on different places within the broad trough. Along with downstream ridging, blocking ridge-over-trough pattern persists over E-Europe.
Most active feature will be a slowly filling 970 hPa depression just north of Ireland. Attendant cold mid-layers overspread a vast area from N-Spain to Scotland during the night.

DISCUSSION

... France ...

During the daytime hours, leisurely eastbound moving occlusion seems to become quasi-stationary or at least experiences a further slowdown over C/S-France, as neutral tilted trough atop builds straight south and surface pressure over the NW Mediterranean drops. As numerous mid-layer jet streaks along the western fringe of the upper trough dig south, further amplification of the upper trough induce a complex forcing pattern for the mid/upper levels over France. Various short-waves cross France from W to E and induce enough forcing for CI in this weakly capped air mass. In general, forcing seems to be best over NW/W/C and S-France.

Forecast soundings along the eastward sliding front show some thin CAPE profiles with mid-layer lapse rates just steep enough for deep convection. The postfrontal air mass is characterized by a slight decrease of BL moisture but constantly increasing mid-layer lapse rates with 300-700 J/kg MLCAPE build-up.

Current idea is that a rather pronounced short-wave over the Bay of Biscay approaches SW/W France during the early afternoon hours and interacts with the eastbound moving front. Scattered showers/embedded thunderstorms occur and a disorganized cluster spreads east. DLS in excess of 20 m/s may support organized storms, but the more elevated nature and modest lapse rates should keep the severe risk low. Marginal hail and gusty winds will be the main hazard. Forecast soundings along the front (over SW into C-France) show weak 0-3 km CAPE and strongly veering winds. Despite marginal looking parameters, we don't want to exclude an isolated funnel/short-lived tornado. Further to the NE/E, decreasing CAPE and weak forcing keep thunderstorm probabilities low with only disorganized clusters of convectively enhanced stratiform rain forecast. This is especially the case for SE-France between 00-06Z, as conditions for widespread and occasionally heavy rain improve.

Over NW/W-France 30 m/s DLS exists but we do not expect updrafts to grow that deep to take advantage of that shear magnitude. A sharp gradient of 0-6km isoshear exists along the N-coast of France with better conditions for DMC over the English Channel and NW-France, where pulsating storms are forecast. Marginal hail and gusty winds accompany stronger storms. With 100-150 J/kg LLCAPE, an isolated funnel can occur over NW France and over the English Channel. An isolated tornado risk also exists over far NW France and far NW Spain until noon, where LL flow peaks aoa 20 m/s before weakening thereafter.

Onshore convection wanes rapidly after sunset, but offshore convection continues all night long.

...S-Turkey ...

An isolated waterspout event is possible along the S-coast, where unstable air interacts with numerous coastal convergence zones.