Storm Forecast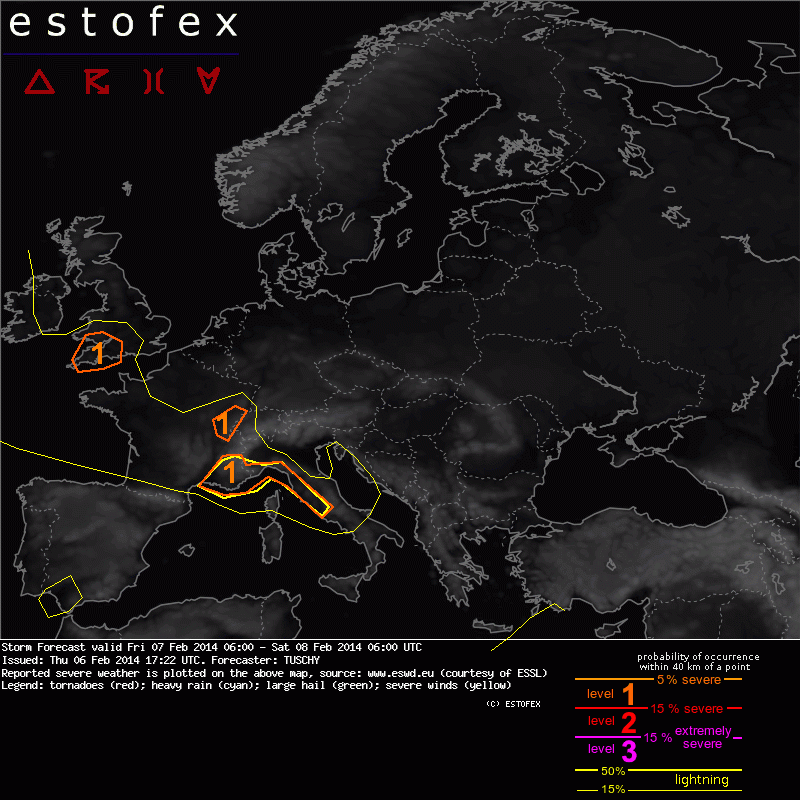 Storm Forecast
Valid: Fri 07 Feb 2014 06:00 to Sat 08 Feb 2014 06:00 UTC
Issued: Thu 06 Feb 2014 17:22
Forecaster: TUSCHY
Two level 1 areas were issued for SE-France, the Vosges and NW/W-C Italy mainly for excessive rain. Coastal areas also see an isolated large hail, severe wind gust and tornado risk.

A level 1 was issued for SW-UK mainly for severe wind gusts and an isolated tornado event.

SYNOPSIS

A wavy upper streamline pattern persists over Europe. One sharp trough crosses the W/C Mediterranean from west to east while a less defined and broad trough over SE Europe slides east/southeast. Another intense extratropical cyclone develops southwest of Ireland and attendant rain and wind spread east to Portugal, Spain, France, UK, Scotland and Ireland until 06Z.

Regarding fronts, a lengthened front runs from N-Algeria all the way to S-Sweden. Its structure becomes wavy due to the interaction with the Alps and falling pressure over the NW Mediterranean. The sub-950 hPa depression SW of Ireland sends pronounced fronts to W-Europe.

As a side-note:
A confined but intense onshore wind-event assumes shape over parts of Benelux and N-Germany as a sub-980 hPa depression over SE-UK (06Z) shifts to the northeast.
Models like GFS still expect a fracturing cold front while moist air from the occluded front circles the center and forms a modest warm-seclusion. This scenario is most often seen in offshore marine cyclogenesis, but this time is forecast onshore. A confined area with 850 and 700 hPa winds in excess of 30 m/s evolves along the back-bent occlusion and affects Benelux and NW Germany until the late afternoon hours. Severe to isolated damaging winds are forecast. No DMC activity is forecast and hence this event won't be reflected with the issuance of a level area. Please refer to the latest forecasts of the respective national weather centers.

DISCUSSION

... S/SE France and NW Italy ...

Eastward moving cold front becomes wavy as the 980 hPa depression over the S-North Sea lifts to the N/NE while a temporal drop of the surface pressure N of the Balearic Islands occurs. This causes a temporal slow-down of the front especially over the NW Mediterranean area. Also, the mid/upper impulse splits into a less active northern part which lifts to the NE towards Denmark and a stronger southern piece, which enters the NW Mediterranean during the start of the forecast.

Large-scale forcing and dynamics are favorable ... on the one hand due to modest QG forcing with the southern piece and on the other hand due to the right entrance of a powerful 45 m/s mid-layer jet, centered over NW Germany.

Influx of moist and unstable Mediterranean air towards SE-France is forecast with forward trajectories showing a good hookup to the offshore plume of 9-10 g/kg mixed-layer mixing ratios. With steep lapse rates aloft, 400-800 J/kg MLCAPE off the SE coast of France are epxected. Setup supports a N-S aligned cluster with showers and thunderstorms over SE France, probably back-building to the south. Weak MUCAPE spreads far onshore and the lightning area was expanded north conform to that scenario. With moisture having enough time to advect far north and with the entrance region of the intense mid-layer jet displaced to the north, a broad area from SE France to Switzerland will see heavy rain with isolated embedded thunderstorms. Those storms should remain non-severe but they should add local bursts of heavy rain which could bring 12-h rainfall amounts well in excess of 50 mm ... especially over the Vosges and SW-Switzerland.

Regarding DMC probabilities, the immediate coastal areas of SE France will see the highest risk ... especially tail-end storms of anticipated N-S aligned clusters. DLS in excess of 30 m/s and rather steep mid-layer lapse rates add an isolated large hail risk including severe wind gusts. We can't rule out an isolated tornado event along the coast, as MLCAPE plume and increasing ageostrophic coastal flow overlap. Heavy to excessive rain will be the main hazard however!

During the evening and overnight hours, this cluster also affects NW and W-C Italy with similar risks.


... Bay of Biscay, Ireland and UK ...

06 - 12 Z Bay of Biscay and W-France:

Cold mid-layers atop warm SSTs support modest SBCAPE and active marine convection is forecast. Sleet and gusty winds accompany strongest storms, which affect the W-coast of France until noon. Beyond noon, mid-layer warming ahead of the major depression to the west should induce a weakening of any ongoing convection.

18 - 06 Z the complete area :

Another pronounced occlusion crosses the area with postfrontal convection approaching the Bay of Biscay and UK from the west. Forecast soundings show a deepening of the mixed marine layer and with 850 hPa winds aoa 30 m/s, severe wind gusts will be a risk with any shower/isolated thunderstorm. Once again no risk for a forced line of convection exists, but any deeper updraft and attendant downdraft could bring severe winds down to the surface.

Only a small level 1 was issued for SW-UK, where overlap of modest SBCAPE and intense shear points to the highest convectively induced wind gust risk unitl 06Z. In addition, with increasing SRH-1, an isolated tornado event seems possible.

Between 03 and 06Z, strongest winds along the back-bent occlusion should start to affect SW-UK, but this risk won't be covered by our rules of action.