Storm Forecast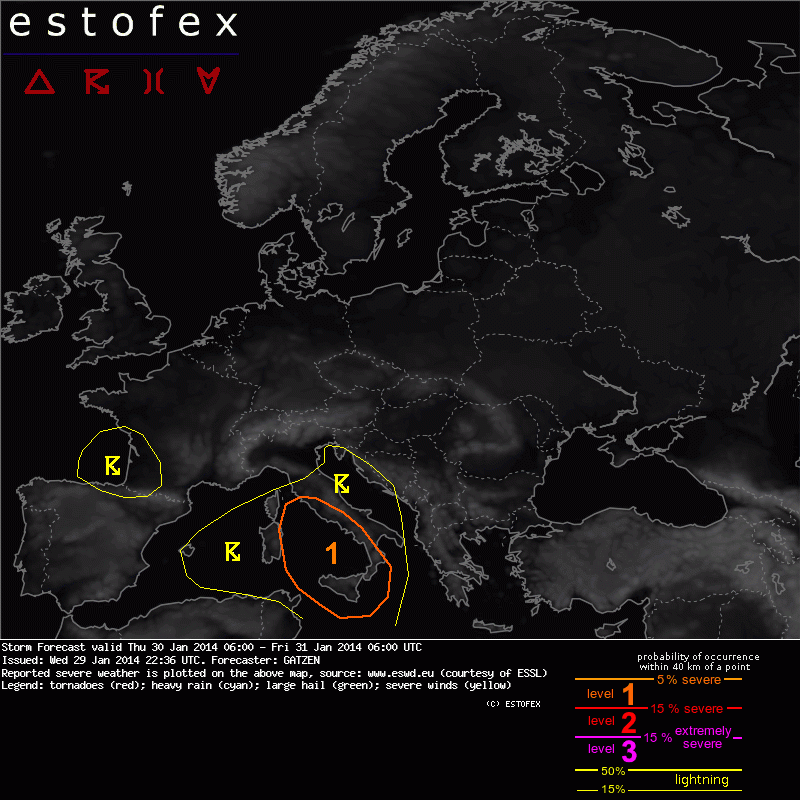 Storm Forecast
Valid: Thu 30 Jan 2014 06:00 to Fri 31 Jan 2014 06:00 UTC
Issued: Wed 29 Jan 2014 22:36
Forecaster: GATZEN
A level 1 was issued for the central Mediterranean mainly for large hail and tornadoes and excessive precipitation.

SYNOPSIS / DISCUSSION

Upstream of a blocking high, low geopotential is present across western Europe. Between rising geopotential across the eastern Atlantic and over eastern Europe, this trough will become sharper and weakens. Near the troughs base, rather steep lapse rates will allow for showers and thunderstorms again, although low-level moisture is limited. Weak vertical wind shear will not assist storm organization, and only isolated waterspouts and a heavy rain event are not excluded.

Ahead of the trough, the southerly flow will start to advect warm African air masses into the central Mediterranean. Steep lapse rates will spread across the area. Initially, a rather cool boundary layer will likely limit thunderstorm potential. During the period, moisture will increase due to latest GFS. A tongue of rich low level moisture (more than 8 g/kg in the lowest kilometre) will evolve underneath the axis of warm air advection and CAPE is expected.

Current thinking is that elevated convection is quite likely along the axis of warm air advection. In the northern portions, storms will be embedded in stratiform rain. Main severe threat will be excessive precipitation (snow in the southern Alps), but the contribution of deep moist convection is rather weak.

Further south, more CAPE and better boundary-layer moisture are expected. This will increase the chance of surface-based storms that will likely organize due to the strong low-level vertical wind shear (10 ms in the lowest km). Storms that form may become supercells with a potential of producing large hail and tornadoes. Additionally, backbuilding may pose a threat o excessive precipitation. The overall threat is limited by the capping inversion, so that a level 1 is issued.